Are you ready for an island trip? With demanding work hours and jobs, many of us long for time by the sea! Travel has been up this summer and, we might be biased as we're based here, but Europe is the place to be! We're giving your our top ten tips for the perfect vegan vacation in Mallorca, Spain. 
There is nothing better than a relaxed summer holiday – but as a vegan, this can be exhausting. Searching for restaurants, shopping the right products locally, and finding restaurants with vegan options isn't always the easiest. And no one wants to deal with stress when they're on vacation! This is why we're sending you to Mallorca on your next vegan friendly vacation. 
We're here for you with our top 10 vegan vacation tips for Mallorca, Spain to make your next trip incredible. Vaca and make it vegan! 
Take all-purpose cutlery and one or two food storage boxes with you from home. Sustainability is sexy, especially on vacation! By bringing your own supplies, you can easily pack a snack and take it with you to the beach or on a hike.
Our favorite: watermelon. Super refreshing on hot days and the perfect hydrating beach snack.
Tip 2: Snack yourself happy
In addition to watermelon, there are other suitable snacks that make a vegan's heart beat faster. Available in every supermarket, healthy and ready to eat are the all-time favorites: nut mixes, bananas, filling rice waffles with hummus or guacamole, savory olives and sweet dates. 
We love this tip because not only is it an easy way to keep your energy levels up, but by shopping local you're also supporting local. Love that for you. 
Tip 3: Rentals with a Kitchenette
Sometimes it's just easier on holiday if you become your own chef. You not only save money to use towards your next trip, you also know exactly what is in the food. We recommend you book a holiday apartment, an apartment with kitchenette or a hostel/hotel room with access to a shared kitchen in advance. After arriving in Mallorca, you can buy fresh ingredients at the weekly market, in the Mercat de l'Olivar in Palma, at Mallorcan supermarkets, or the well-known German discounters (Lidl, Aldi), and conjure up a great vegan dish at your home-away-from-home.

Read more: www.mercatolivar.com
Tip 4: Say cheese! Make your own vegan cheese
If you want to cook vegan cuisine on a new level and would like to try out the production of various vegan cheese variations for three hours on five consecutive days during your holiday or learn the high art of vegan baking, you can book a course at the outstanding Vegan Gastronomy Culinary Academy in Palma. With a short class each day, your vacation can be both fun and educational. Benefits that last even after you return home. The courses include all ingredients and materials, and are priced at 750 – 1500 euros.
Read more www.vegangastronomy.com
Tip 5: Feast at noon at Vegano Bon Lloc
On a small quiet side street there is an absolute highlight: The Vegano Bon Lloc. Many of the ingredients used for their delicious creations come directly from the region and come from organic farming. Every day since 1978, there is a delicious, inexpensive lunch menu that leaves nothing to be desired. In the evening you can also dine à la carte and enjoy their creative culinary delights under atmospheric light.

Read more: http://www.bonllocrestaurant.com/?lang=en
Tip 6: Vegan supermarket in Palma
The Lo Vegano is a vegan health food store in Palma, where you will find everything you need to make your vacation a tasty one. From sweets to dog food, cosmetics and shoes, there is really an extensive assortment here. We love how convenient this one stop shop is! The shop is open on weekdays from 10.00 a.m. to 8.30 p.m. and many products can even be pre-ordered online.
All information: https://www.lovegano.com/de/
We love Mallorca! We've found some of our favorite vegan restaurants, pictured here. 
However, sometimes you want to follow the well-intentioned travel tips of non-vegans and visit trendy restaurants. Well, some menus unfortunately leave the vegan community out!
It's always disappointing and we've all been there. But we have a tip for you! Accept the challenge and talk to the staff over whether it would be possible to conjure up a vegan dish for you. You will be surprised how often this meets open ears and the chef really puts in the effort. 
Take the opportunity to focus on vegan food! You have nothing to lose! Veganism is more of a priority now than it ever was.

Maybe soon, the once specially prepared for you dreamlike vegan tapas plate will be an integral part of their menu. In these two restaurants we have tested the menu extensively and can recommend them with a clear conscience.
Of course, you will always find other great vegan restaurants on www.happycow.net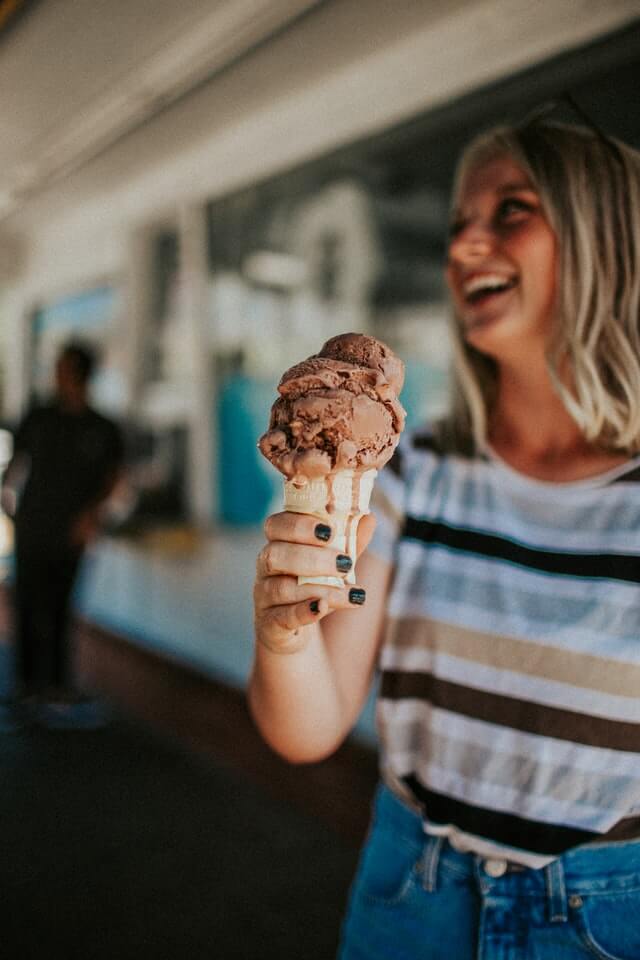 Craving a dessert after visiting the Cassai Beach House restaurant or just a little cooling off?

Really good, vegan ice cream based on rice milk is available in the immediate vicinity in Colónia de Sant Jordi at the traditional Gelateria Colonial.

The ice cream is also sweetened with stevia instead of commercial industrial sugar and is available in hazelnut, cookie and chocolate. A dream…
Read more https://gelateriacolonial.com/de/
Tip 9: Villa Vegana - paradise for humans and animals
If you don't feel like self-catering stress, you should book a room or suite at Villa Vegana near Inca. The restaurant at this hotel is absolutely recommendable (it's one of our favorites!), because the vegan dishes are varied, conjured up from the best ingredients and incredibly delicious. Every day a culinary journey to a different country is undertaken. In addition to the resident pigs, who enjoy themselves on the grounds of the villa, other special guests are also welcome in the restaurant.
For more information, see https://www.villavegana.com/
Tip 10: Hiking and feasting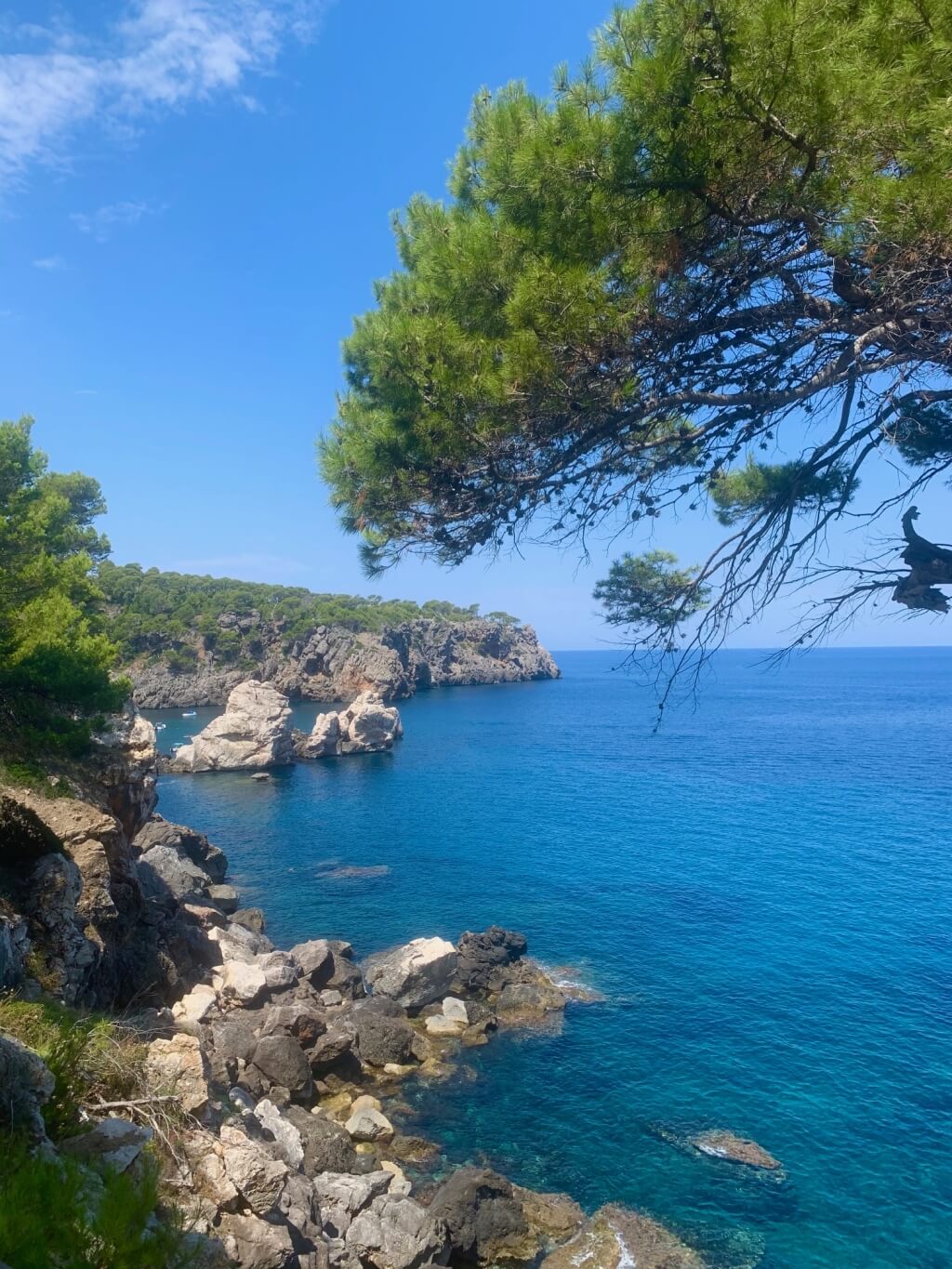 Around the picturesque mountain village of Déia you can go on very nice hikes along the coast and on the GR 221 long-distance hiking trail. In addition to fantastic photo opportunities, this place has even more to offer: The best sandwich on the island! This can be put together by the sweet owner of the small supermarket Comestibles C'an Bernat Tabacs according to your own wishes. We don't know if it was because of the delicious olive oil, the fried peppers, the chopped olives, or the crispy bread, but this baguette tasted so incredibly good that it clearly deserved a place on this list.
Bonus tip: Cap de Formentor
Also highly recommended is a trip to the Cap de Formentor. Northeast of Port de Pollença, a kilometre-long headland leads out into the sea. Huge rock formations jut out into the sea where the mountainous region of Serra de Tramuntana comes to an end. Cap de Formentor translates to "end of Formentor". 
Today, this very end is a popular destination for tourists who want to enjoy the unique view at the lighthouse and be given breathtaking views on their way to the UNESCO World Heritage Site. One of the most beautiful spots in Mallorca for all those who are free of vertigo, as the serpentines on the way are sometimes very narrow. It's also the perfect place for a vegan picnic. 
Mallorca is a top recommendation for the perfect vacation for our vegan follower! It is also one of This is Vegan's favorite places to vacation.
Stay healthy. Travel safely.
Photos: Anne Bell and Unsplash