We have selected a popular recipe that is sure to be a showstopper at any event: moist lemon cake.
This cake is delicate, perfectly flavored, and comes together in a flash! Surprise your loved ones with homemade lemon cake.
Whether for a special occasion, as a delicious snack, for a birthday, or simply because you feel like having a cake that tastes particularly juicy and lemony – lemon cake is a light alternative for those who would like to indulge vegan without being in the kitchen for a long time.
This cake can be prepared in just 15 minutes!
Prepared in just 15 minutes and ready to eat in just under 1.5 hours.
This lemon cake is created completely without butter, egg, milk and other animal ingredients. It is the perfect starter recipe for those who want to bake vegan and will soon become a favorite staple! With our easy to follow step-by-step guide, nothing stands in the way of your vegan baking experience.
Surprise your loved ones at with a homemade moist lemon cake. Your new favorite cake!
vegan

easy to prepare

moist and fluffy

without egg and without butter

with oil and lemon juice

with vegan yogurt as a light alternative

prepared quickly

the perfect summer, spring, or anytime recipe!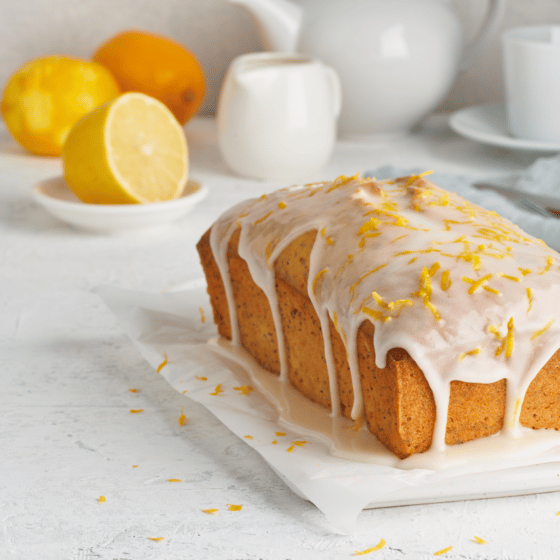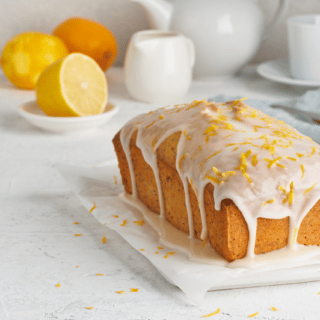 Moist Vegan Lemon Cake
Ingredients
Batter
200

g

Brown cane sugar

250

g

Soy yogurt (Vanilla - e.g. from vehappy)

125

ml

Sunflower oil

3

TL

Lemon zest (organic)

60

ml

Fresh lemon juice (organic)

300

g

Flour

If you have a gluten allergy, you can use an alternative such as buckwheat flour

2-3

TL

Baking powder
Icing
125

g

Powdered sugar

3

EL

Fresh lemon juice (organic)

1

TL

Apple Cider Vinegar

1

TL

Vanilla extract

1

TL

Sunflower oil
Instructions
Preheat the oven to 180°C / 350°F (convection: 160°C/325°F). Prepare your loaf pan (we love using silicone) by lightly greasing it and dusting with flour. Do this even if your pan promises to be nonstick, trust us!

For the lemon cake batter, combine the brown sugar, soy yogurt, sunflower oil, lemon zest and lemon juice in a large bowl and mix well with a whisk.

Tip: Before juicing your lemons, roll them using some pressure on your counter to release the juices inside. Cut the lemon in half, then squeeze the lemon for its juice. Measure carefully and set the remaining juice aside for later. Be sure to remove any seeds before adding the juice to the batter bowl.

In a separate smaller bowl, sift and mix together the flour with the baking powder. Slowly combine the flour/baking powder mixture in the bigger batter bowl by folding in with a spatula. Mix until just combined.

Tip: Wash the lemons and grate the zest with a grater or microplane. Make sure you only grate off the yellow skin and don't take any of the white skin underneath. The white layer is bitter and should not be used. We recommend using organic lemons, as nonorganic lemons often have undesirable substances collected in the peel.

Pour the cake batter into a lightly greased and floured loaf pan and bake at 180°C/350°F for approx. 55 minutes until golden brown. After the first 35 minutes have elapsed, keep a close eye on your cake.

Let your cake cool completely, then carefully remove it from the pan and place on a wire rack to prepare it for icing.

As soon as the cake has completely cooled down, it's time for the topping or icing! For the glaze, whisk together lemon juice, oil, apple cider vinegar, vanilla extract, lemon zest and powdered sugar. Pour generously over your cooled cake and leave to set in the fridge for about 30 minutes.

Enjoy your vegan lemon cake!
Notes
TIPS:

The cake can be prepared in a wide variety of flavors. Try limes or oranges instead of lemons. Are you more of a chocolate lover? Then simply replace the liquids with plant milk (we love almond milk in cakes!), the citrus zest with chocolate chips and add 30 g of baking cocoa powder in with your flour, and you have a delicious chocolate cake.
Don't have a loaf pan on hand? No problem! Of course, you can also bake this cake in a round pan, bundt pan, or shape of your choice. Monitor the baking process closely, so as not to over-bake.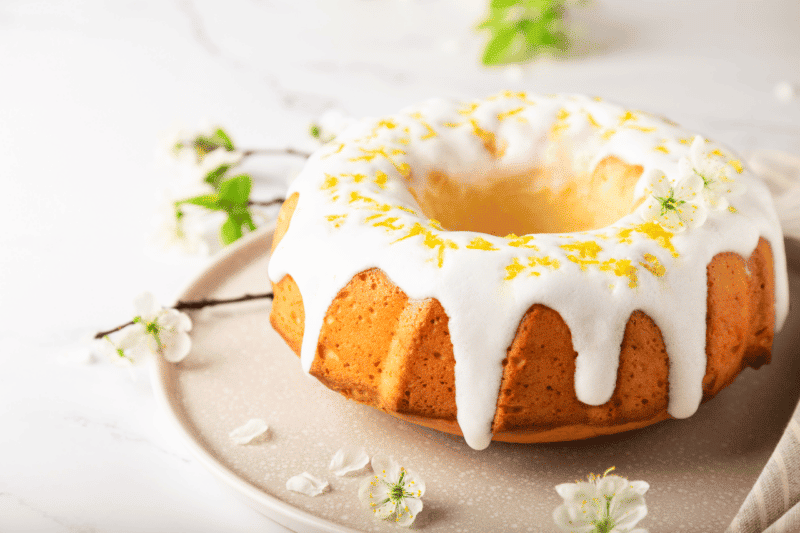 Are you still looking for the perfect vegan gift?
Want to support the work of This Is Vegan?