Netflix and cook:
Ppopgi and Dalgona cookies from Squid Game (Vegan recipe)
Ready for Award Show season?! Netflix's Squid Game is up for 5 awards at the upcoming 74th Prime Time Emmy Awards. 
Outstanding Drama Series

Supporting Actress – Drama Series

Lead Actor – Drama Series

Supporting Actor- Drama Series (up twice)
Today we show you how you can easily prepare the cookies from the popular Netflix series Squid Game using a vegan recipe at home.
Best of all, it takes just two ingredients .
Hardly any other series has caused as much of a sensation as Squid Game, a hypnotizing show following people playing deadly games in the hopes of winning enough money to survive. The series title sounds harmless, but the games are intense. More than 142 million households have been captivated by this series! We do not want to include any spoilers in this recipe, so what we can recommend is for you to make these cookies from the series and then watch it for yourself! 
On TikTok and Instagram, the re-enactment of the scenes and recipes is currently enjoying great popularity. The recipe with few ingredients sounds very simple at first, but cutting out the squid game cookies, which are actually called "Ppopgi" or "Dalgona", is not so easy without advice. Good thing we're here for you! We'll show you how to do it so you can enjoy them and impress all of your friends. 
Tip: At the bottom of the recipe, we'll even show you where to get the right cookie cutters from the series.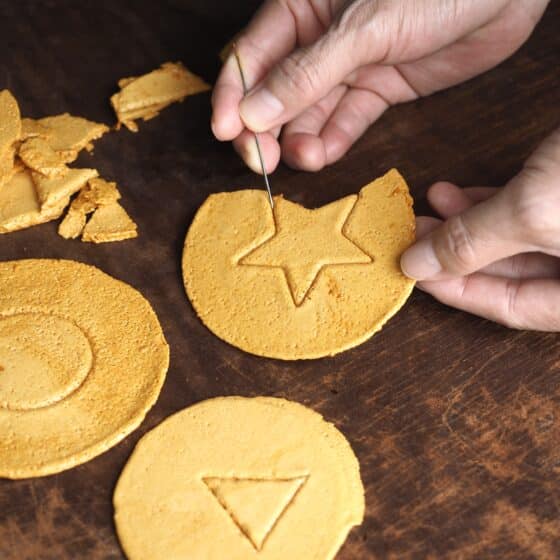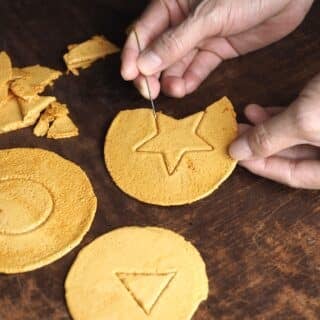 Award Show Squid Game Cookies - Ppopgi Dalgona Vegan Recipe
The Ppopgi Dalgona biscuits from the Netflix series Squid Game are on everyone's lips. We show you the vegan recipe just in time for the award show season.
Equipment
Metal soup ladle or metal pan

Silicone baking mat or parchment paper

any heat resistant cookie tray will work

Dough or burger press, or flat object

such as the bottom of a pot, pan, bowl or cup

Wooden chopstick, or metal or wooden spoon

Cookie cutters
Ingredients
4

Tablespoons

Granulated Sugar

1/16

Tablespoons

Baking Soda

Do NOT use baking powder, 1/16 tbsp is a heavy pinch
Instructions
Put some sugar in the soup ladle or pan, and heat it on a stovetop over medium-high. Consistently stir the sugar with a wooden chop stick or spoon so it melts evenly. Stir until there are no chunks left and the sugar has turned into a creamy, brownish liquid, almost amber in color.

Important: Make sure that the sugar does not burn, otherwise the biscuit will taste very bitter afterwards. Control the heat by moving the ladle repeatedly up and down over the heat.

Once the sugar is completely melted, remove from heat and add your pinch of baking soda. Stir consistently as the color changes to a creamy golden beige and becomes fully mixed.

Dust some sugar on your silicone mat (or parchment paper or tray). Carefully and slowly pour the sugar/baking soda liquid into small cookie sized circles.

Press the hot dough with a smooth, flat object to spread out it evenly and give it a rounded shape. This will make your cookies nice and round, and flat on top.

Using a cookie cutter, press a figure in the middle of the dough gently. Do NOT press the mold all the way through the cookie.

The harder you press, the easier it is to release the mold from the rest of the cookie later. If you want to try the Squid Game yourself, you can also make it more exciting by only applying light pressure to the cookie mold so it is more difficult to remove the extra cookie later.

After placing the mold, you should wait about a minute for the dough to harden. Then the "Squid Game" can begin or you can simply enjoy the biscuit.

Tip: You can get the right Squid Game cookie cutters here.
Notes
Tip:
You can get the right Squid Game cookie cutters
here
.
Suggestion: Would you rather watch vegan documentaries than Squid Game? Check our out favorite recommendations here. 
Want to support the work of This Is Vegan?
On our pages you will find affiliate links. If you buy your favorite products through them, we will receive a commission. It helps us to keep doing what we love – introducing you to great vegan ideas!
By purchasing the sustainable reusable cups from us, you can support the Gnadenhof Papillon.
You can also follow us on Instagram here.