Recipe: Vegan Whiskey Sour (without egg)
There are so many different hard drinks and cocktails to enjoy! One of the oldest cocktail choices is the Whiskey Sour. Its ease of drinkability and quick production make this inspiring drink a favorite! Our vegan Whiskey Sour is a perfect alternative to the conventional version.
We ditch the egg, but not the flavor. 
The Story of the Whiskey Sour
The Whiskey Sour is one of the oldest drinks at the bar. It originated in the US state of Wisconsin. You'll find a recipe for this beloved drink in the first cocktail book in the world, published back in 1862. The Whiskey Sour has been around for more than 150 years, making it one of the most popular drinks in the world. Author Jerry Thomas, also known as Professor Cocktail, invented this fan favorite. Thomas's Whiskey Sour contained lemon, orange and lime juices, an exotic blend for the 19th century. 
Due to its light taste, the Whiskey Sour quickly gained popularity and is still one of the most popular drinks today.
The Original Recipe (with raw egg)
The original Whiskey Sour recipe combines just a few ingredients. Bourbon whiskey serves as the base. Lemon juice, orange slices and simple syrup (equal parts sugar and water) are also used. Ultimately, you will also find a very interesting ingredient in the original recipe – fresh egg white. The egg white has to be beaten thoroughly beforehand and is then added to the whiskey. The Whiskey Sour is the only whiskey cocktail that uses egg. Not every cocktail lover wants egg added to their recipe. 
That's why we've created an excellent alternative for you: the Whiskey Sour without the egg. This drink is suitable for vegans!
Why Should You Avoid Raw Eggs in Cocktails?
Aside from the ethical reasons for avoiding animal products, there is always some risk associated with using raw eggs. For one thing, raw eggs contain a lot of Avidin. This tetrameric biotin-binding protein can cause significant digestive problems when consumed in large quantities and may also cause nausea and skin problems.
Studies show eating raw eggs allow avidin to be absorbed into the body, which can lead to increased digestive problems in consumers. This is exactly why more and more Whiskey Sour fans are opting for the Whiskey Sour vegan version without egg.
There is also a risk of Salmonella infection when eating raw eggs. If you experience digestive problems after consuming a traditional Whiskey Sour with raw eggs, this is probably due to the lack of freshness of the eggs. Salmonella can develop within a few days. Therefore, our Whiskey Sour vegan without egg is an optimal alternative.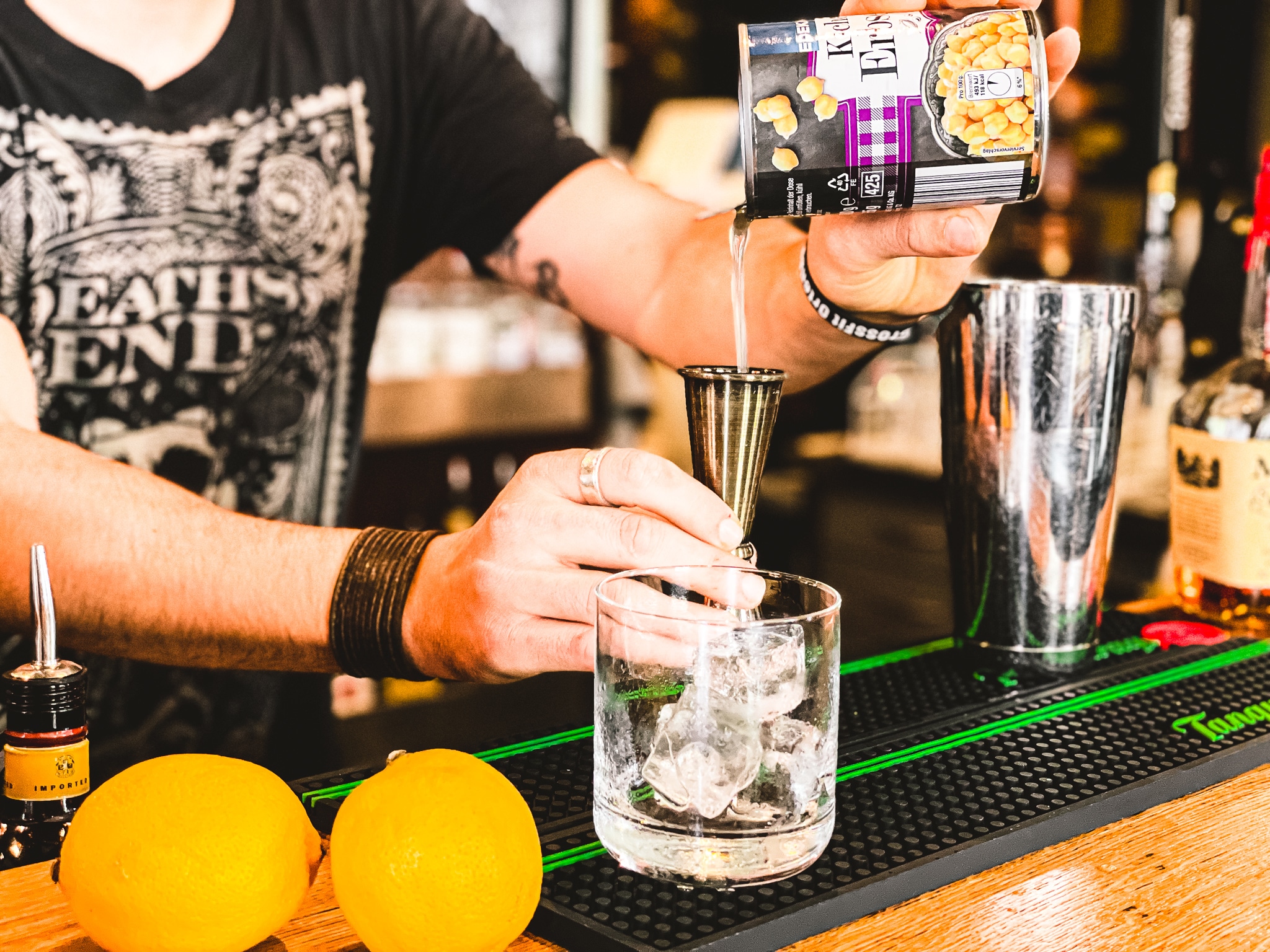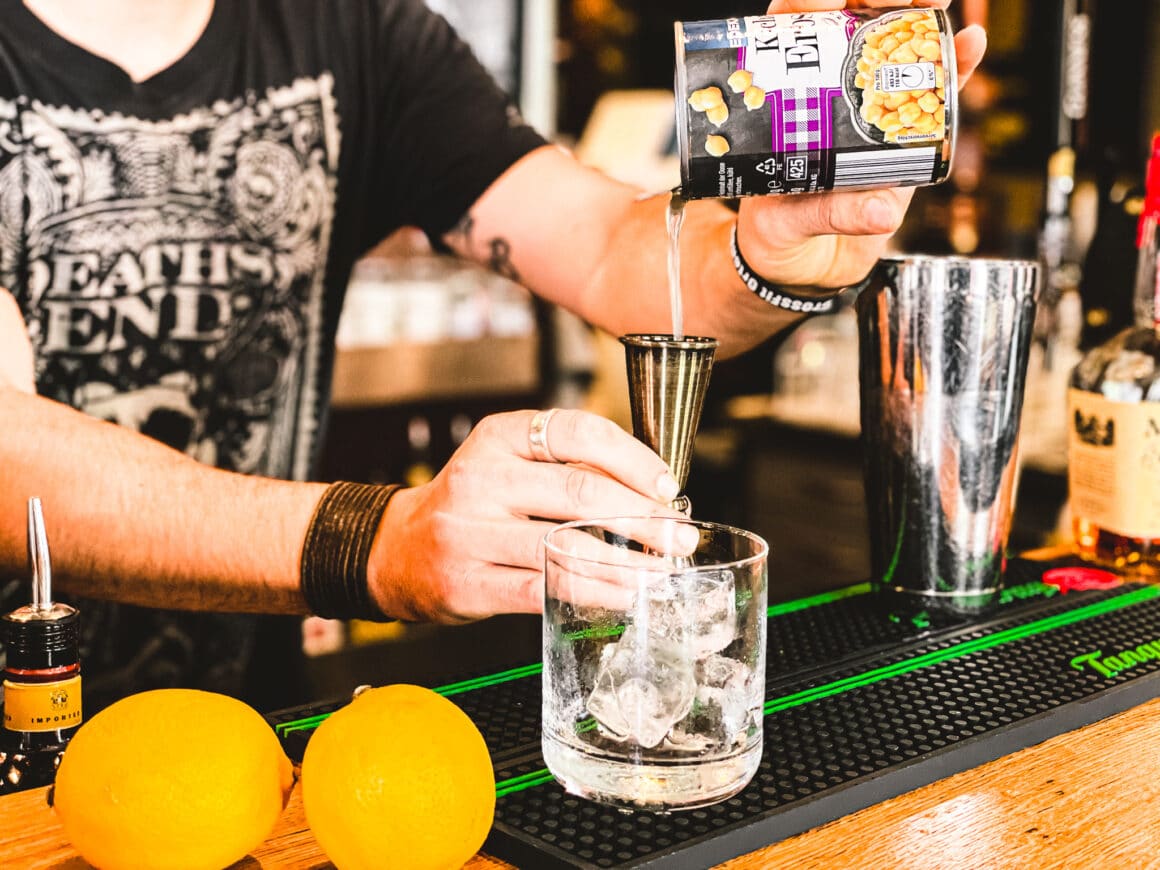 Aquafaba - An Excellent Alternative for Cocktails and Baking
The Whiskey Sour vegan without egg is an excellent alternative for all cocktail lovers who want to avoid using raw eggs. Aquafaba can not only be used in cocktails, but is also ideal for baking and cooking. If you also prefer a vegan lifestyle, or just want to avoid using raw eggs, then try our Whiskey Sour vegan without eggs yourself. You will be positively overwhelmed by the great taste!
See our Method here!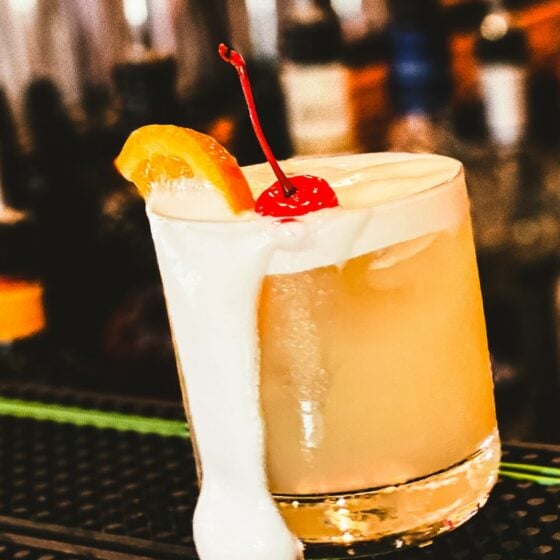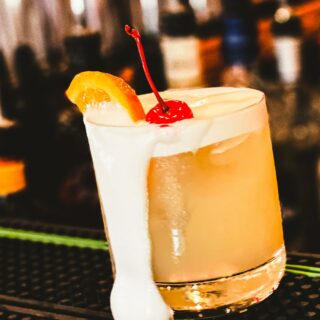 Vegan Whiskey Sour (without egg)
Our original recipe for a Whiskey Sour vegan with "egg whites" made from aquafaba chickpea water. This timeless cocktail classic has the perfect balance of acidity and sweetness with the aroma of cask-aged whiskey.
Equipment
Whiskey glass

Knife

Cutting board

Citrus press

Peeler

Jigger (bar measure)

Cocktail or Wooden Skewer (for cherry, optional)
Ingredients
2

oz

bourbon whiskey

2

tbs

chickpea water

(juice found in the can of chickpeas)

3/4

oz

simple syrup

(equal parts sugar and water)

1

oz

fresh juice from an organic lemon

1

organic orange

peel for garnish

6

ice cubes

for your glass

6

ice cubes

for your shaker

1

cocktail cherry

for decoration
Instructions
Cut the lemon in half and juice both halves using your citrus juicer. We like to roll our lemon before slicing to get the juices flowing.

Put the whiskey, simple syrup and lemon juice in a cocktail shaker (without the ice) and shake it for about 10 seconds as a preliminary first mix ("dry mix").

Carefully fill the cocktail shaker with ice and shake vigorously until a slightly visible layer of ice forms on the outside.

Pour the water from the chickpeas into the shaker, mixing with the other ingredients and shake well.

Drain the whiskey sour into your whiskey glass containing the 6 fresh ice cubes. Insert a cocktail or wooden skewer through your cherry and add it to the glass as decor.

Peel off some skin from the orange using the peeler. Squeeze the peel over the drink. Look closely for the subtle spray and run the peel around the rim of your glass. Add the peel to the drink to decorate. Alternatively, you may decorate with the lemon peel and/or a slice of either fruit.

Cheers!

Tip: If you like a sweeter drink, try adding a bit more simple syrup and/or a few dashes of juice from the jar your cherries come in!
Make the cocktail work for you by adjusting the ingredients as you see fit! If you like a
sweeter
drink, add more simple syrup and/or juice from the jar of your cherries. If you prefer a more
sour
drink, add a bit more lemon juice and less simple syrup. If you like a
stronger
drink, perhaps give yourself an extra splash of whiskey! 
Please install and activate Powerkit plugin from Appearance → Install Plugins. And activate Opt-in Forms module.