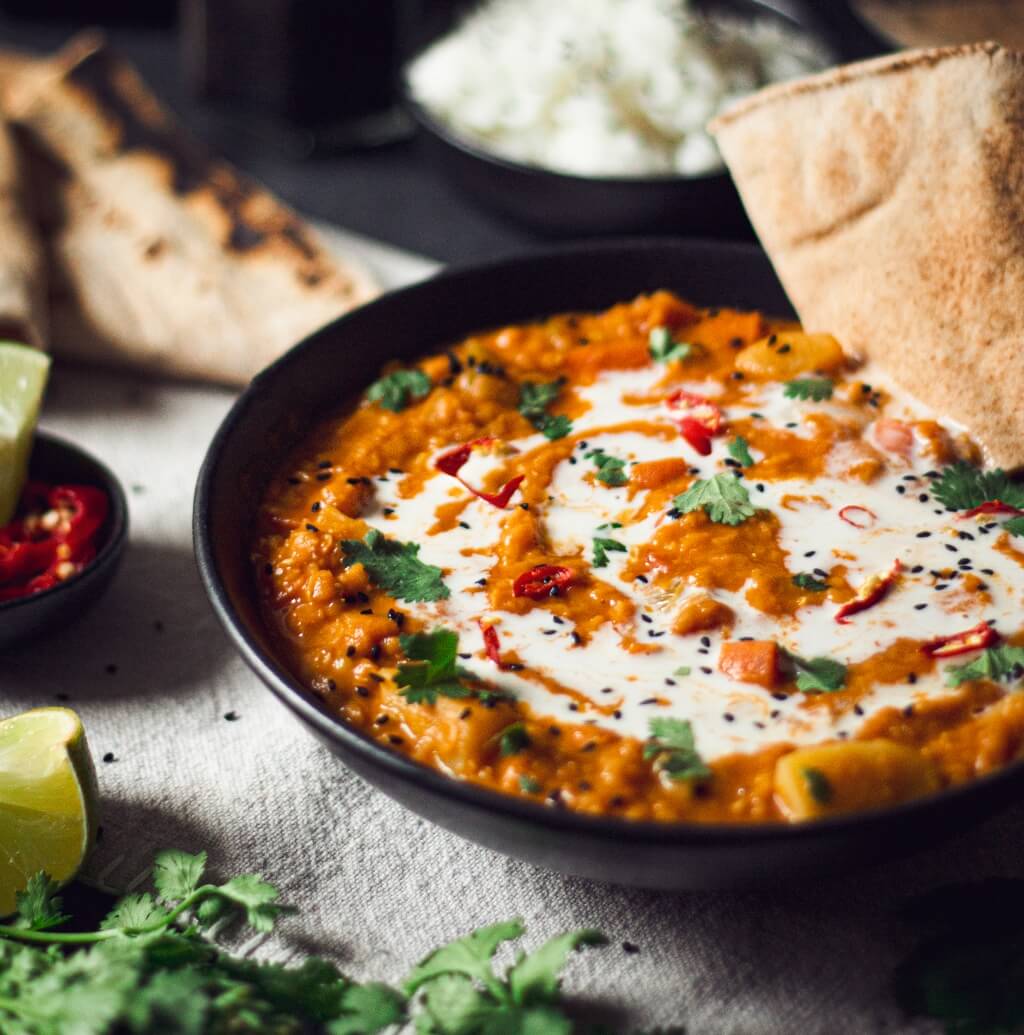 Red Lentil Dal
We should all strive to maintain a healthy diet. What is better than a delicious, warm bowl of Lentil Dal (Lentil Dahl)?
This creamy, Indian dish is full of proteins and can be prepared in many ways.
The body converts provitamin A, which is found in the lentils, into vitamin A. This supports your vision and immune system. The vitamin E found in this dish has a cell-protecting effect. Lentils are also rich in the minerals potassium, calcium, magnesium and phosphorus.
In addition, lentils have a lot of fiber and are rich in vegetable proteins.
Our favorite thing about this dish, besides the taste, is it can be prepared in under 40 minutes. This means a quick process from prep to consumption, and our recipe makes enough for you to enjoy over several days!
Our tip for dipping: Vegan flatbread or naan bread / Rice also goes perfectly with it.
Vorbereitungszeit

10 Minuten

Kochzeit

30 Minuten

Gesamtzeit

40 Minuten

Portionen

3 Personen

Kalorien (ca)

200 kcal
Zutaten
1 can of chopped tomatoes or 400 ml (13.5 oz) tomato purée

1 small can (200 ml or 7 oz) of coconut milk

Coconut, avocado or rapeseed (canola) oil for frying

2-3 cloves of garlic, chopped into small pieces

1 piece of ginger (hazelnut size), chopped small or grated

Spices: coriander (1 tsp), cumin (1 tsp), turmeric (1 tsp), cinnamon (1/4 tsp), cardamon (1/4 tsp), chili (1/4 tsp) and salt (1 tsp)

2 carrots, chopped

3 medium potatoes , chopped (Yukon, Laura, Kennebec, or sweet potatoes work well)

200g (7 oz) red lentils
Zubereitung
Knoblauch, Ingwer und die Gewürze in Öl in einem Topf anschwitzen.
Nach 3 Min die Karotten, Kartoffeln und die roten Linsen dazugeben und kurz mit anrösten. Danach mit den Tomaten und der Kokosmilch ablöschen und mit Wasser (mindestens 500ml) auffüllen, bis alles gut bedeckt ist.
Kurz aufkochen lassen und dann direkt auf niedrige Stufe stellen und ca. 20min köcheln lassen. Falls die Masse zu fest werden sollte, einfach noch etwas Wasser hinzugeben.
Anschließend salzen und nachwürzen, wenn´s nicht kräftig genug ist und wahlweise mit frischem Koriander, schwarzem Sesam oder Limettensaft toppen. Dazu passt Fladenbrot oder Reis, aber auch pur ists ein Genuss. 🙂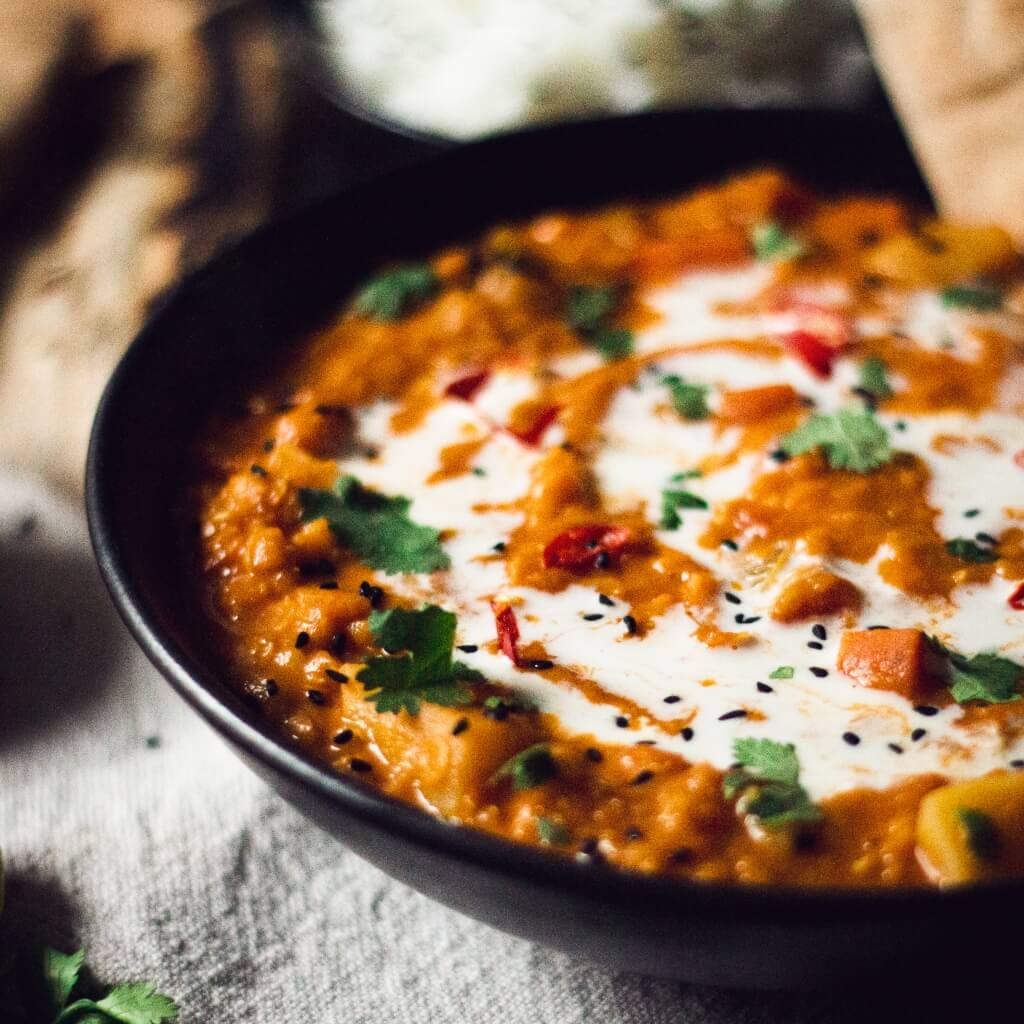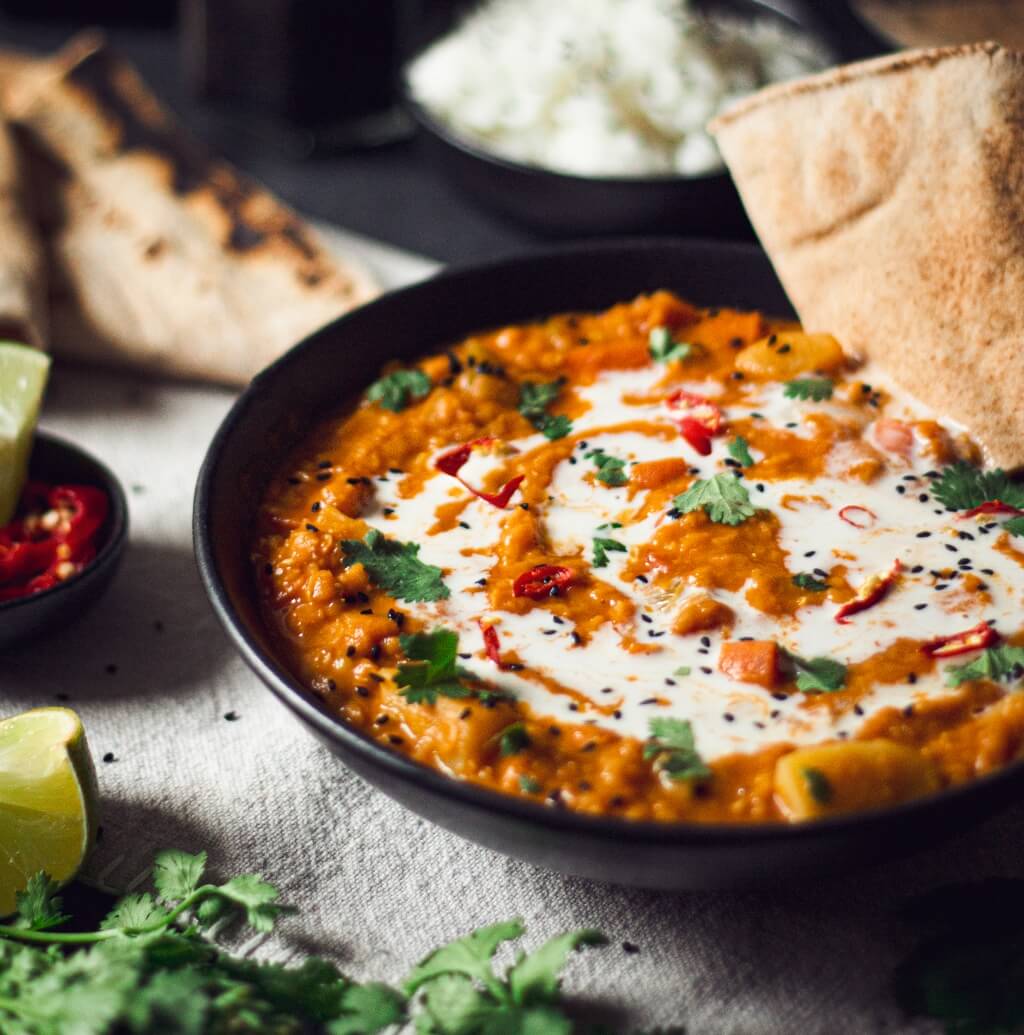 Want to support the work of This Is Vegan?
On our pages you will find affiliate links. If you buy your favorite products through them, we will receive a commission. It helps us to keep doing what we love – introducing you to great vegan ideas!
By purchasing the sustainable reusable cups from us, you can support the Gnadenhof Papillon.
You can also follow us on Instagram here.