Easy Lentil Curry – Vegan
Lentil curry - High protein dish
Made from incredibly healthy ingredients, this vegan lentil curry is quick and easy to prepare, and perfect for when you're craving a warm dish!
Lentils are diverse, high in protein and super healthy. They make the perfect base for a balanced recipe. This is not the only reason why lentils are so popular for vegetarian Indian recipes. Combined with ginger, garlic and turmeric, the dish also has an anti-inflammatory effect. And the best part? This Indian lentil curry is super quick to prepare and therefore perfect for dinner if you don't feel like standing in the kitchen for a long time.
Thanks to the delicious coconut milk, the curry is also incredibly creamy and provides a warming feeling. You can combine our lentil curry recipe perfectly with naan bread or rice.
Red lentils
Chopped tomatoes
Coconut milk
1 red onion
1 zucchini
3 carrots
Ginger
2-3 cloves garlic
Coconut or canola oil 
Curry powder
Caraway
Coriander
Paprika
Chili powder
Cinnamon
Salt & Pepper
Optional garnishes: spring onion, parsley, lime
Cut a walnut-sized piece of ginger and a red onion into small pieces, and squeeze and chop two to three cloves of garlic. Then fry them together with some oil in a large pan or wok.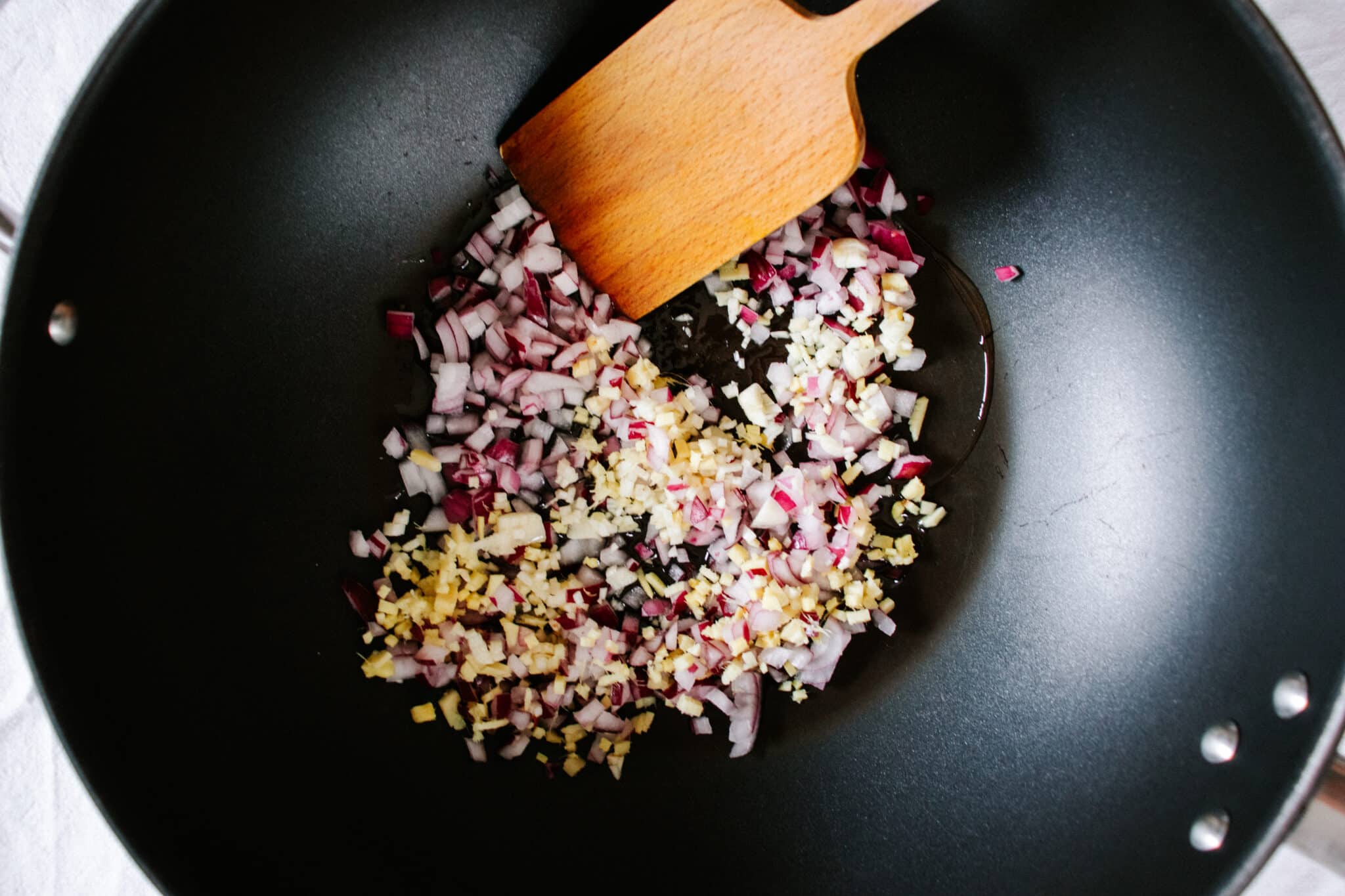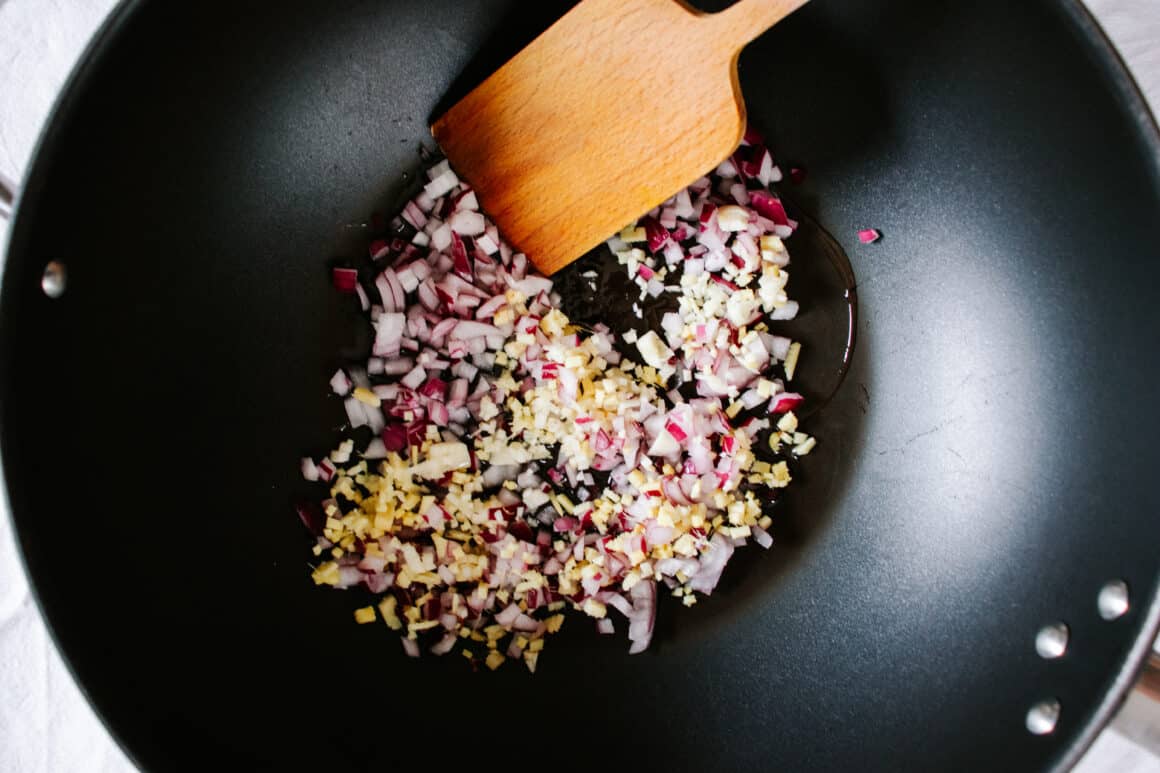 Then cut the vegetables into small pieces. If you don't like carrots and zucchini in your curry, you can get creative. Add what you like best or what you might find in the fridge. We love carrots and zucchini in our lentil curry as they offer a good combination of the crunchy, bite-firm consistency of carrots and the pleasantly soft consistency of cooked zucchini.
It's not lentil curry without the right spices
Fry the vegetables for a few minutes and then add the spices. With the combination of curry powder, turmeric, cinnamon, paprika, coriander, cumin, and chili powder, you conjure up a real taste experience. Of course, you can taste for yourself, in which exact combination it tastes best to you. As stated in the recipe, these spices complement each other perfectly and result in an incredible lentil curry dish. If you like it a bit hotter, add a little more chili powder.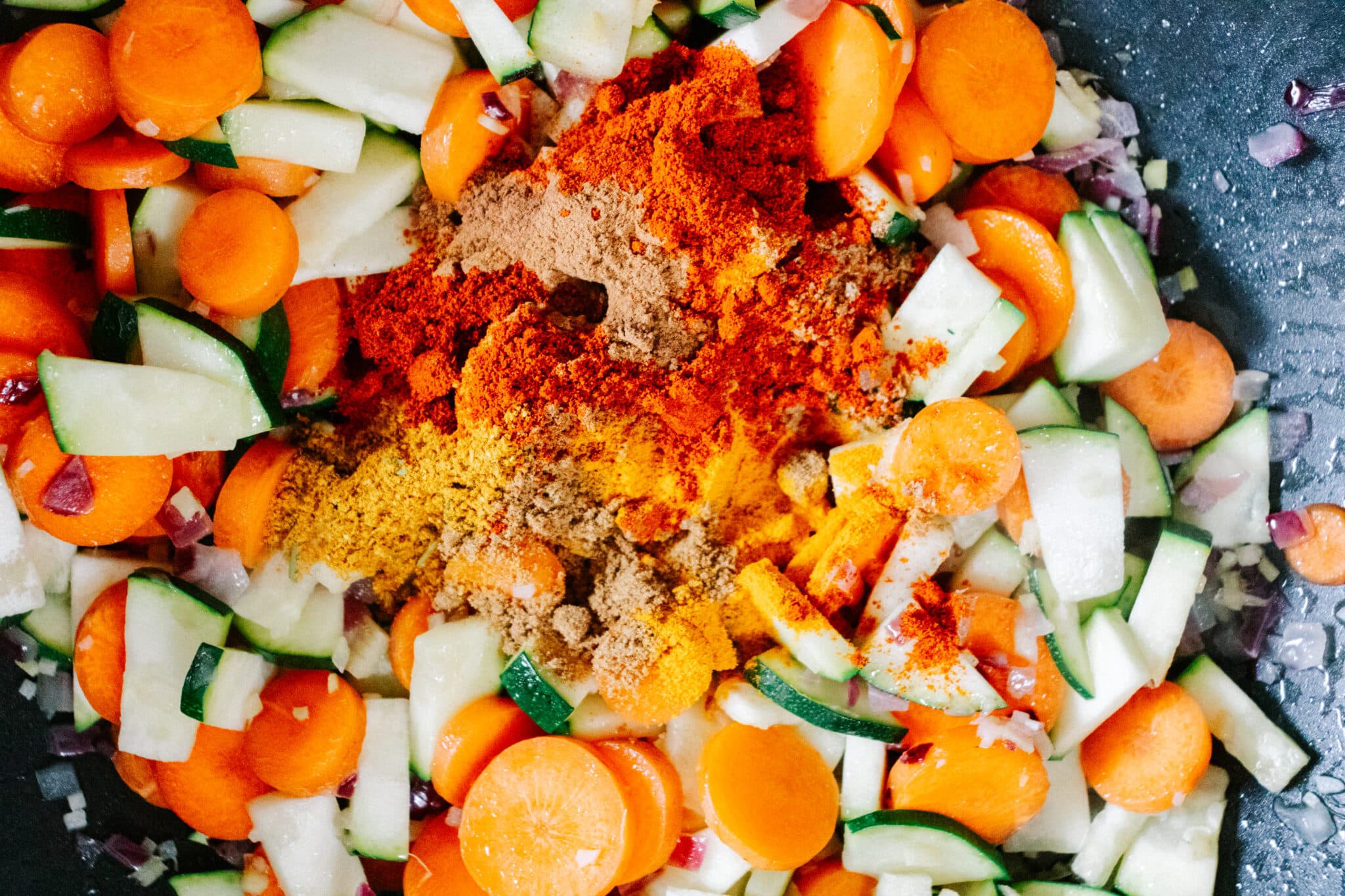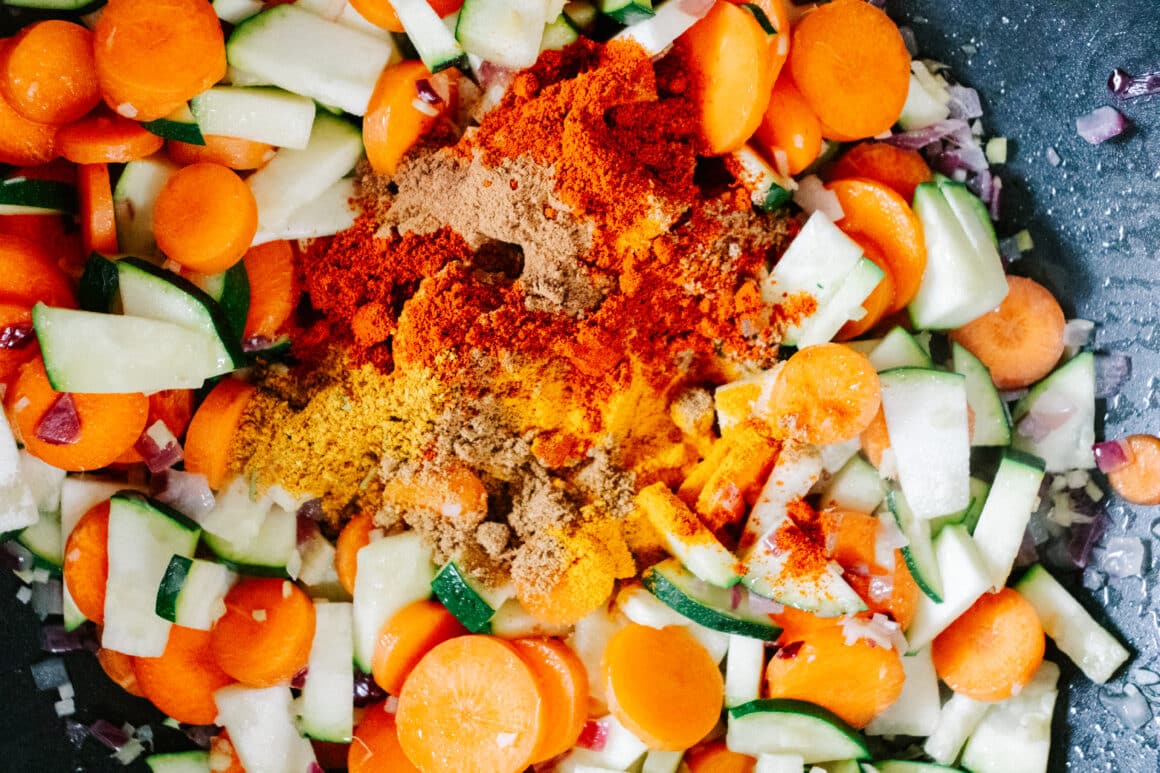 Sauté the spices together with the vegetables for 3 minutes before adding the lentils, chopped tomatoes, and pouring in the water.
Then add salt and a little pepper to taste and cook until the lentils are done (soft). This only takes about 10 to 15 minutes with red lentils.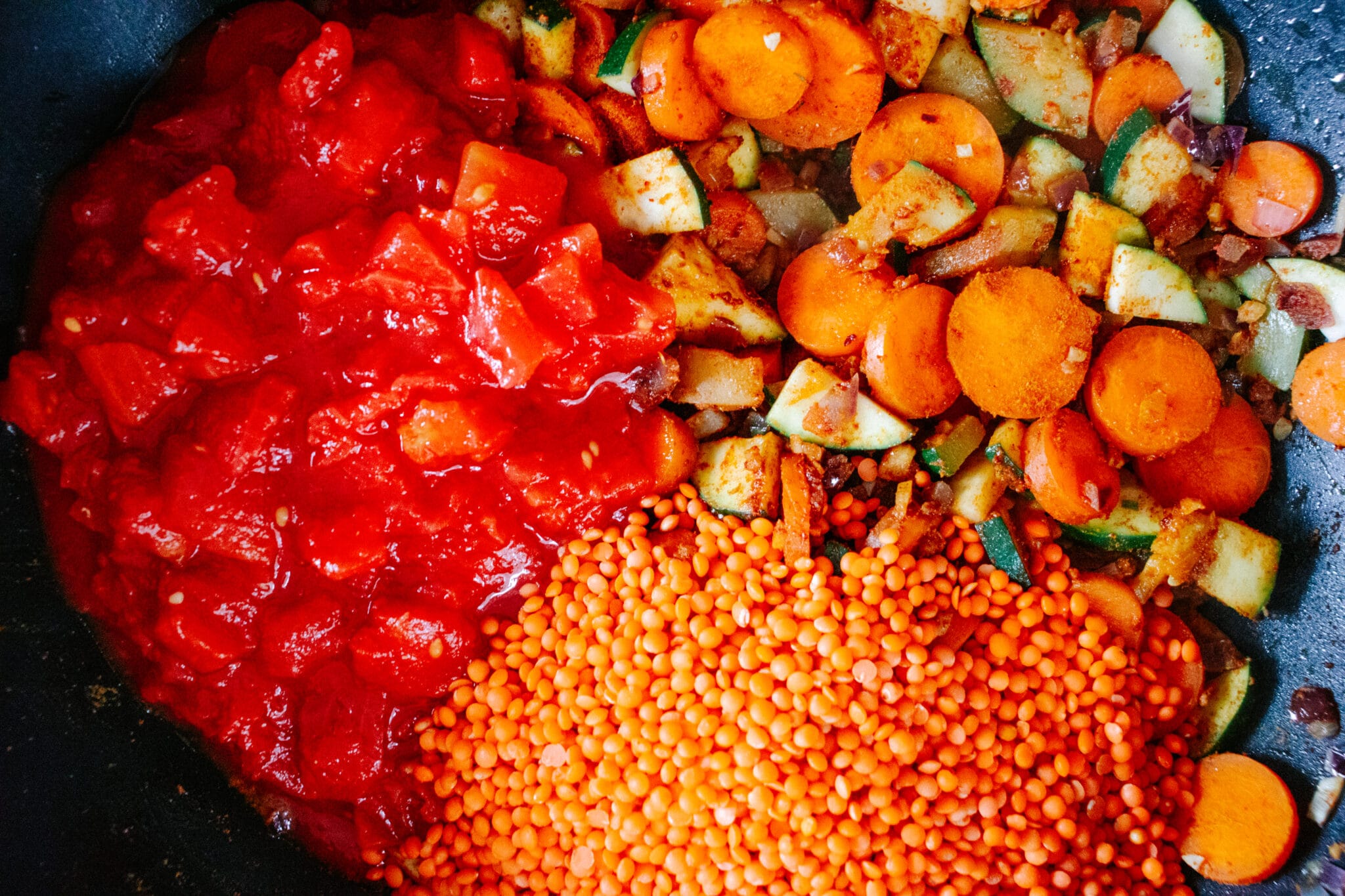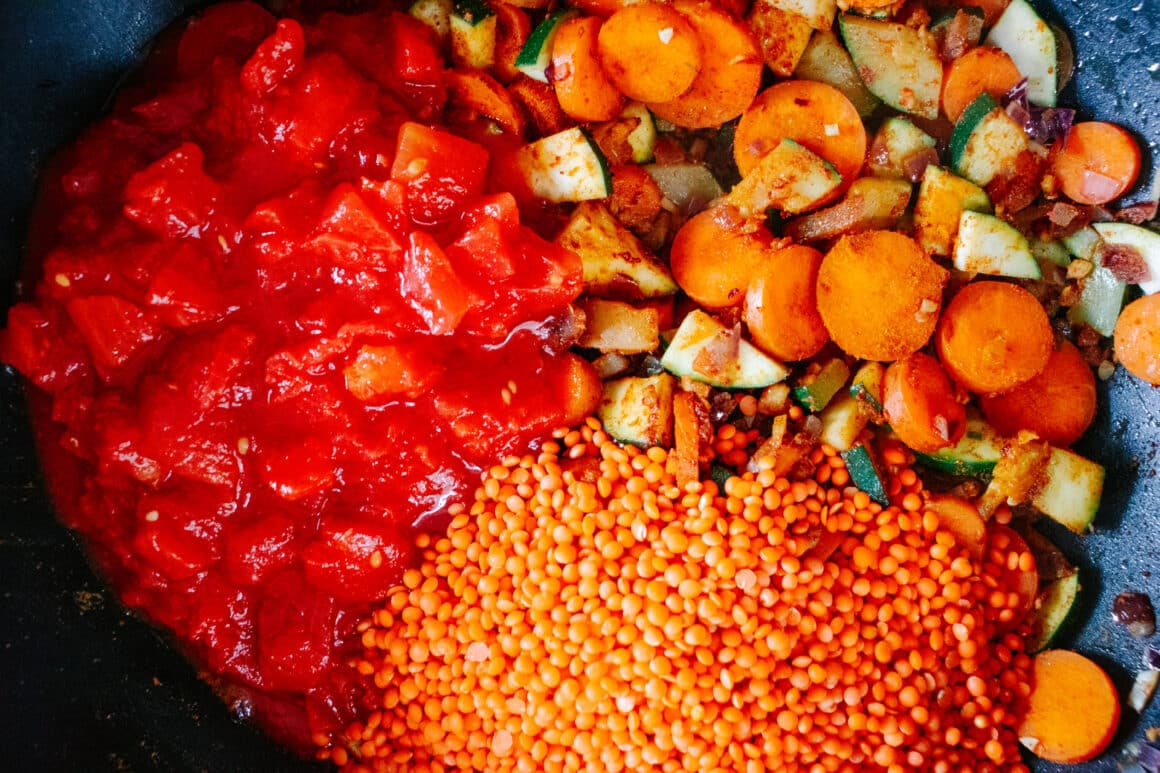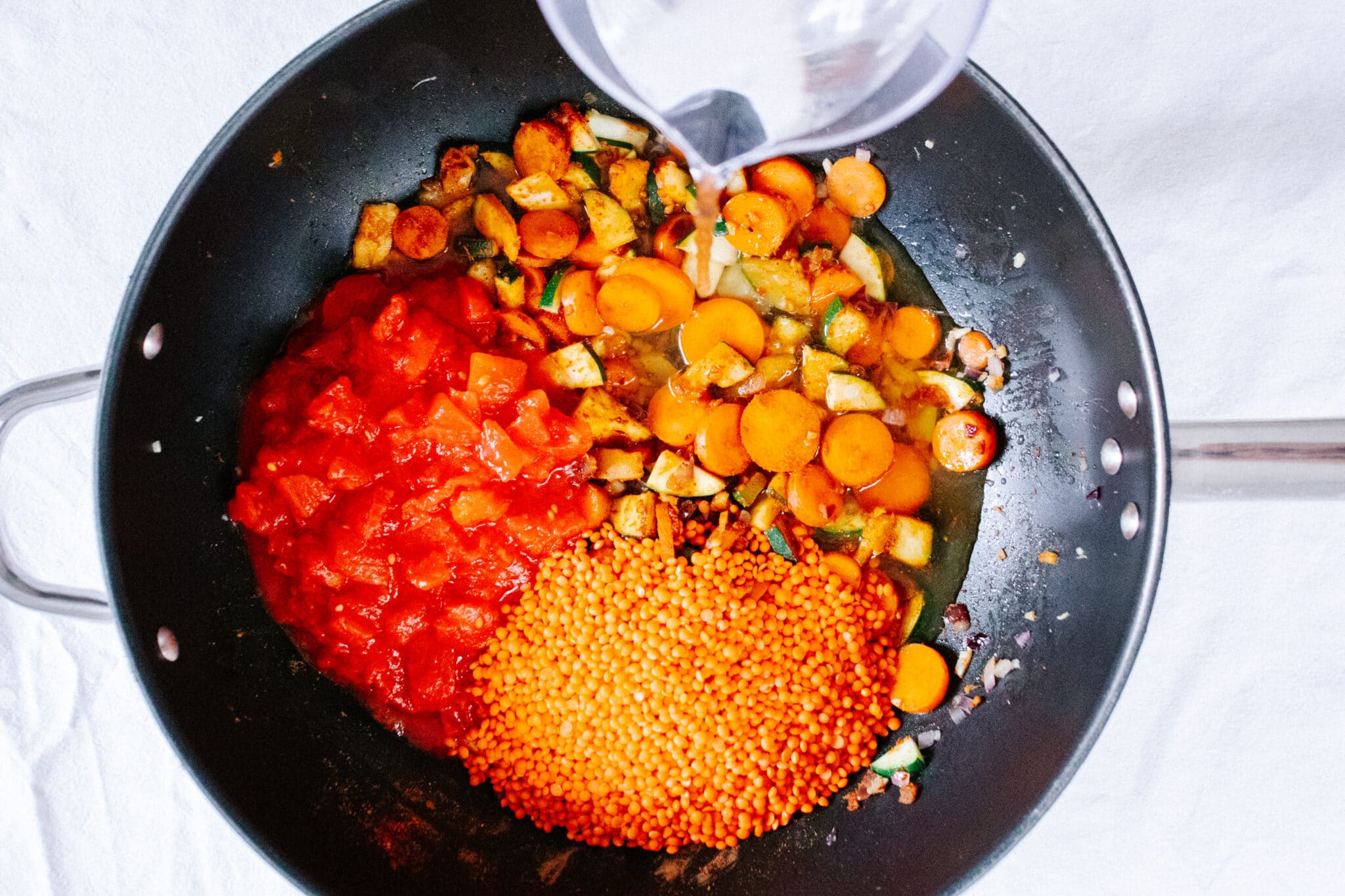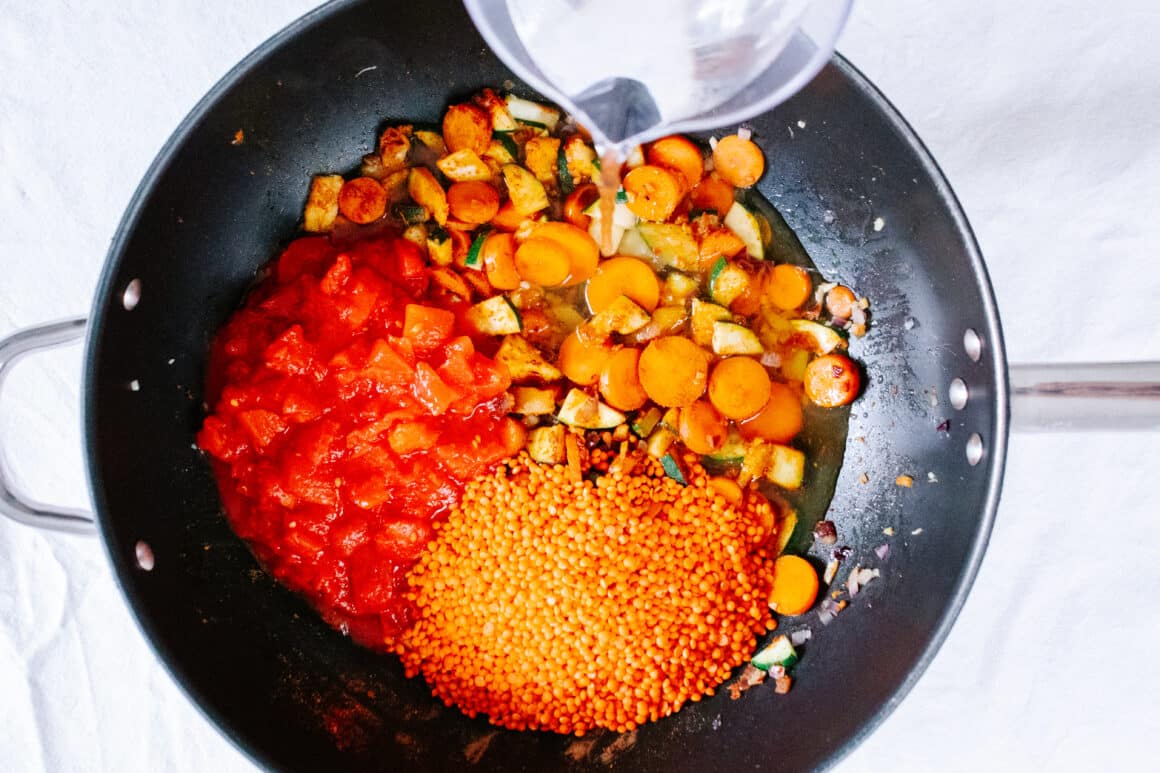 In the meantime, you can prepare your rice. For the portion specified in the recipe, about 250g (uncooked) rice is suitable.
After 10 minutes, add the coconut milk and fresh parsley to the curry and stir both gently. The coconut milk gives this lentil curry dish the pleasant and comforting creaminess that we love so much! Cook until everything is heated up again and you're done!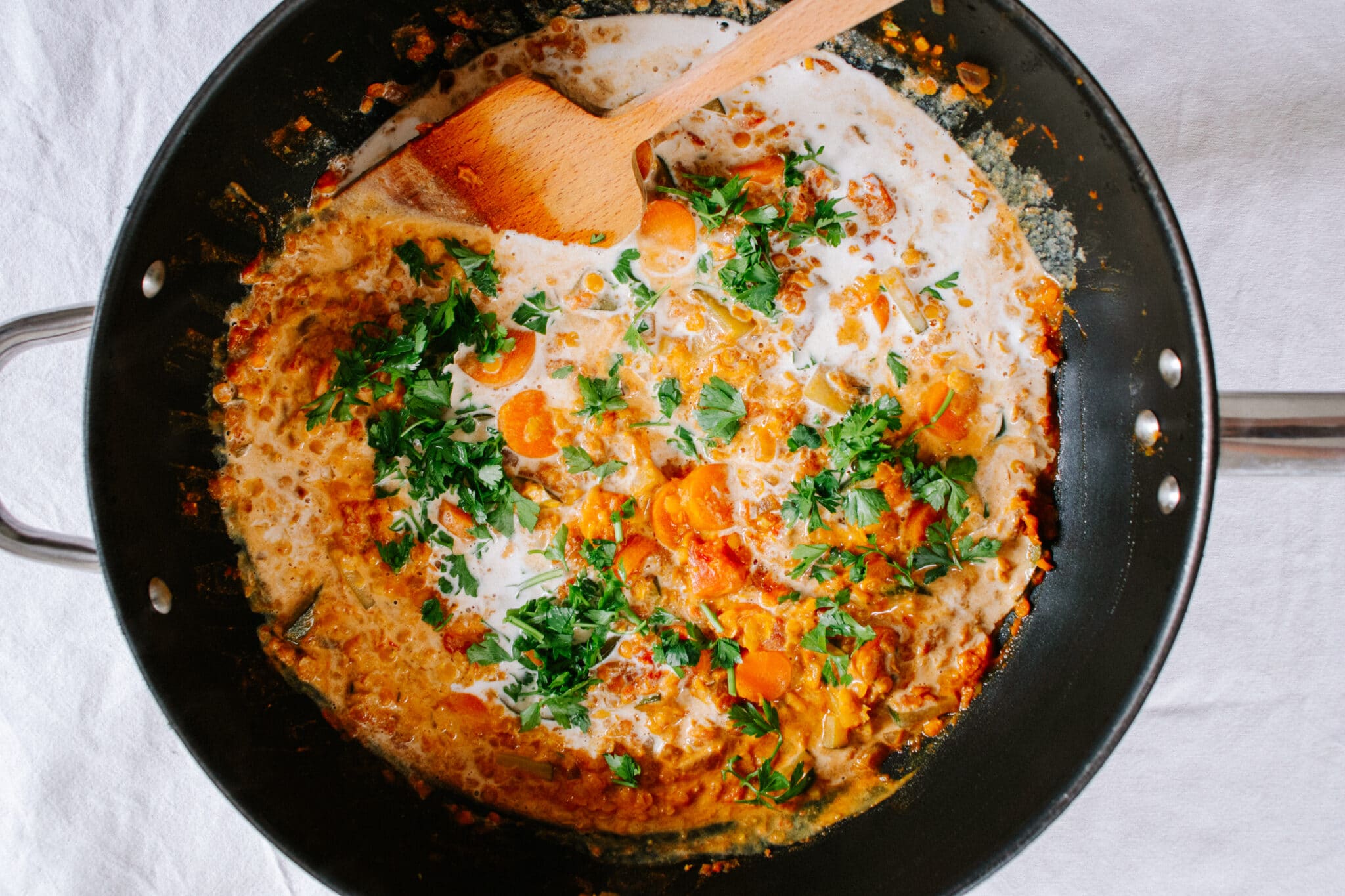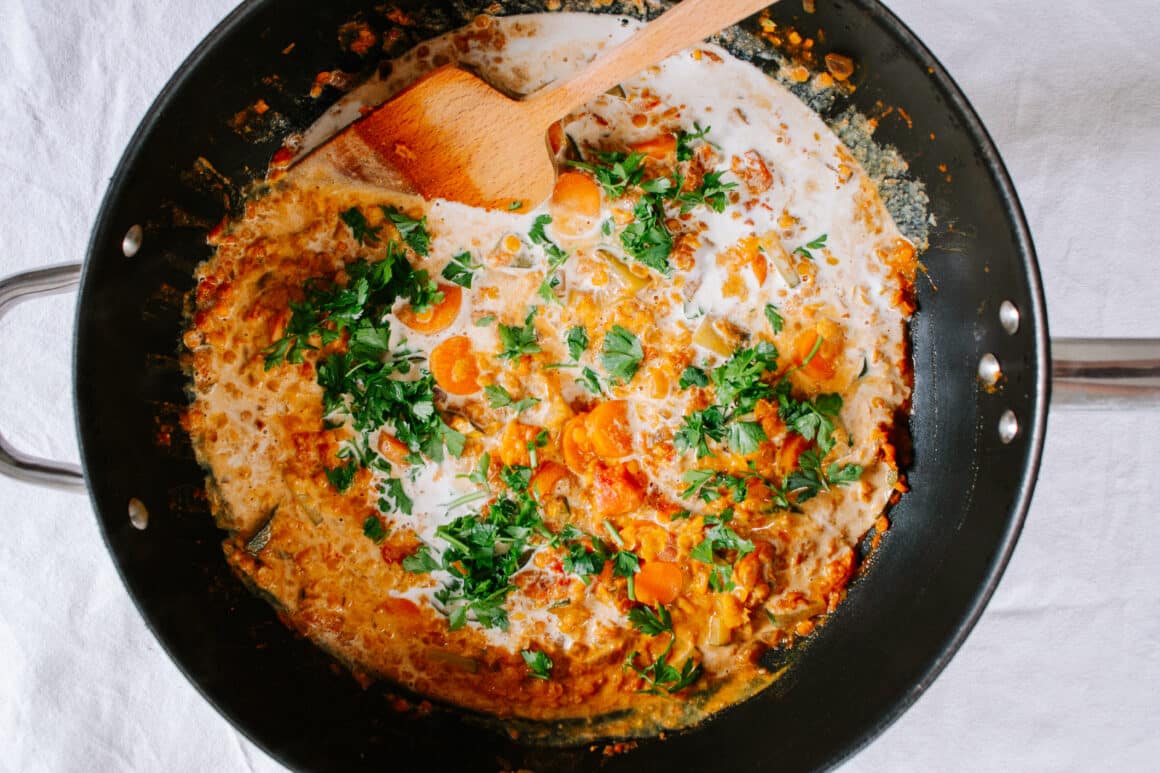 Serve the delicious, vegan lentil curry in a bowl of rice and top it with garnishes such as spring onions, chopped parsley, additional chili flakes, and some lime juice.
Enjoy it!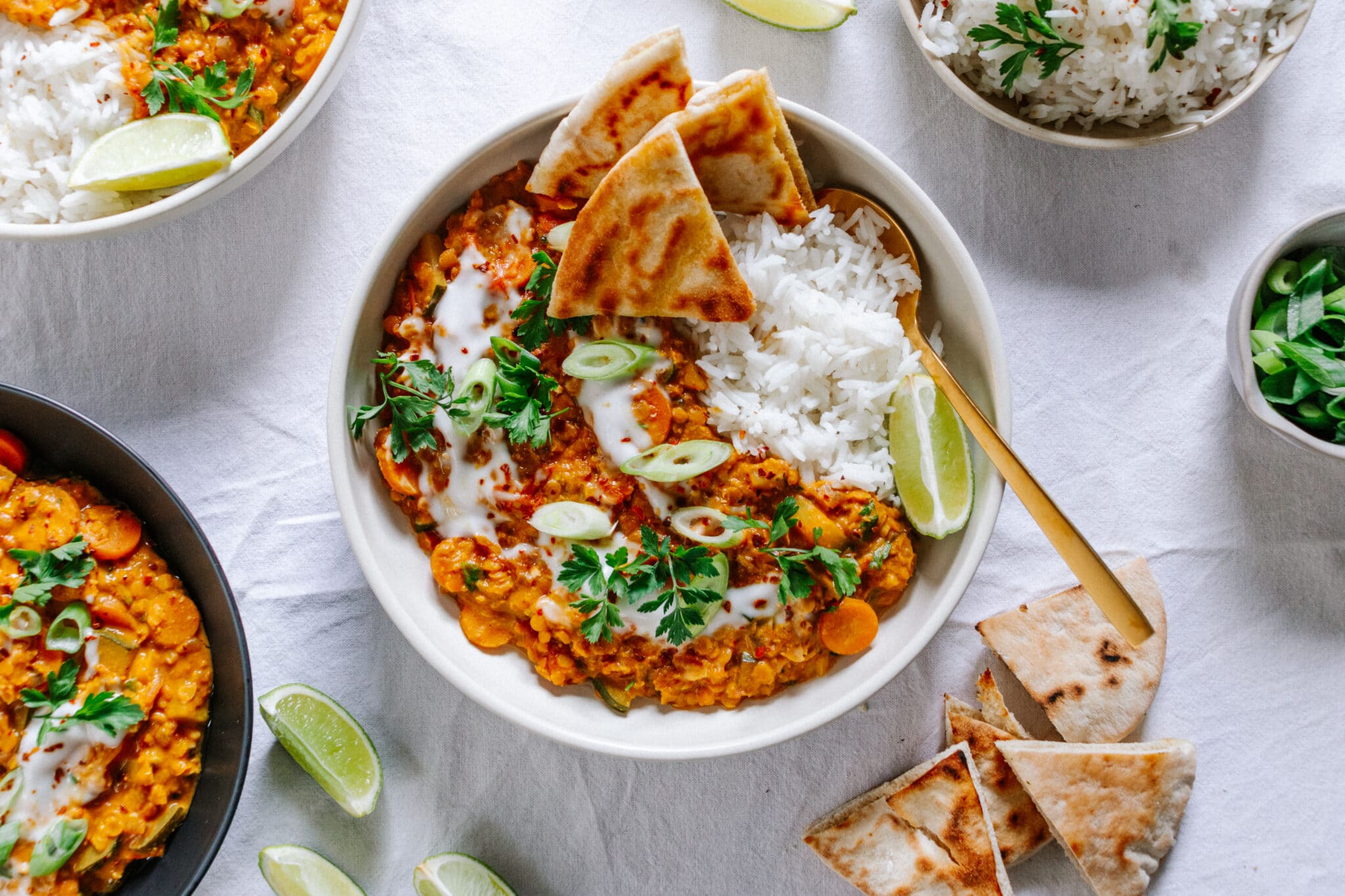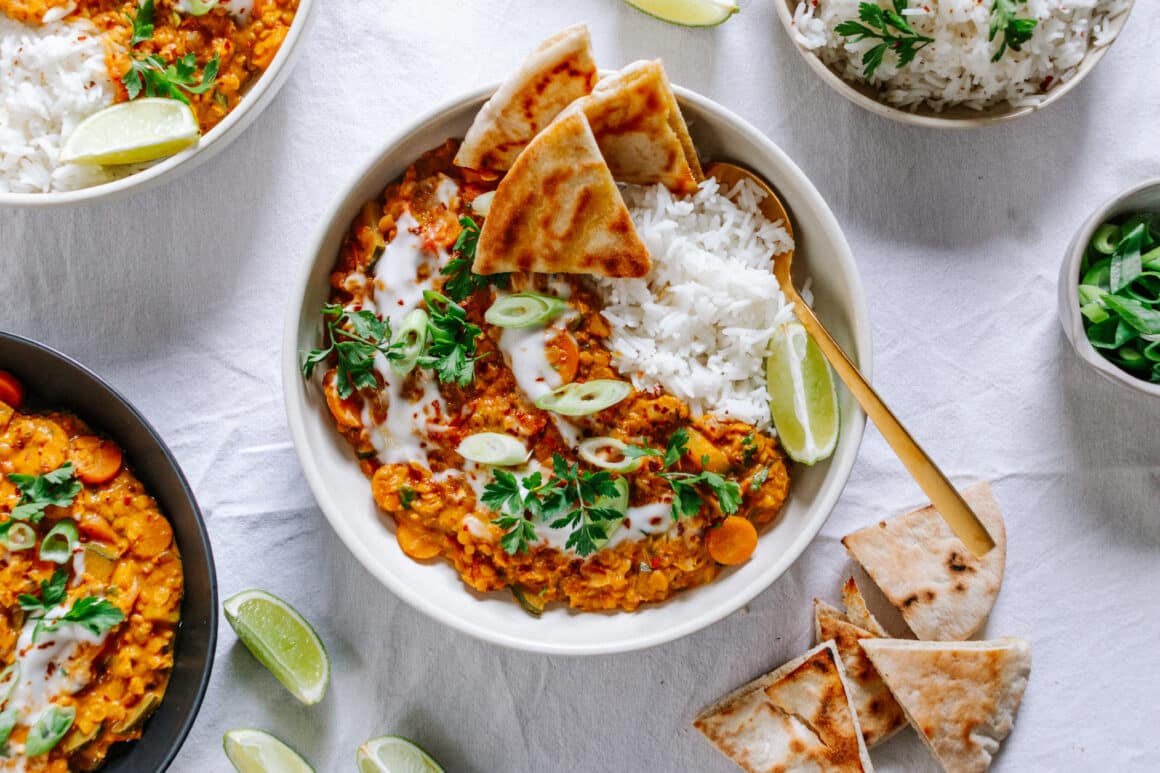 Lentils - see how good they really are
Rich in vitamins (including B vitamins, niacin, folic acid, vitamin A)
Rich in fiber
Healthy protein supplier
High iron content
Antioxidant, anti-inflammatory, blood pressure regulating
Nerve nutrition (thanks to B vitamins & magnesium)
Lentils are a real miracle weapon when it comes to balanced foods and thus offer the perfect base for a wholesome, vegetarian recipe. And who can't use a few more vitamins and fiber in their diet?  Eat more of them by making our lentil curry recipe! 
No problem! You can easily freeze and thaw this lentil curry as soon as you feel like it again. It's a great dish to meal prep with, or even make a double portion for a larger gathering. For recommend you portion it before freezing so it is easier when thawing.
Not only can the vegan lentil curry be frozen very well, it is also perfect for meal prep. Prepared in the evening, you can pack it for the next day and take it with you to work. Add some water when warming up so that it stays creamy through the warm-up process (in microwave or pot).
Your recipe in our Instagram Story!
You want to show your friends how delicious vegan recipes can be?
Then post your creations, recipes, vegan food and everything related to it on Instagram and tag us
@thisisvegan.magazin

You want to be reposted in our story?
Then post your vegan food or recipe on your Instagram story, type "thisisvegan" in the gif search and put one of our Instagram gifs over it. Tag @thisisvegan.magazin now and share the story with your friends.
Inspire thousands of people from vegan diets and look forward to a repost! #thisisvegan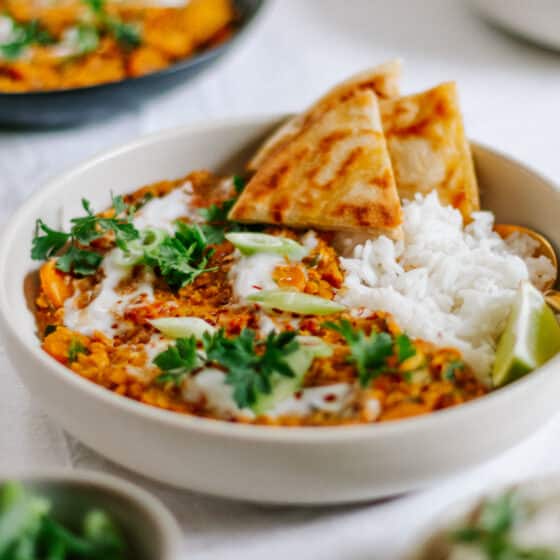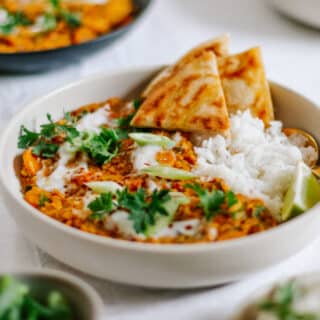 Vegan Lentil Curry
Incredibly warming and nutritious lentil curry that's quick & easy to make.
Ingredients
200

g

Red lentils

400

g

Chopped tomatoes

One 15 oz can

200

ml

Coconut Milk

7 oz

2-3

Garlic cloves

Up to 6 cloves if you like garlic

1

piece

Ginger (fresh)

Walnut sized

1

Red onion

Medium sized

3

Carrots

1

Small zucchini

500

ml

Water

1

Tbsp

Curry powder

2

Tsp

Caraway seeds

1.5

Tsp

Coriander

1

Tsp

Paprika

2

Tsp

Chili powder

1

Tsp

Cinammon

Coconut or canola oil

for pan frying

Salt & Pepper to taste

250

g

White rice (optional)

1

Lime

for garnish

3

Tbsp

Parsley

split, for garnish

1

Tsp

Spring onions

for garnish
Instructions
Cut the ginger and red onion into small pieces. Squeeze the garlic cloves

Pan fry the ginger, garlic and red onions in a large pan with a little oil for 3-5 minutes.

Cut the remaining vegetables into small pieces and add them to the pan.

Then add curry powder, turmeric, cinnamon, paprika, coriander, cumin and chili, and sauté for 3 minutes.

Add the red lentils, chopped tomatoes and water, and cook for 10-15 minutes until the lentils are tender.

In the meantime, you can prepare the rice according to the package instructions.

Season the lentil curry with salt and pepper. Then add the coconut milk and fresh parsley (optional). Let everything boil again and your curry is ready!

Serve the lentil curry with rice or naan bread and top it with spring onions, fresh parsley and some lime juice.

Bon appetit!
Want to support the work of This is Vegan?

Every euro helps to advance our vision.

Thank you.
🙏🏽💚
Please install and activate Powerkit plugin from Appearance → Install Plugins. And activate Opt-in Forms module.