Non-alcoholic Aperol Spritz / Recipe with Laori Ruby No 04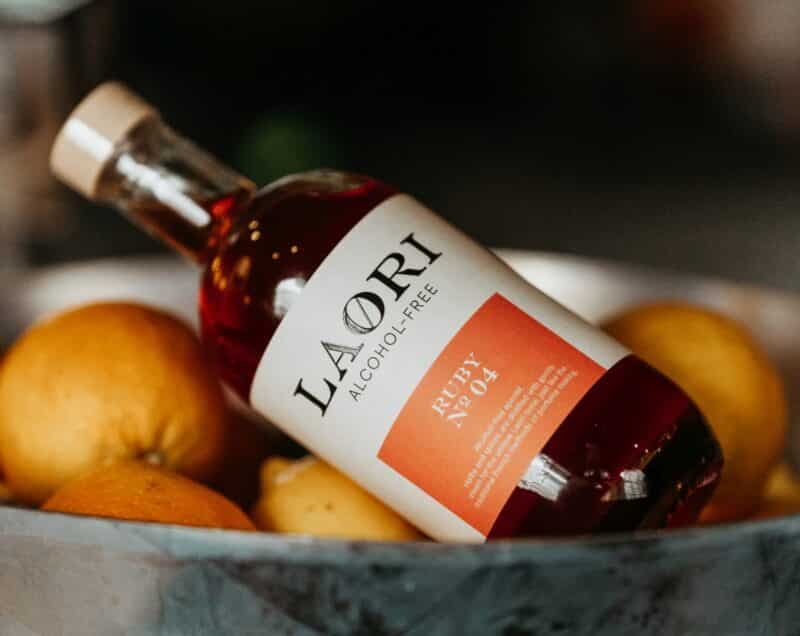 Perfect for hot summer days, hosting friends, or anytime you crave a refreshing beverage! Laori Ruby No. 04 is your alcohol-free alternative to Aperol Spritz.
Are you in the mood to sip a delicious drink that resembles a typical Aperol Spritz, while avoiding the alcohol? Our drink is sustainable, vegan and alcohol-free. Laori has developed the perfect drink for hot summer days without alcohol and without hangovers for you.
The Aperol Spritz is one of the most famous and popular drinks worldwide. Its bright color makes it unmistakable. Typically made with sparkling wine, this drink has a fruity sweetness with a tart note in the finish. Everyone's first association with the summer drink: La Dolce Vita. You too can enjoy the sweet life when you mix together this delicious drink! 

Preferably drunk in the sun, this sparkling summer drink manages to make every moment a special one. As an aperitivo with small snacks such as olives and appetizers, our Aperol Spritz re-make is the perfect drink to accompany every course.
We will show you how to mix an alcohol-free Aperol Spritz with a simple, delicious recipe. Laori Ruby No 04 is a non-alcoholic aperitif that you can use to mix the perfect non-alcoholic spritz. Indulge in your personal aperitivo moment without the negative effects of drinking alcohol. 
Laori Ruby No 4 charms us with its rich red color, tangy sweetness and tart finishing note. Picture this: you're drinking a delicious iced drink under the sun, as you create a feeling of being on holiday: waves crashing, fires cracking, moods lifting. Your ice-cold Laori Ruby Spritz is like a vacation in a glass! Sit back, relax, and enjoy sipping on the grapefruit, orange and lemon flavor profile you'll find in this mix! 
Prepared in a few moments!
No time to prep and mix? No problem. Thanks to the ready-mixed high-quality ingredients, you have your alcohol-free spritz within a few minutes. Enjoy it yourself and offer it to your friends at the party without wasting time.
Nonalcoholic

Hangover-free

without artificial flavors

Handmade

vegan

Regionally grown

low-calorie

Including

nutrient information

Plastic-free transport with DHL GoGreen

Stylish, reusable glass bottle (e.g. for soap, flowers, decor)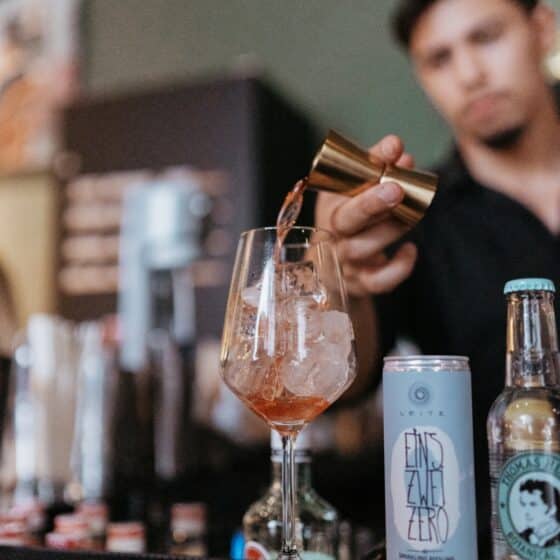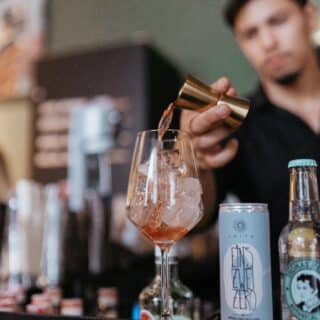 Alcohol Free Aperol Spritz using Laori Ruby No. 04
Aperol Spritz without alcohol? With Laori Ruby No. 04 it is possible to mix this popular summer drink alcohol-free and full flavor!
Equipment
1 Bar spoon

1 Bulbous wine glass

1 Bartender's Knife
Ingredients
2

oz

Laori Ruby No. 04

1

oz

Club Soda (sparking water of choice)

2-3

dashes

Tonic Water

3-5

cubes

Ice

1-2

slices

Blood orange (or any type of orange)
Instructions
Put ice cubes in your wine glass

Add Laori Ruby No. 04 to your glass and mix with a long bar spoon

Add your sparkling wine and club soda, mix

Add a few dashes of tonic water (optional), stir once

Garnish with a slice or two of orange. Enjoy ice cold! Cheers!
Notes
Conclusion: We often receive product samples and love that opportunity. However, you only learn about the products that we truly love.  Laori's design, taste and vision absolutely blew us away. So refreshing and delicious.
Perfect as an aperitif in summer and completely alcohol-free. We highly recommend trying this vegan product for yourself!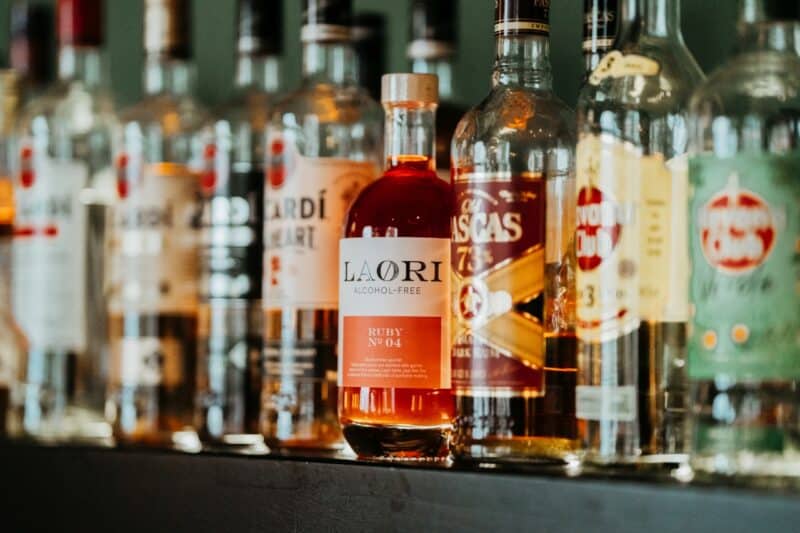 What we also like: Laori was launched in Berlin, Germany in 2020 by Stella-Oriana Strüfing and Christian Zimmermann. The team develops its products themselves, thereby ensuring their high standards of enjoyment, quality and naturalness.  No third parties, no artificial ingredients. By developing everything in house, Laori creates a taste experience that is equivalent, if not better, than traditional alcoholic beverages. They also do this in a sustainable, vegan and resource-saving manner. We think it's admirable and we are huge fans of their products.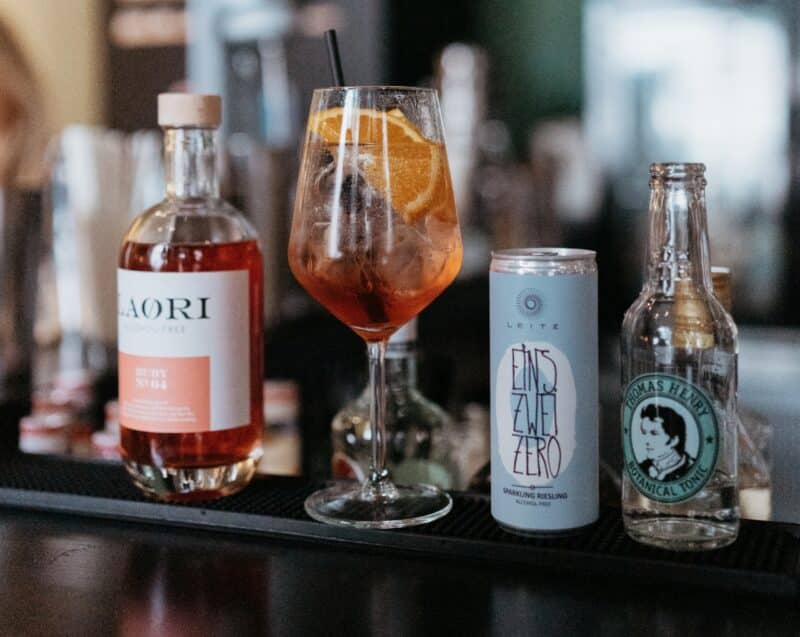 Advantages at a glance:
Nonalcoholic
Hangover-free
Made without artificial flavors
Handmade
Vegan
Regionally grown (Germany, where This Is Vegan was founded too!)
Low-calorie
Includes nutrient information
Plastic-free transport with DHL GoGreen
Stylish, reusable glass bottle (e.g. for soap, flowers, decor)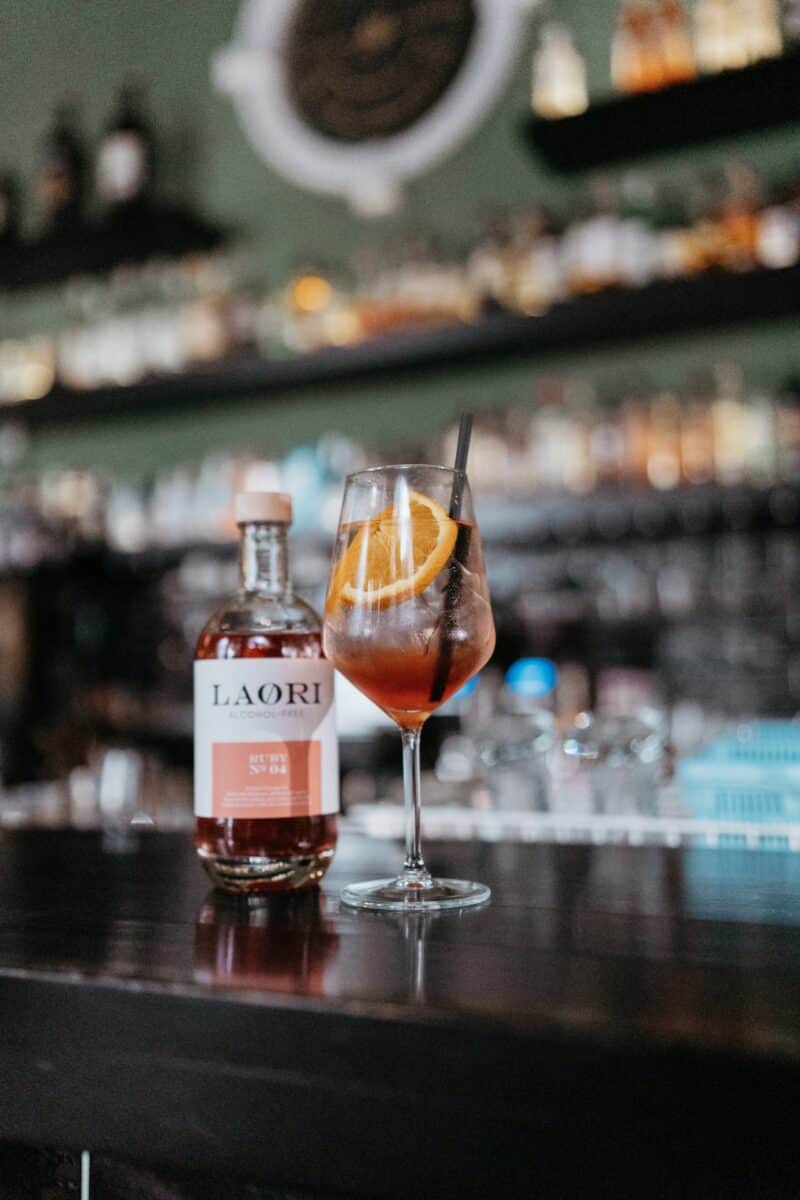 What to try Laori?

Find them here

. 
The perfect gift for a summer party!
Still looking for something to bring to the next BBQ to surprise everyone? How about non-alcoholic gin from Laori paired with a non-alcoholic sparkling wine and typical Aperol Spritz glasses?
Your friends and family will be surprised over how delicious alcohol-free can be and appreciate how safe it is to avoid alcohol from time to time. This is how you gift "healthy".
Photos by Pascal Bähr/This Is Vegan
Models: Roman Jennrich & Yannick Haldenwanger
Do you want to support the work of This Is Vegan?
Please install and activate Powerkit plugin from Appearance → Install Plugins. And activate Opt-in Forms module.