Feeding up squirrels – Dennis & Eva tell about their experiences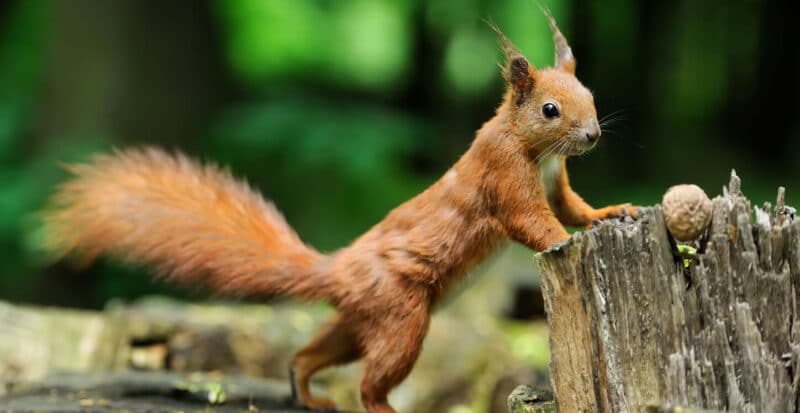 Some time ago we visited "Amici sciuridae" in Hamburg/ Altona.
"Amici sciuridae" means "squirrel friends" and consists of Eva and Dennis. If you follow the two on Instagram, you'll quickly notice that this isn't just about cuteness overload content, but about the survival of little foundling squirrels.
We asked them during our visit what each of us can do for squirrels and what it's like to live with a bunch of squirrels in the middle of Hamburg.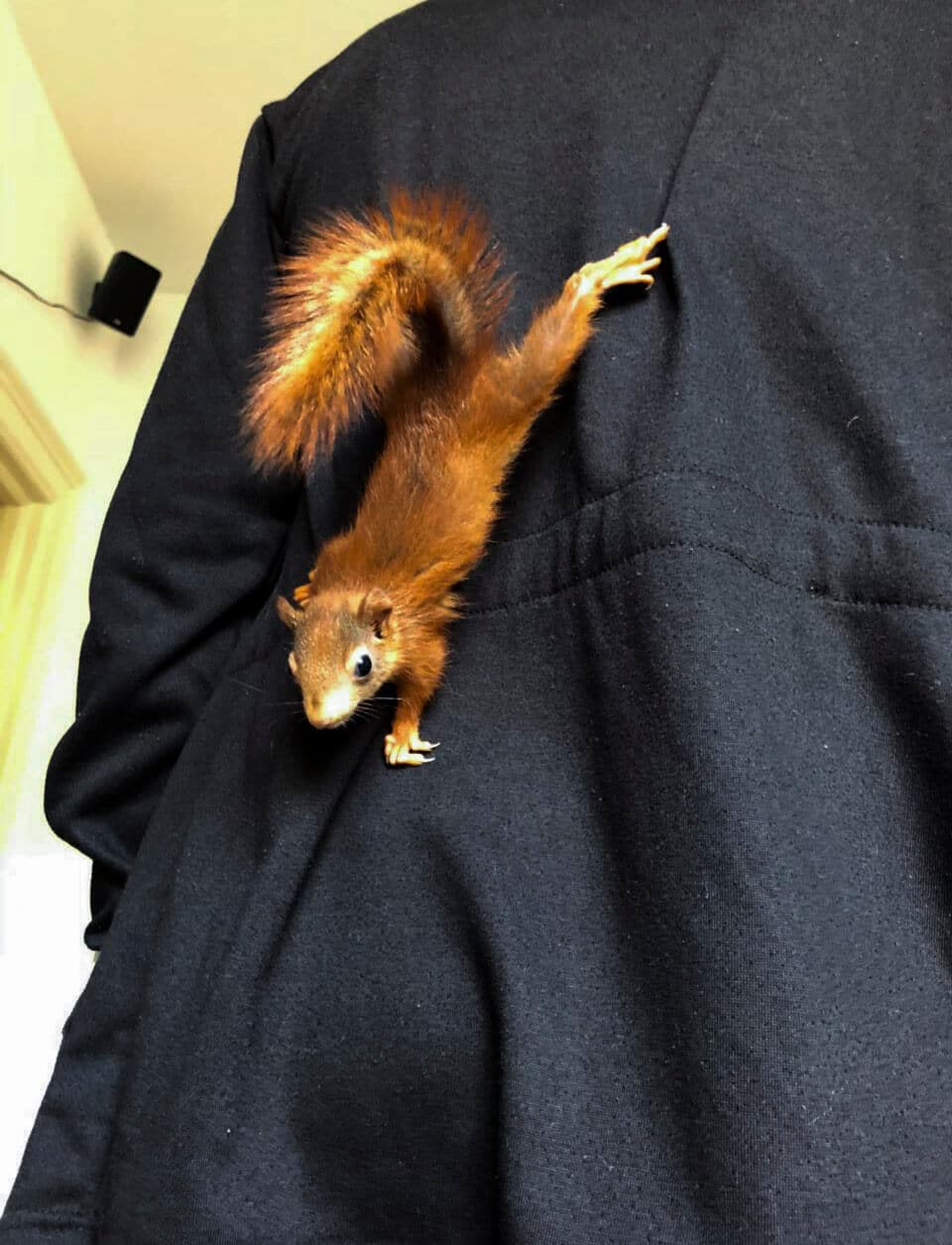 What motivated you to embark on this adventure?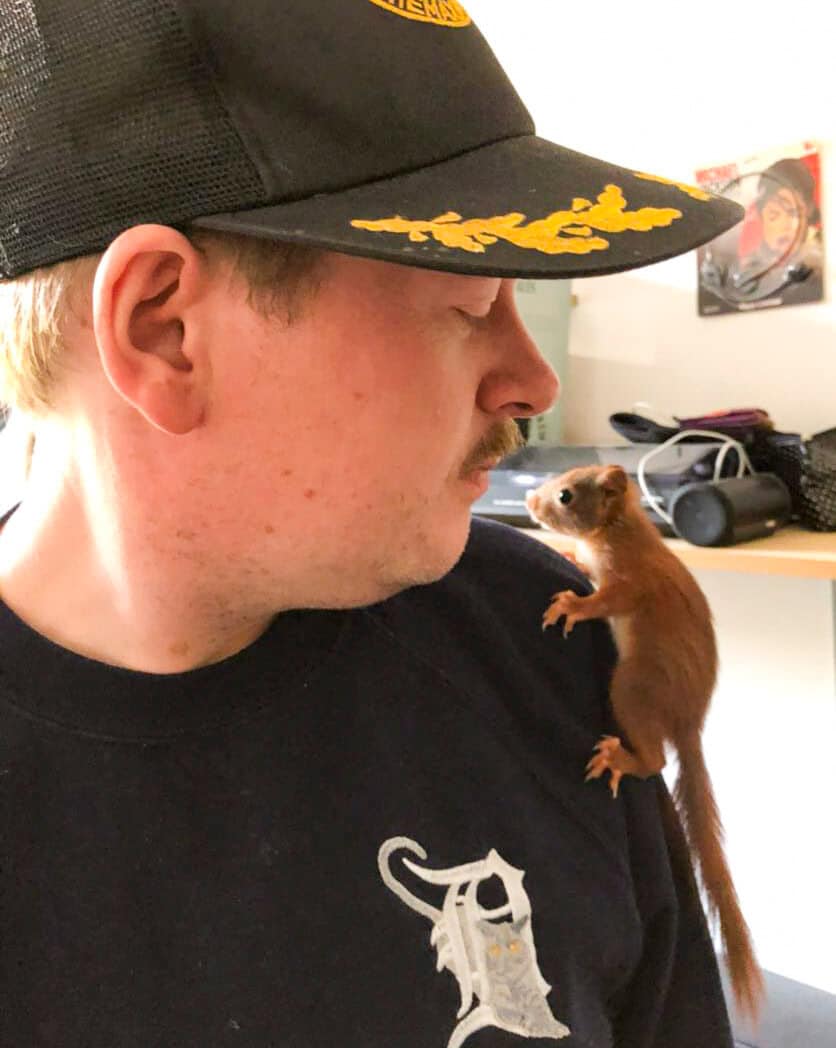 When we moved in together three years ago, we discovered a hutch near the kitchen window. After we had laid out a few nuts on the windowsill, the first hungry squirrels came to visit. We watched them throughout the summer and eventually were able to identify some. One of them, we met him when he was still quite small, even ate us directly from the hand. Giuseppe, as we called him, sometimes came every day, so we took him firmly to our hearts. At some point we noticed something like partial hair loss on him and contacted a wildlife sanctuary near us.
"Do you have the ability to bring the squirrel by?" – Live trap ordered, caught, brought over. At the wildlife station, we learned about their daily work and that they are currently desperately looking for squirrel trappers, as it is called in the jargon. In the meantime, Eva was already looking forward to her retirement, in which she saw herself as a crazy squirrel granny with a plot of land in the forest, on which she wanted to raise thousands of squirrels and release them into the wild.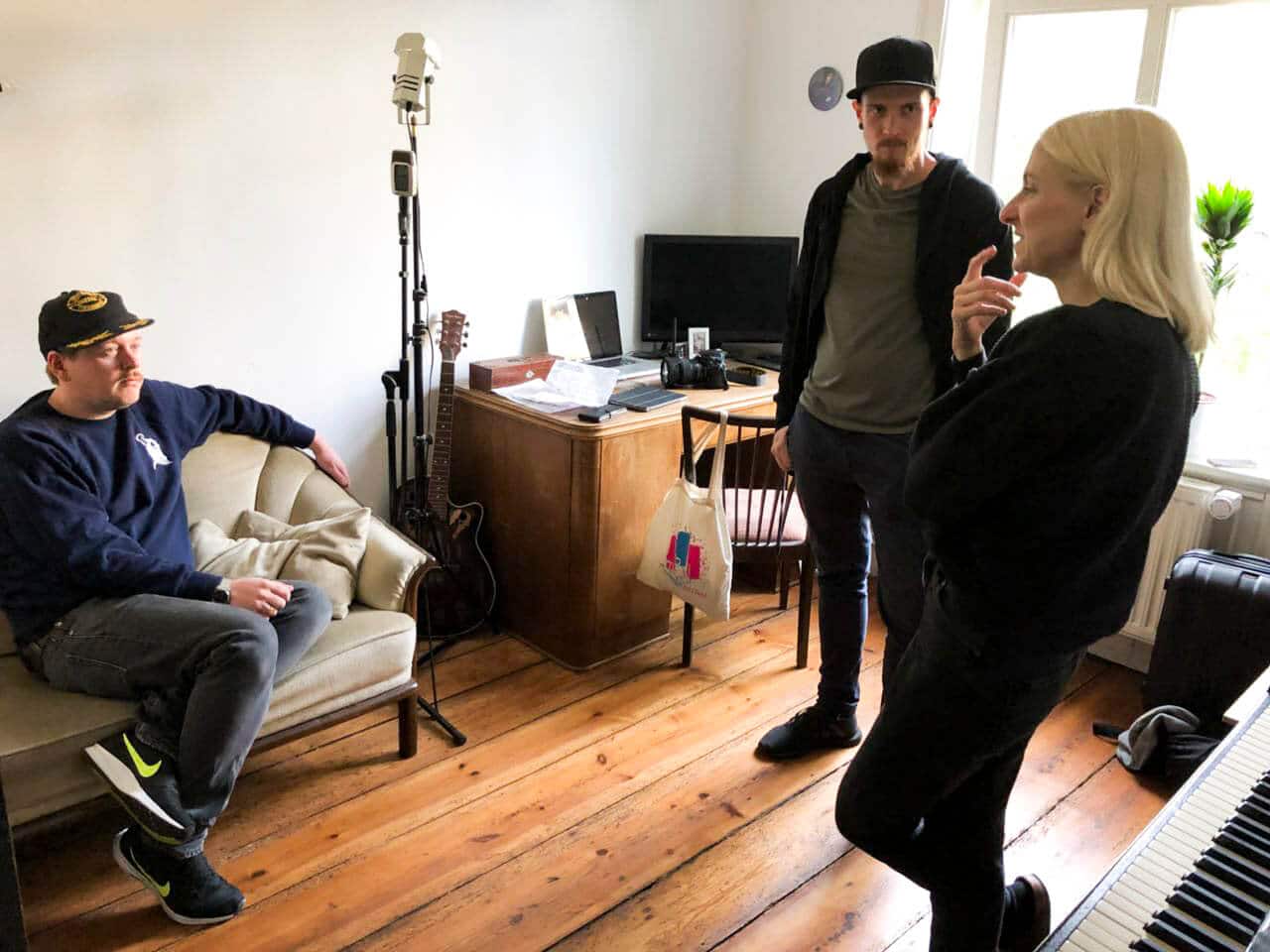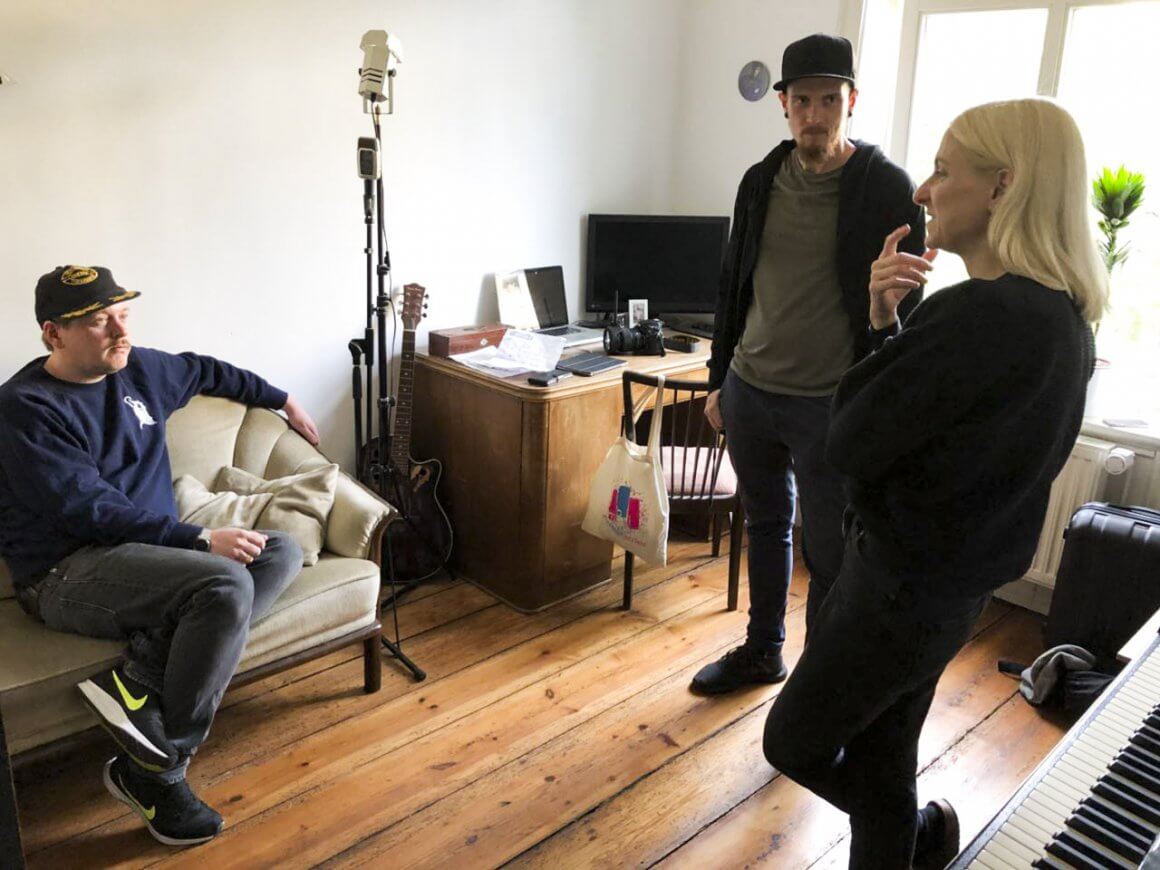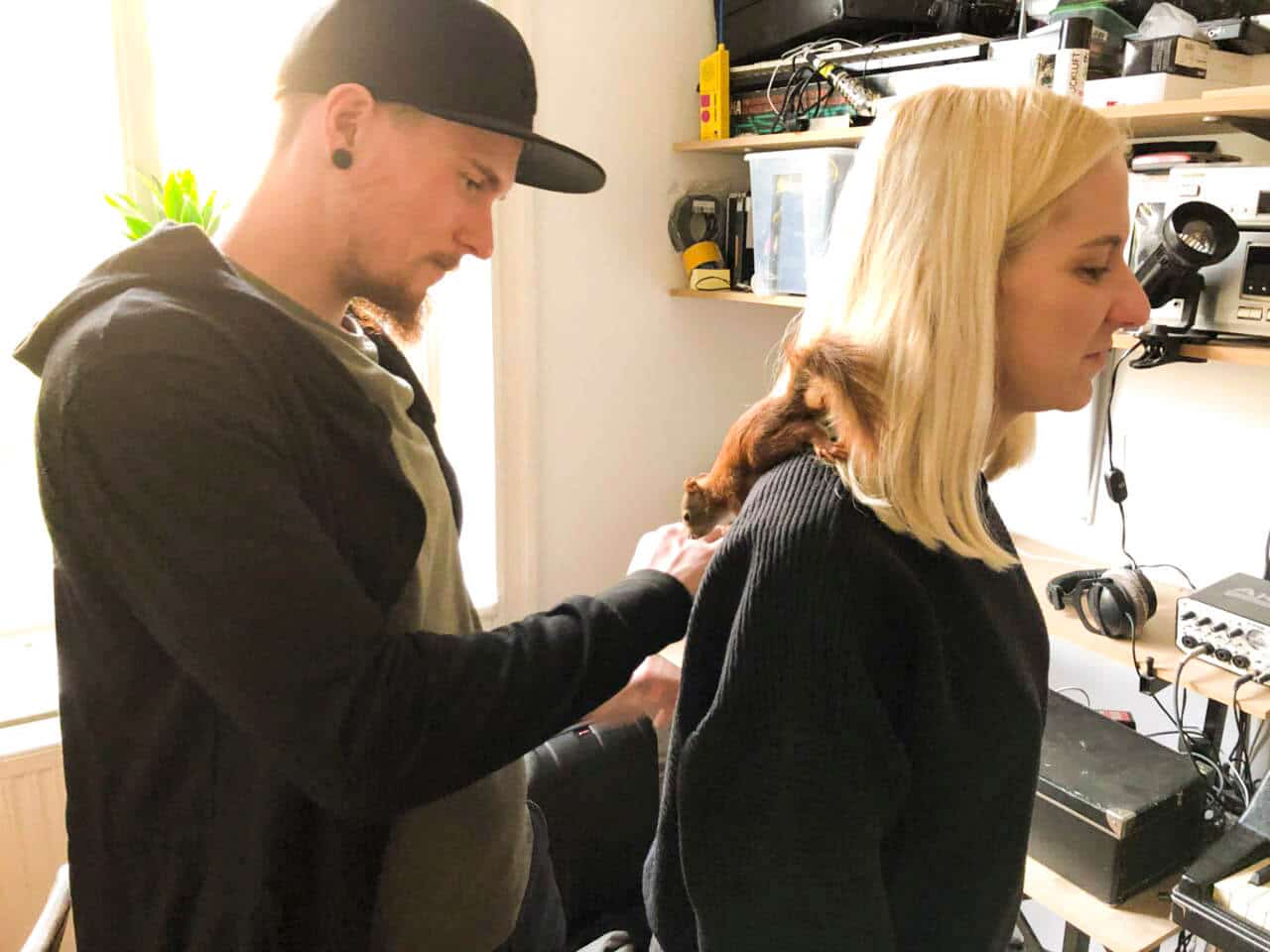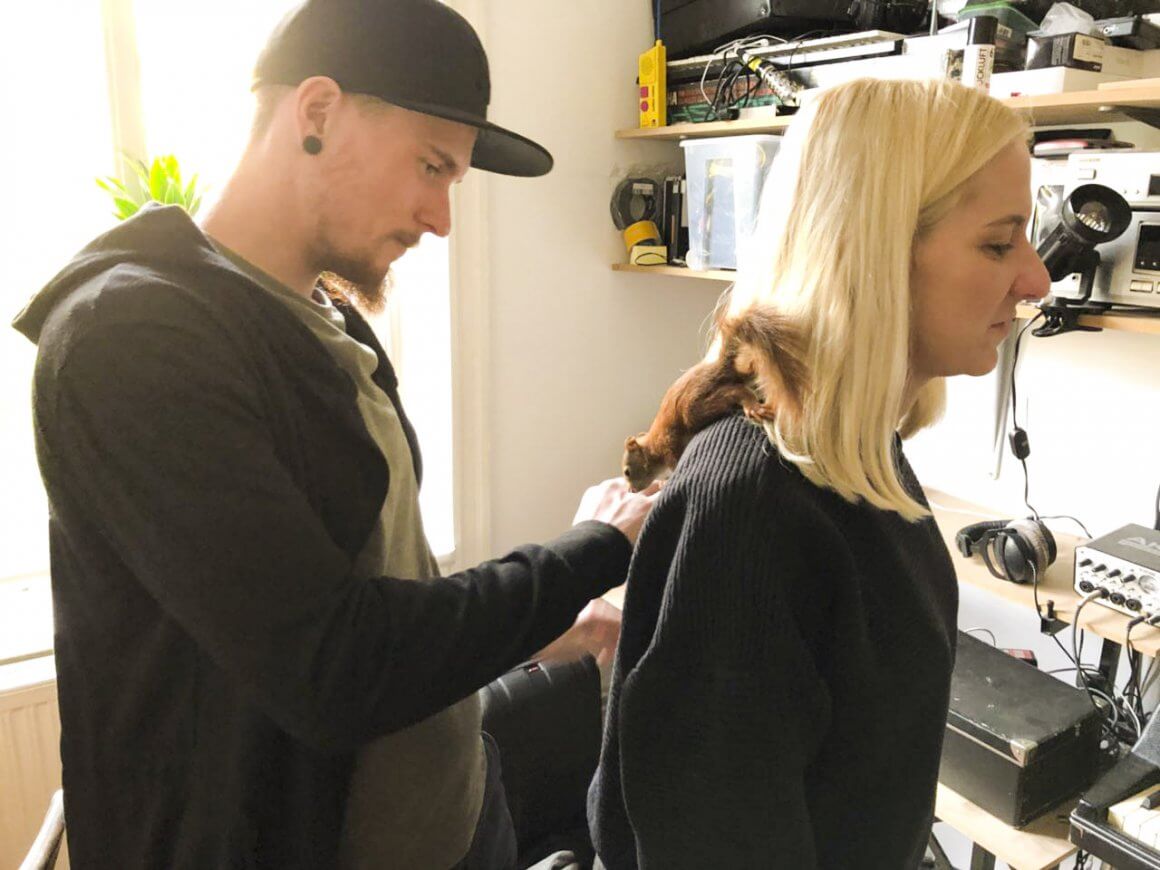 Of course, we would never have thought that this would be possible so quickly, even in the city, in such a small space. Giuseppe we released back home in the backyard after successful treatment and Eva stayed at the station for a week for a volunteer "internship" to gain know how for working with squirrels at our home.
How is it that there are currently so many foundlings?
The foundling squirrels are mostly orphaned or injured kittens. They exist in the period when squirrels have offspring. This is depending on food availability or the temperatures, in the period from February to August or September. During the cold season, hibernation is the order of the day, not to be confused with hibernation. Then there are simply years that are rich in children and those that are less so. Weather and food availability are certainly important factors.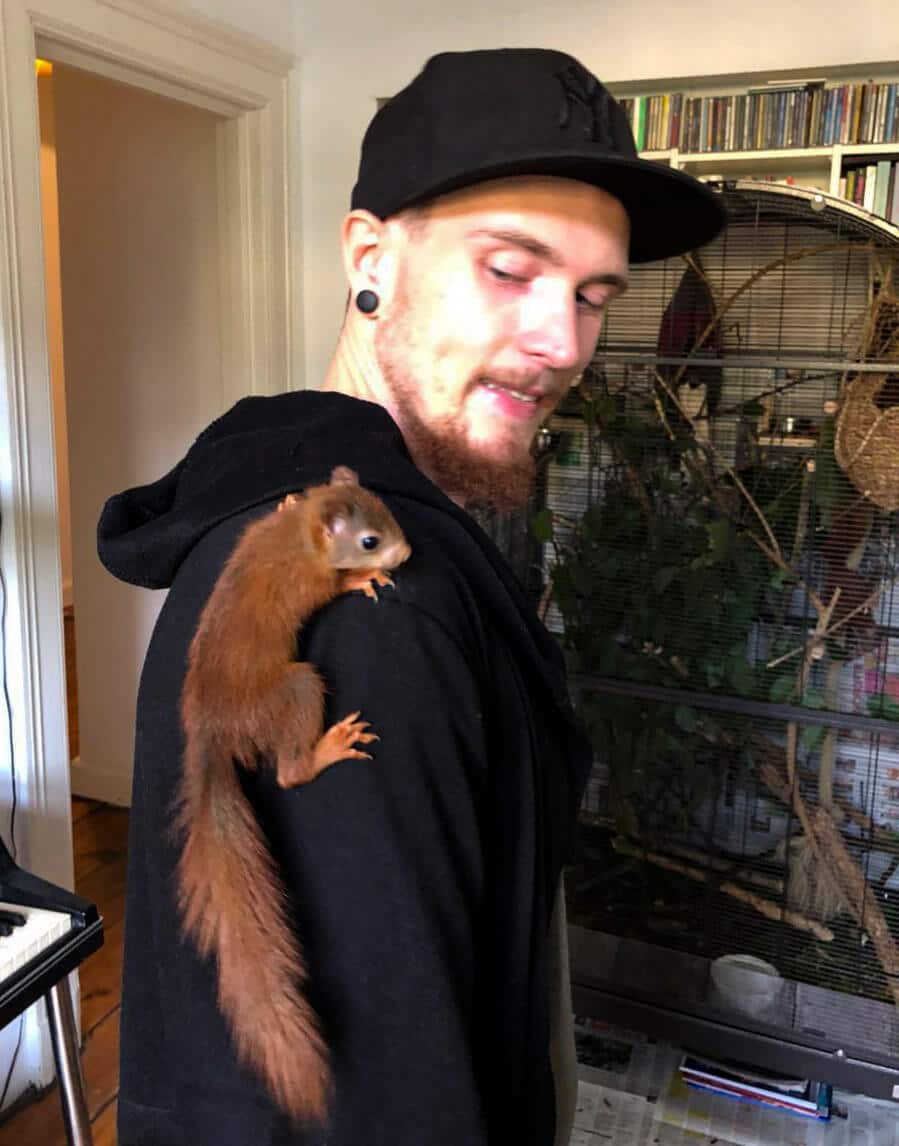 What are the reasons that squirrels need human help?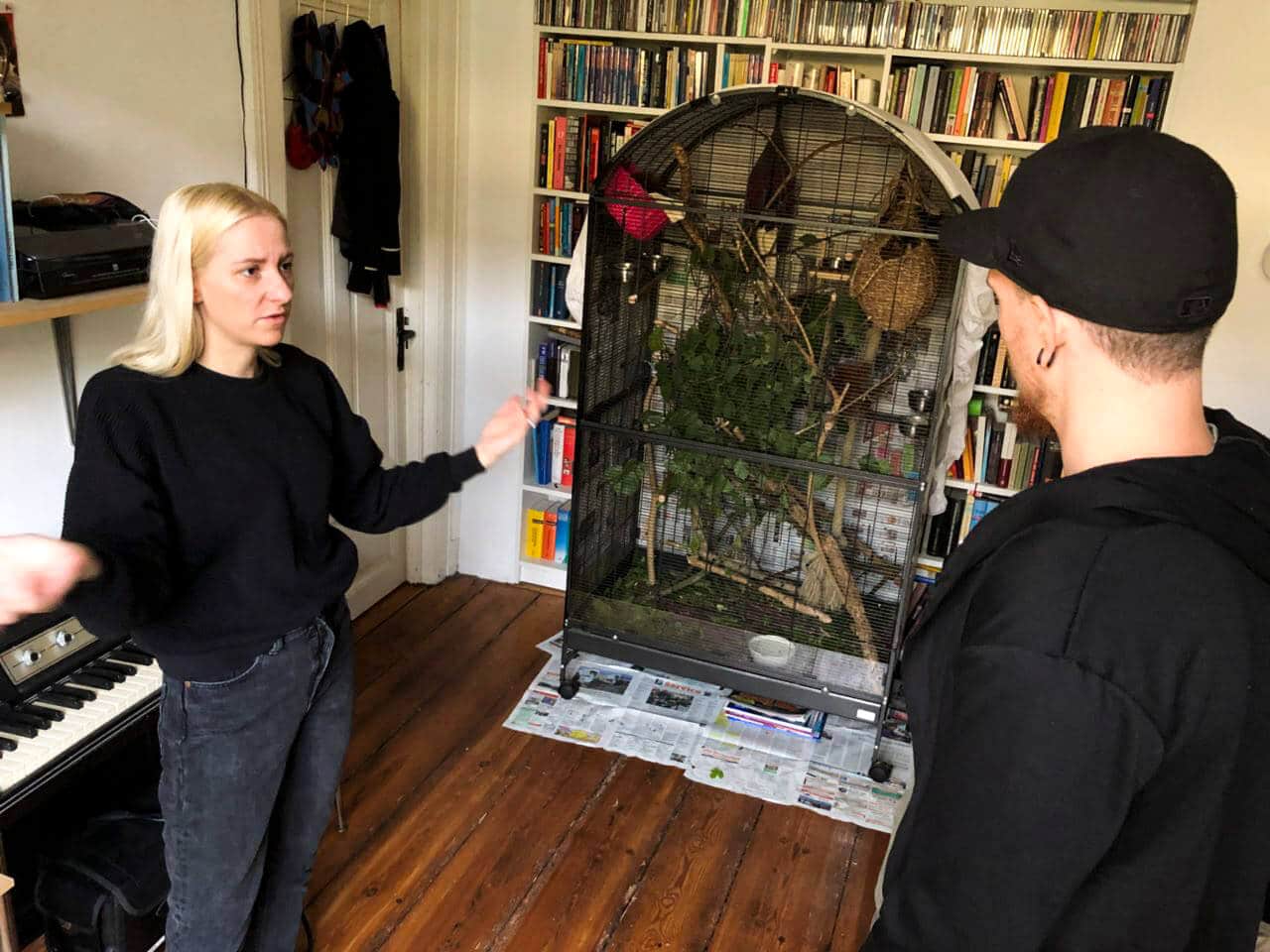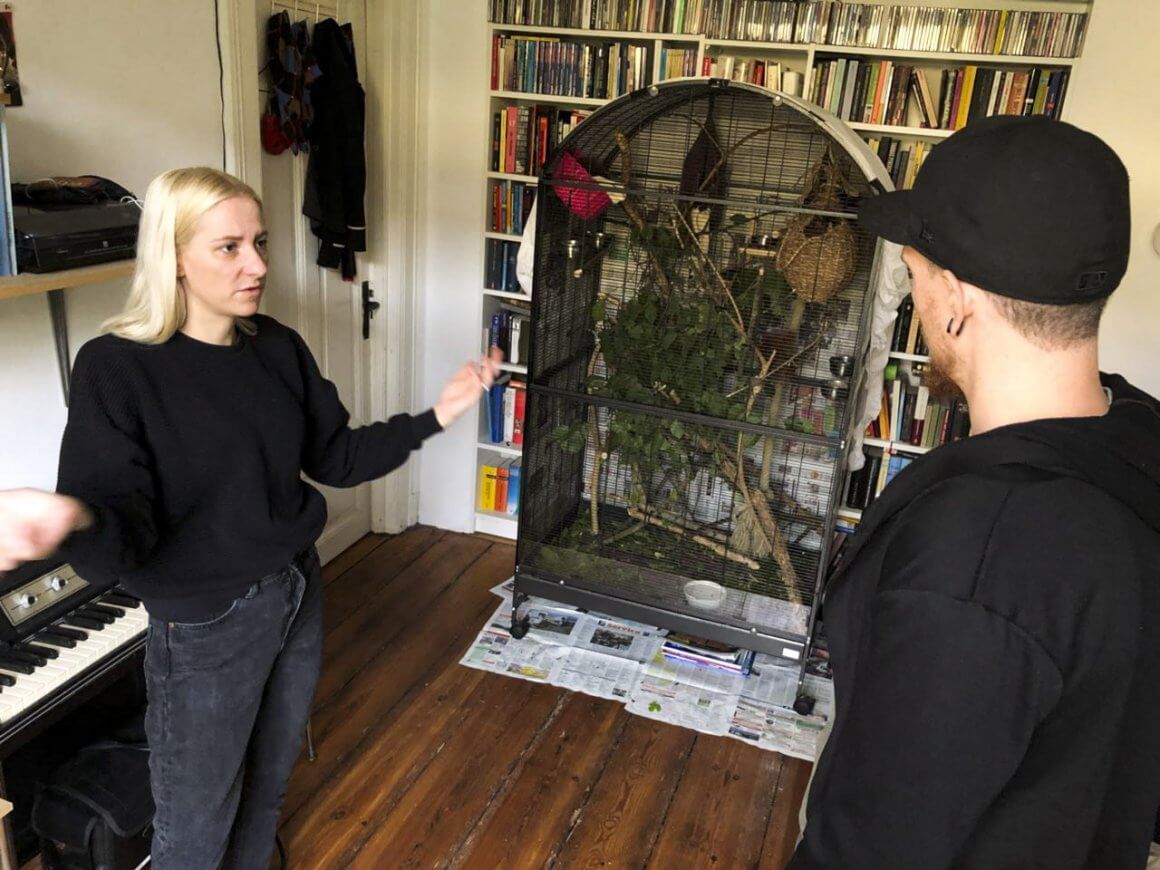 Most often, injured or baby squirrels are found by walkers because they lie unprotected on the side of the road. The reasons for this are almost always caused by us humans: tree felling work during which the goblins fall to the ground. Domestic cats, birds and car traffic cause life-threatening injuries and babies who have lost their mothers. Due to the hot dry summer, it has certainly happened from time to time that mothers also abandon their children for reasons of self-preservation.
What was it like for you when you got your first croissant?
The first? There were 9 pieces at once, which Eva brought home on her first day at the wildlife station. Accordingly, our premiere turned out to be very busy. Squirrels should be introduced to other conspecifics as soon as possible. Therefore, in the optimal case, you never have only one. But then it gets really exciting. Imagine you have a whole flock of squirrels jumping around on you, all thinking you are a tree and your hands are the hawk. That's famos! In addition, watching the wild squirrels in the backyard, we had asked ourselves so many questions: I wonder what it looks like when squirrels sleep or just blink? I wonder how they play or communicate with each other? We had countless theories. When you see it for the first time in real you are blown away!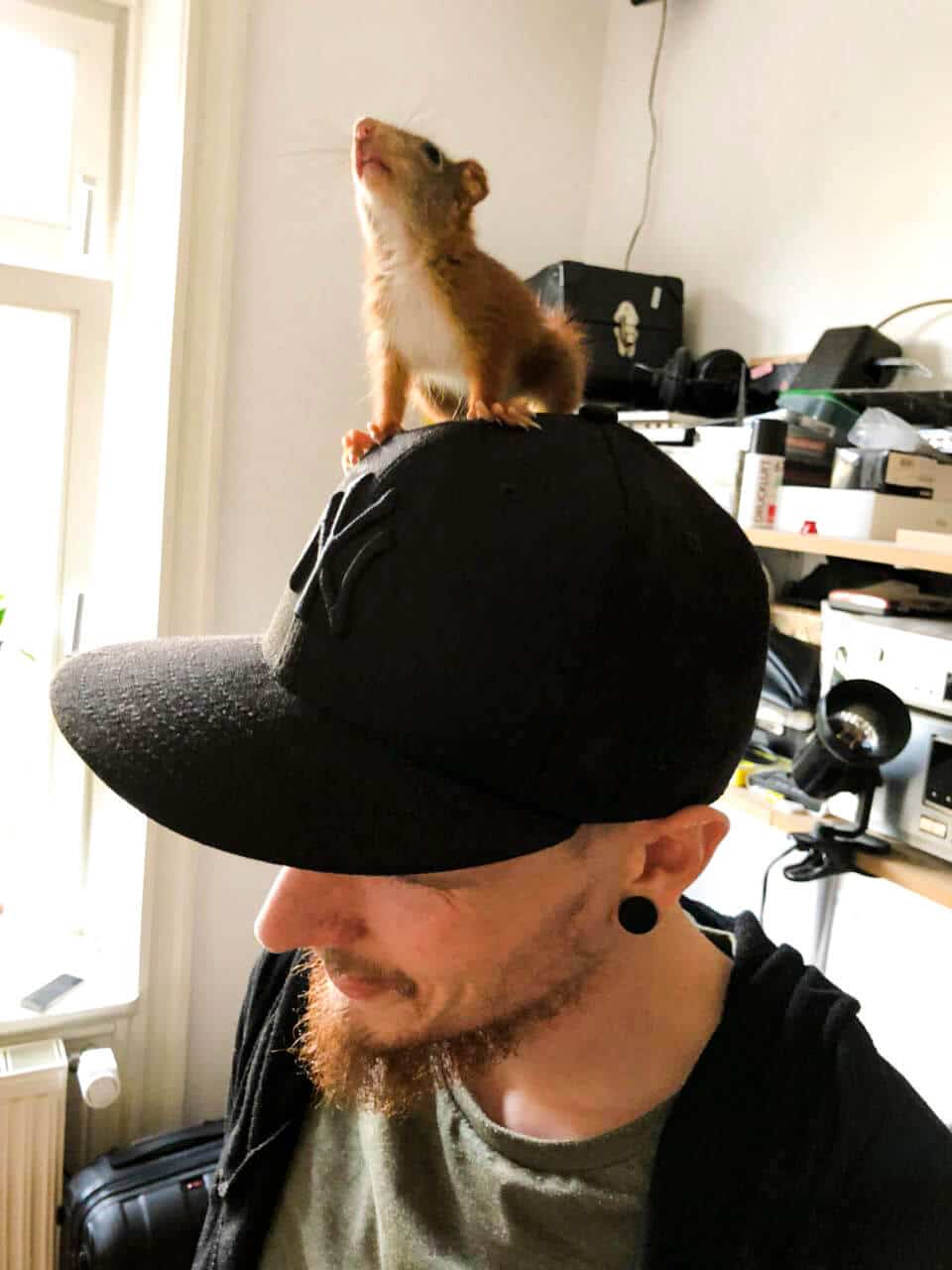 Where do you get your knowledge from and who helps you when you get stuck?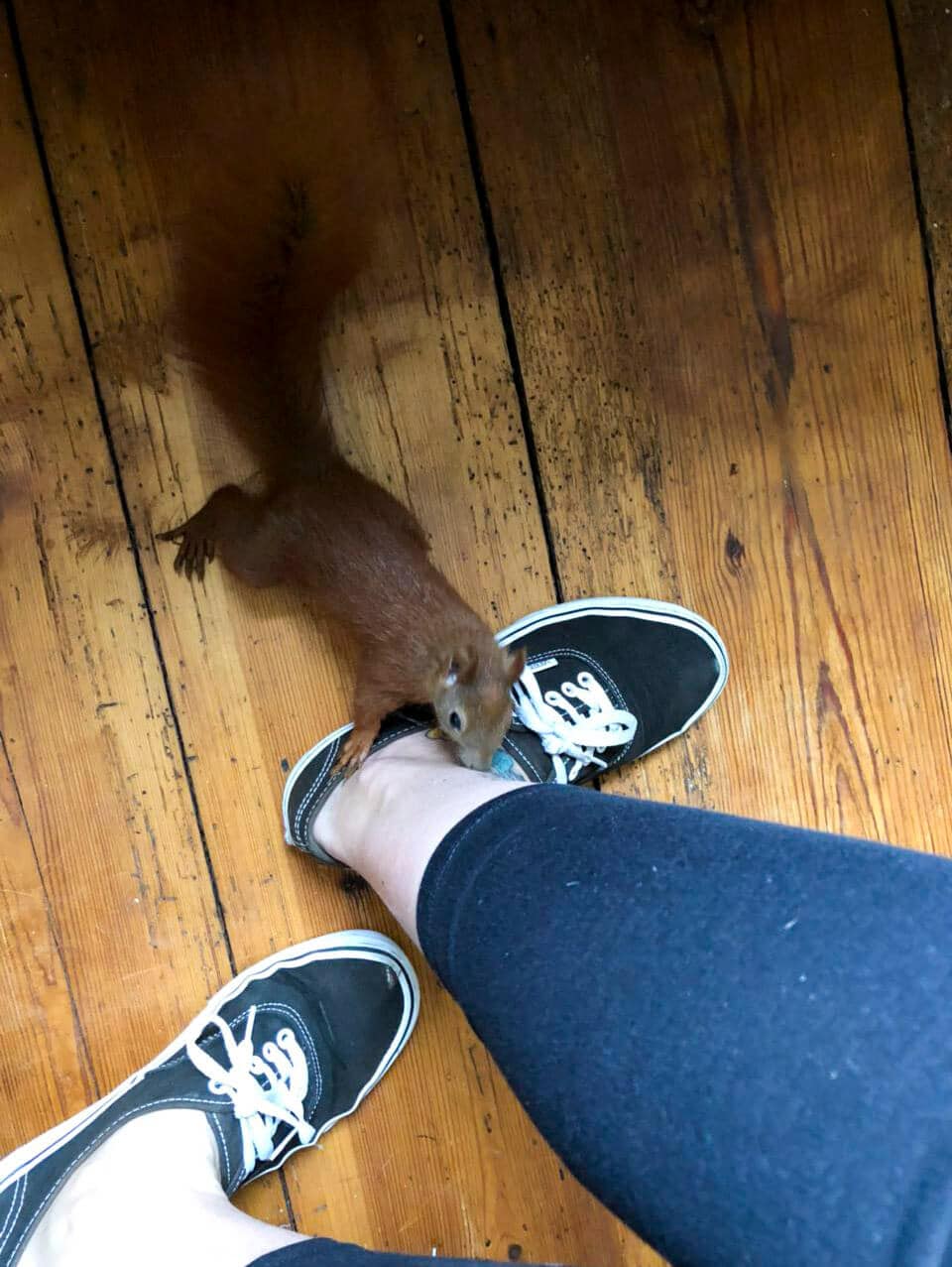 As mentioned above, Eva was able to do a volunteer internship at a wildlife sanctuary, which put her in contact with a veterinary assistant whose specialty is squirrel rearing. She has included us in her team, where there is a lively exchange, and she herself guides us in all questions. Meanwhile, we also exchange nationwide about rearing and treatment contacts made through our Instagram account. Squirrel freaks really are everywhere, you wouldn't believe it.
How do the croissants affect your normal day-to-day life?
When we have a lot of very young squirrels that need to be fed every two hours it can of course become quite labor intensive: Setting the alarm clock, preparing food, giving medication, weighing, feeding, etc. But there are two of us, so we can share the work. Basically, however, it is an honorary position and we try to divide the capacities within our small team well and to relieve each other sometimes.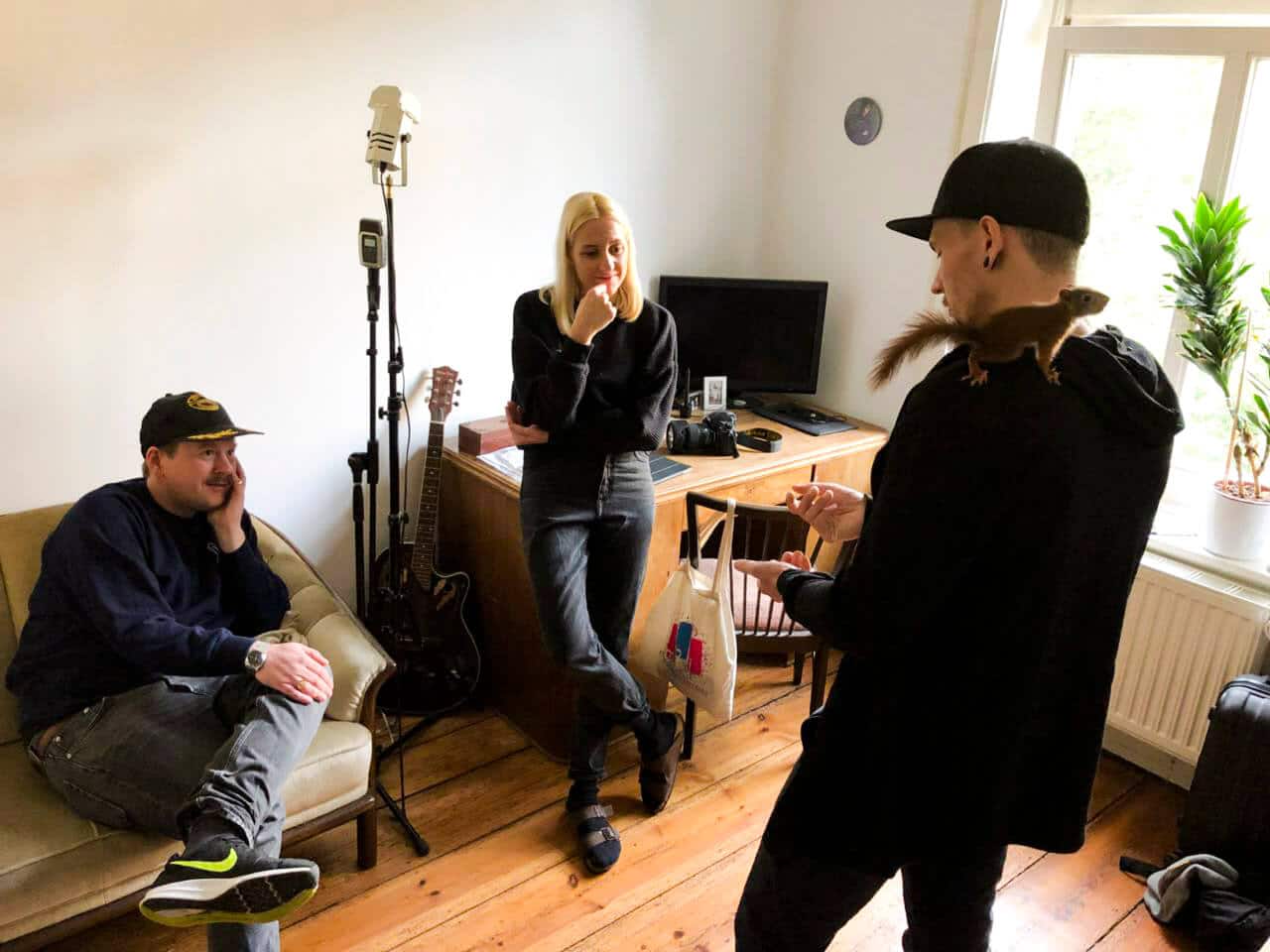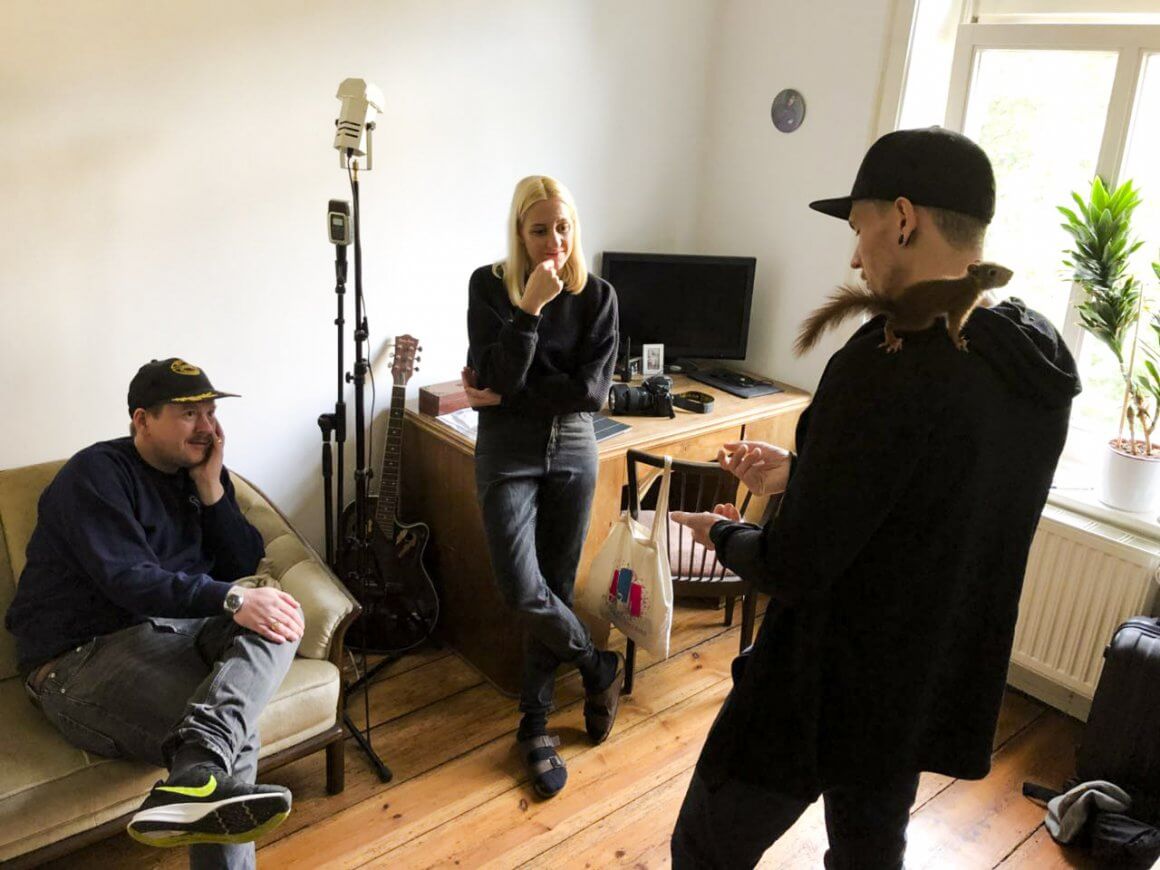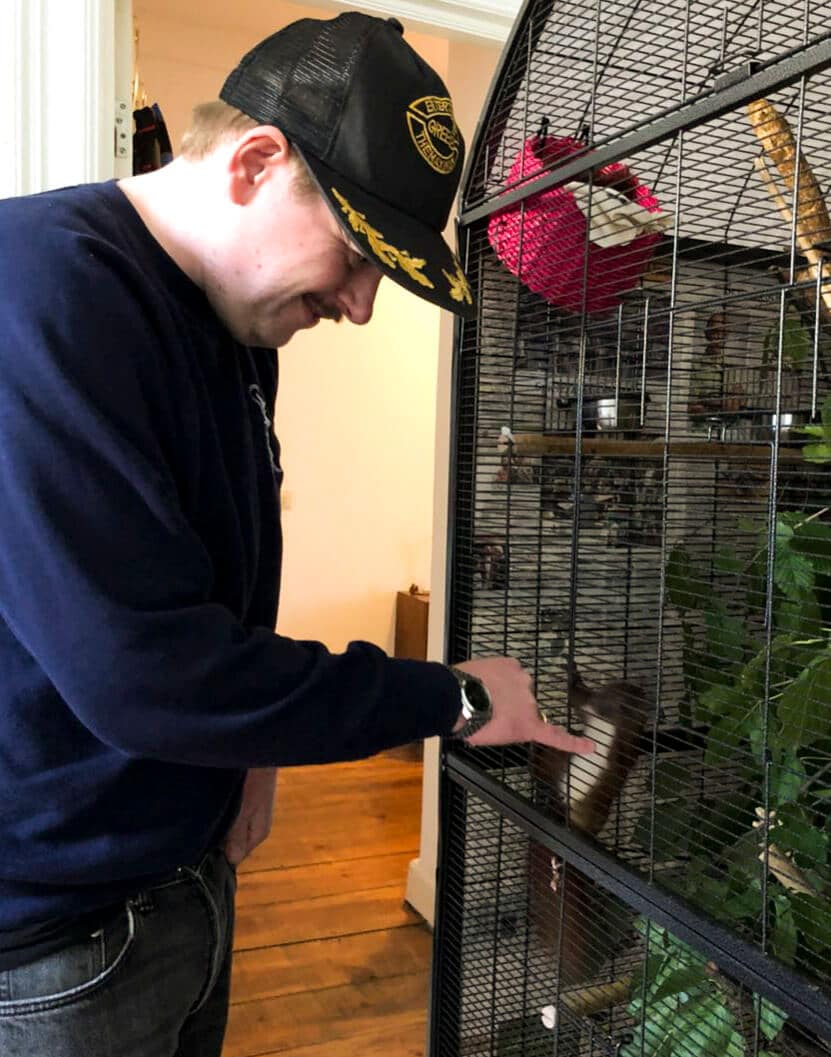 We've already caught ourselves getting in over our heads due to the rush of squirrels and the compassion that quickly sets in for each animal. One's own everyday life then suffers, as does one's own health. That had to settle down first. However, it is always difficult to draw a clear capacity limit. Once you've brought one of these little ones through and released them into the wild, you'd love to take them all in and set them free. In the beginning, it took a lot of discipline to say NO, because we are not very good at that. Basically, we believe it is possible for almost everyone to take care of foundlings, as long as it remains combinable with their own rhythm.
What organizations do you work with and how do you fund it?
We are currently (still) in no club or nature conservation association or the like and therefore financially totally on our own. In the long term, of course, we cannot continue to do this to the same extent without support. We will sit down in the winter, the squirrel-free season, and make and work out more plans. Maybe start an association, apply for funds. In the meantime, we've already got a few smaller attempts at alternative fundraising concepts that go a bit further than "we'll put a donation box somewhere" are in the planning stages.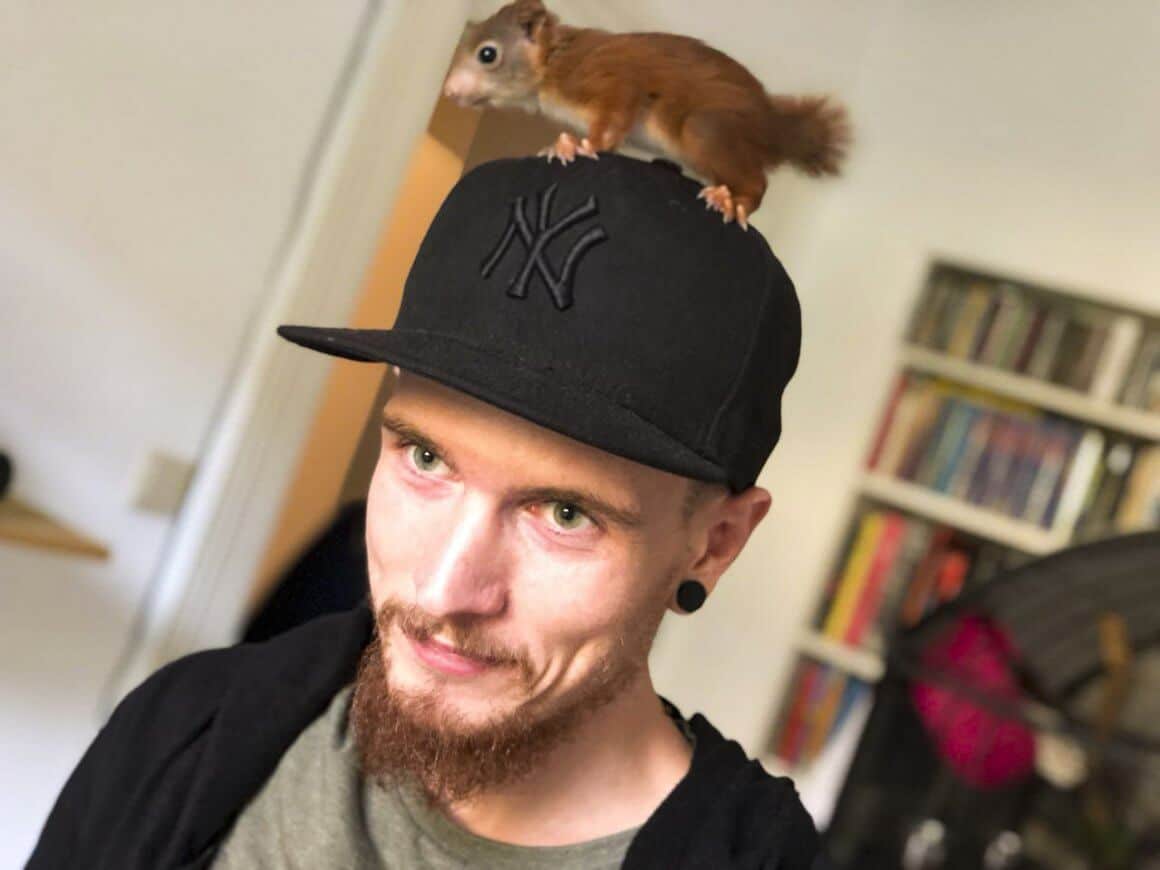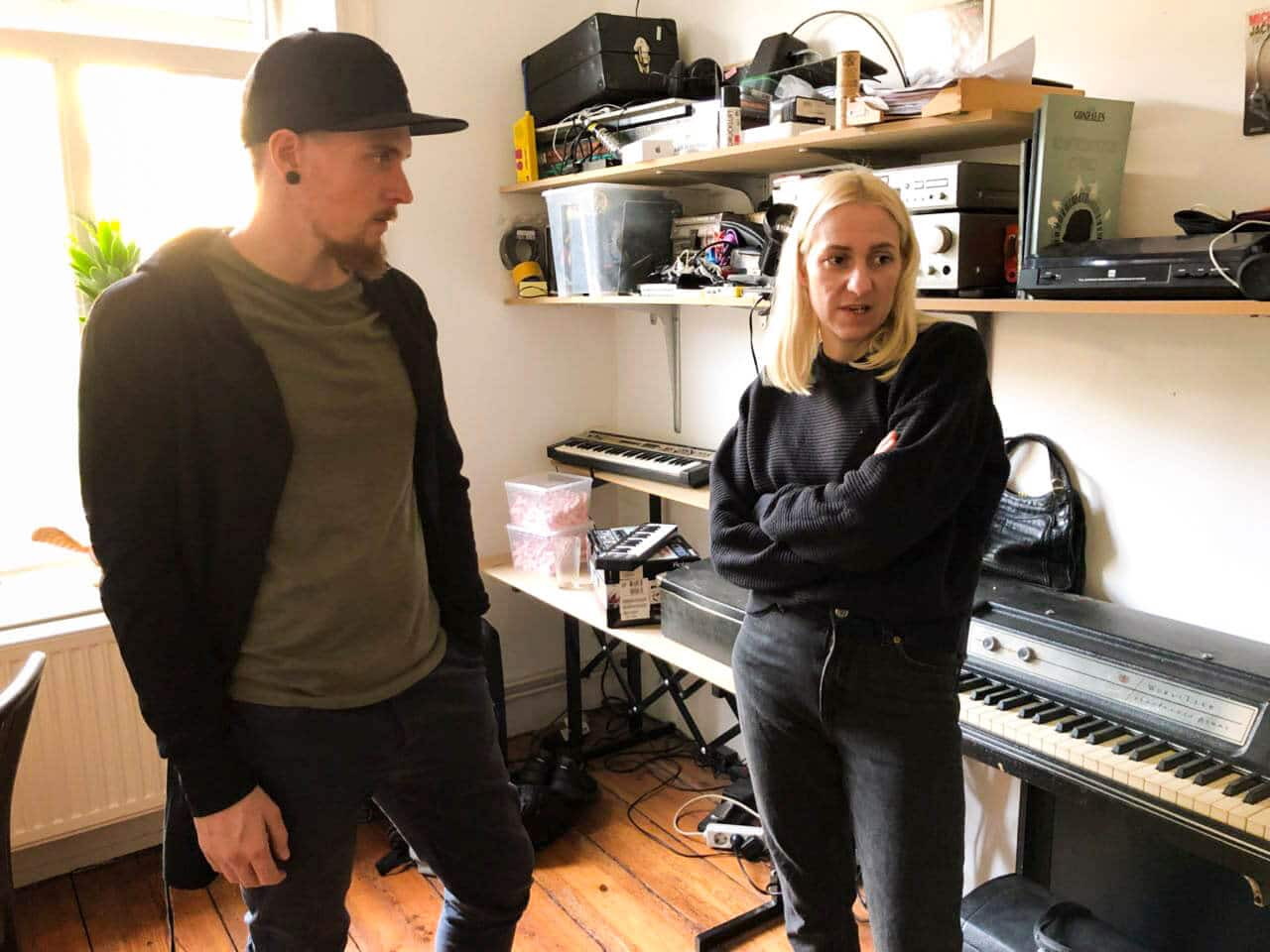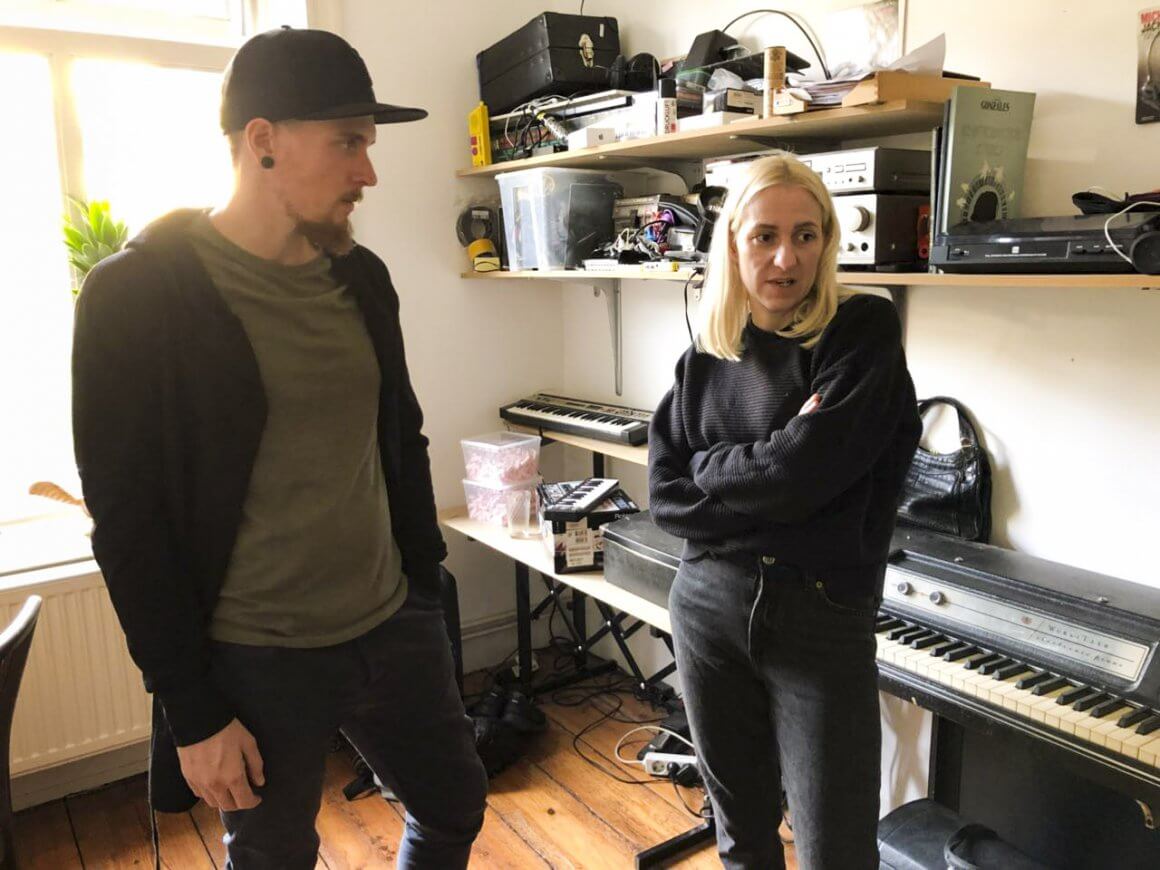 E.g. a small party package with Eichhorn-friendly cocktail, the "Eichhorn Sour", followed by a small DJ set. We would like to present this in a few local bars and use the money raised for the next squirrel season to fund food, medicine and hopefully our own reintroduction site. We would be happy to invite you elsewhere, should the concept catch on. Of course, we have also launched an online campaign via Betterplace. You are welcome to support us:
What is a typical daily routine with squirrels?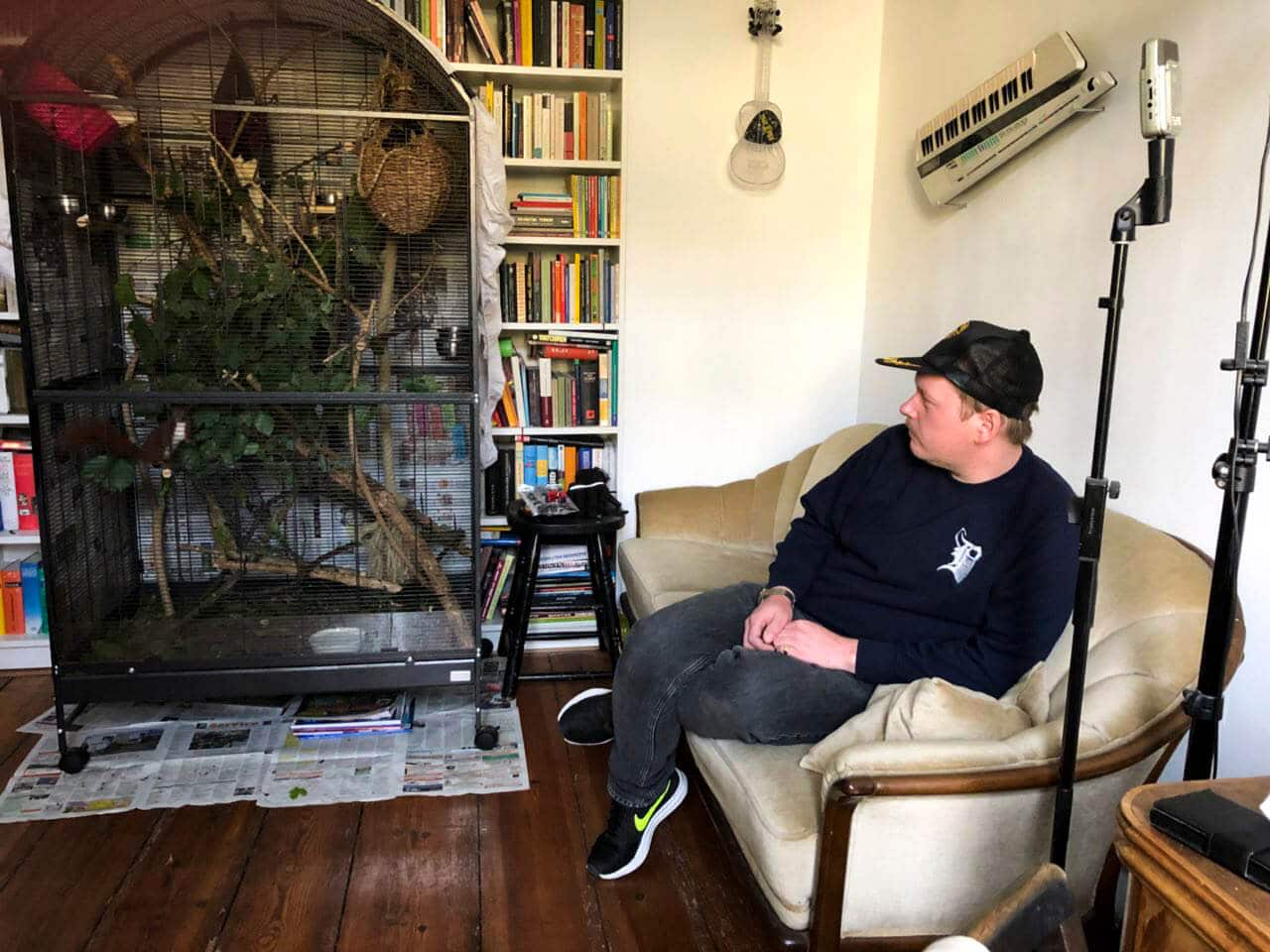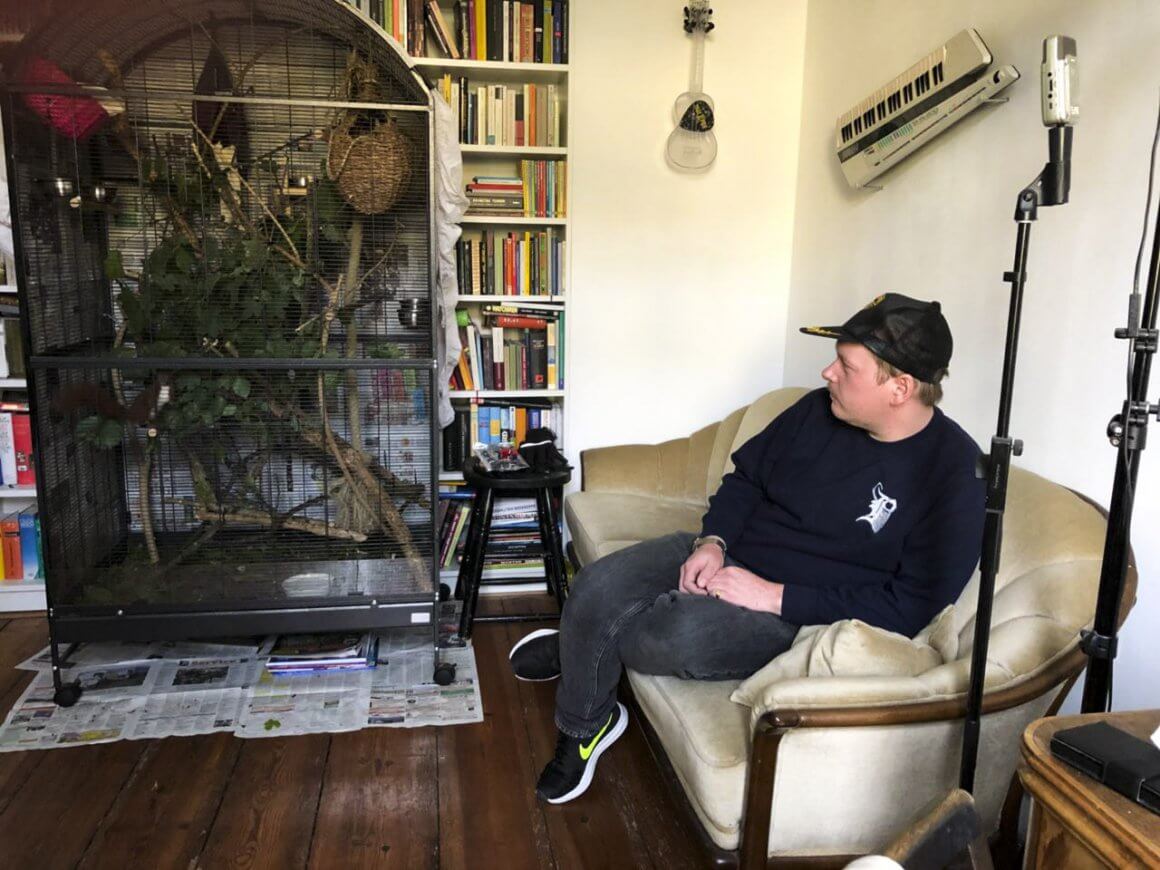 The daily routine always depends on the number, age as well as the condition of the squirrels. New arrivals always receive a standard treatment, i.e. special medication – usually twice a day. Very small squirrels sometimes need to be fed every 2-3 hours and especially with sick candidates it is important to check more often to be able to act if the condition worsens. In such cases, it is then called to take transport boxes to work.

When they are bigger and healthier and also go in search of food themselves, you can leave them alone during the day without any problems and in the final stage, which is the indoor aviary, you actually only need to provide water and food and preferably come as little as possible near them so that they become properly wild. That is sometimes very, very difficult. With babies, it's pretty important to play and cuddle with them. They need warmth and learn to climb a bit as well when they're tumbling around on you.
What should you do if you find a baby squirrel or a squirrel chasing after you looking for contact?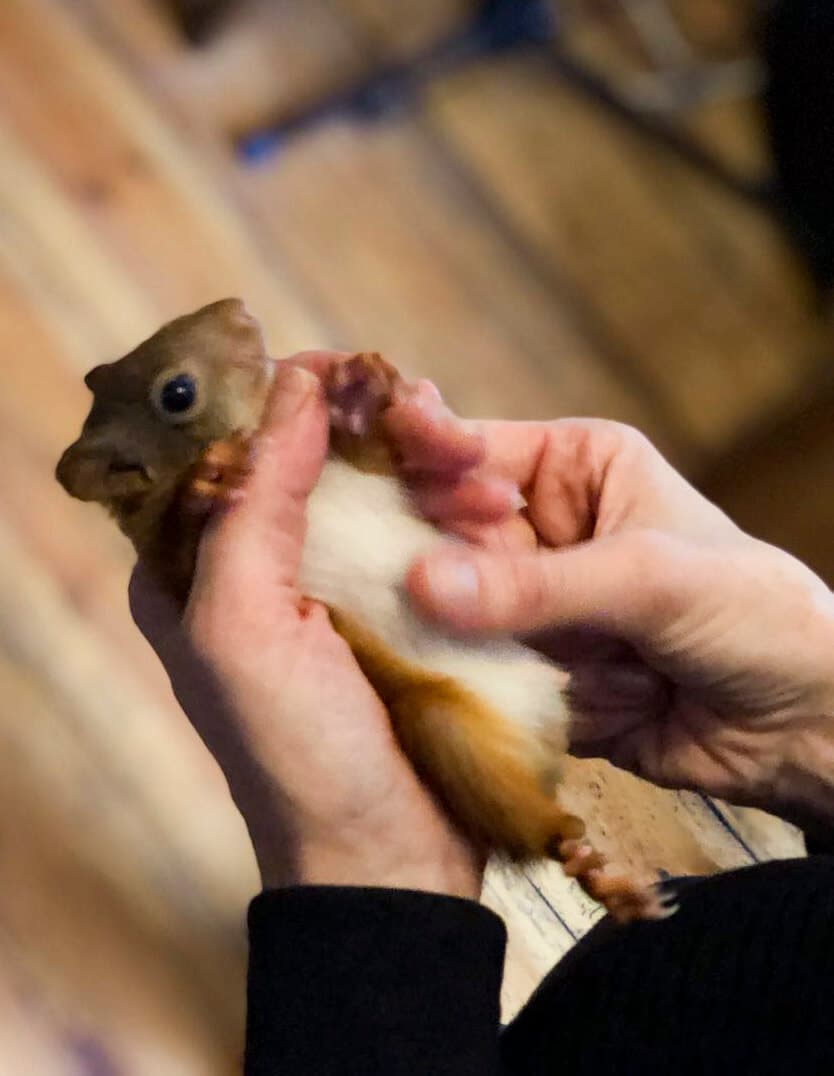 First of all, do not be afraid! The animal has no diseases nor is it dangerous in any other way. Basically, the little ones are looking for help and therefore do not shy away from people. But it may well still be that the mother is around. Therefore, it does not hurt to stay on site for a moment, but with enough distance. While you're waiting, you can take a look on the Internet. Nationwide there are hotlines of squirrel protection associations such as the squirrel emergency call – they are also networked nationwide, can refer you to the nearest contact point and are usually available 24 hours.
In the meantime, give warmth! Fill a bottle with warm water and wrap it in a towel works as an "emergency hot water bottle" for now. Depending on how long it takes, you can also feed the squirrel with a few milliliters of hand-warm fennel-anise-cumin tea with a dash of honey – just never give cow's milk, it can kill the animals! The first hours or even minutes are incredibly important.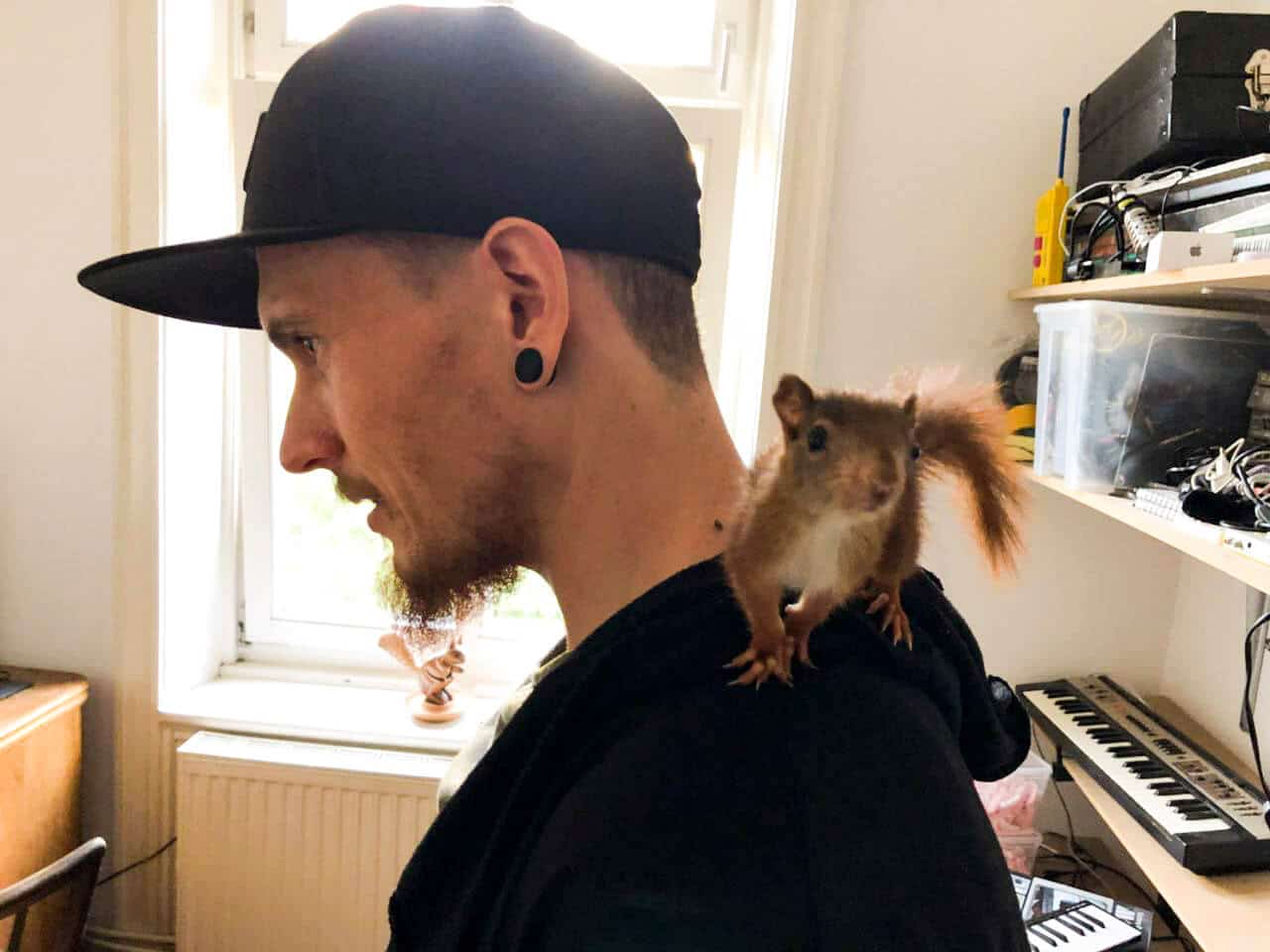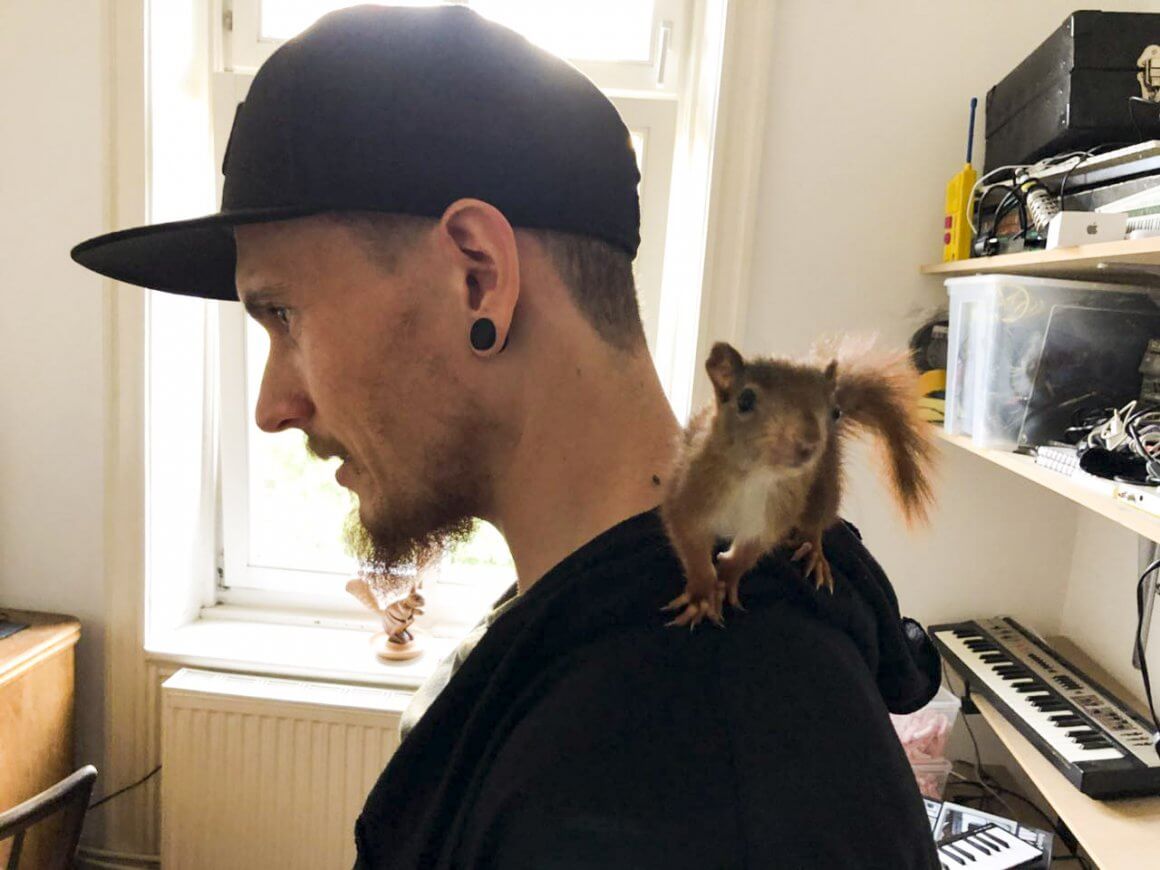 What can each individual do to support the squirrels currently?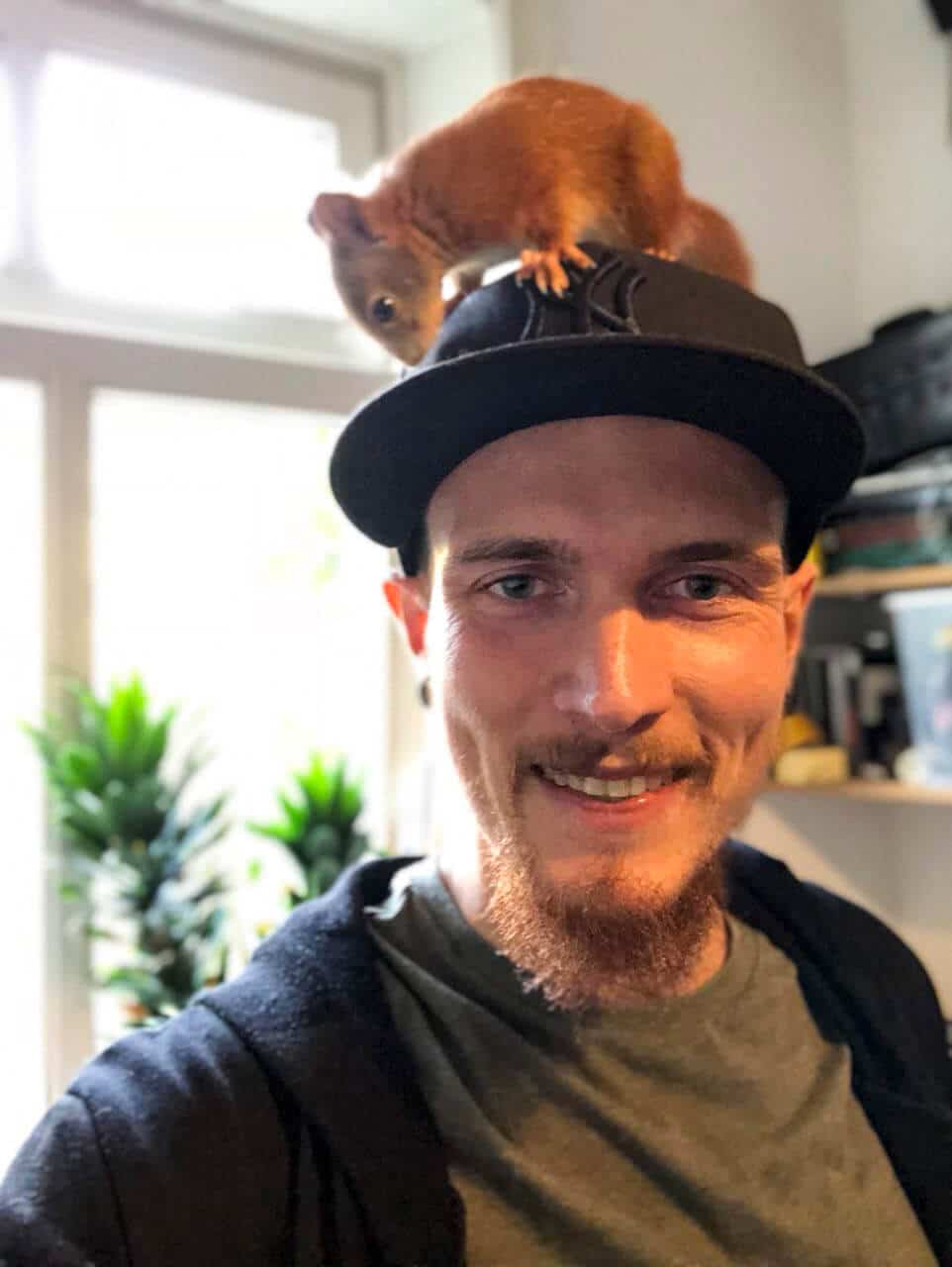 If you have your own squirrels in your yard, garden or balcony, feel free to put some food and water for them. In summer, especially water is very important, because water sources are not available everywhere. In addition, native fruits, carrots, melon, hazelnut and walnut kernels and whole sunflower seeds are readily accepted. The latter are available in hardware stores, as well as seasonally, in supermarkets for small money. When it gets colder, the little animals are also happy about whole nuts. The best is what also grows in this country. Please, no peanuts, they often contain molds, and almonds are deadly because of prussic acid. There are also extra feeding stations, as well as small boxes to hide in, which you can happily hang from a nearby tree if you want to go the extra mile. And in general: The stations and private squirrel rescuers are of course always happy about a bit of money or food donations.
Please install and activate Powerkit plugin from Appearance → Install Plugins. And activate Opt-in Forms module.