Vegan is unhealthy?! Gordon Prox on the future, his start-up and family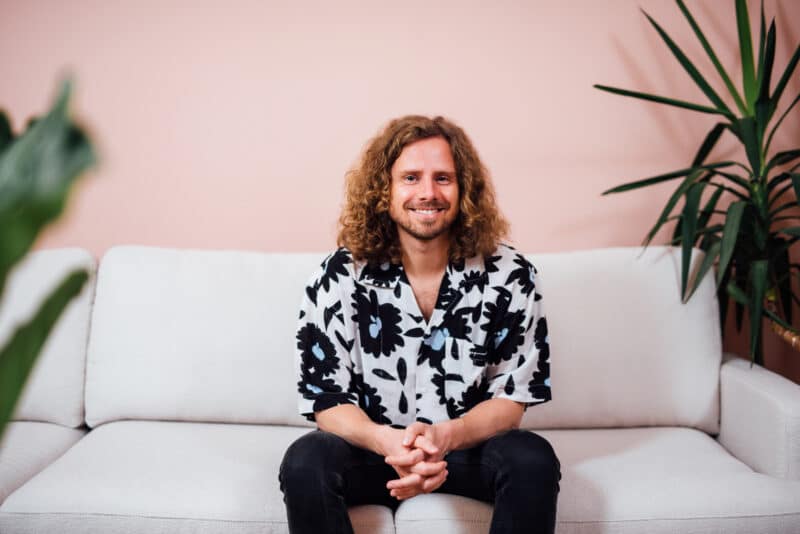 Gordon Prox is a YouTube creator, StartUp founder, food enthusiast, speaker,
Podcast host and what he calls himself: Living Man!
Some know him from his successful YouTube channel " Vegan is unhealthy ", where he together with Aljosha Muttardi humoristically clarifies whether vegan nutrition is really sooo unhealthy.
We met him virtually for an interview and
In the new Plantbased podcast he talks about it:
why he lives vegan
why Aljosha and he go their separate ways
How it continues with"Vegan Is Unhealthy
how he did it " The most delicious idea in Germany " to develop
what highlight awaits him and us in December
why he founded his start-up "El Origen
why his Instagram channel is now " Papaistvegan " is called
He also explains why his 20 employees have no rules at work and how important it is to him that his projects not be carried out on the backs of people and animals.
At the end he tells us his favorite songs and tells us what his perfect future looks like.
🎧 Have fun listening and be the change!
To the podcast with Gordon Prox
You can now listen to the new PLANTBASED Podcast with Gordon Prox on
Spotify
,
Apple Podcasts
and Podigee. Gordon is himself podcast host of the vegan podcast "Why, why, vegan" and now stood for us as a guest speech & answer. Listen in with pleasure!
Did you like the podcast with Gordon Prox? We would appreciate a review and a subscription. Thanks for your support! 💚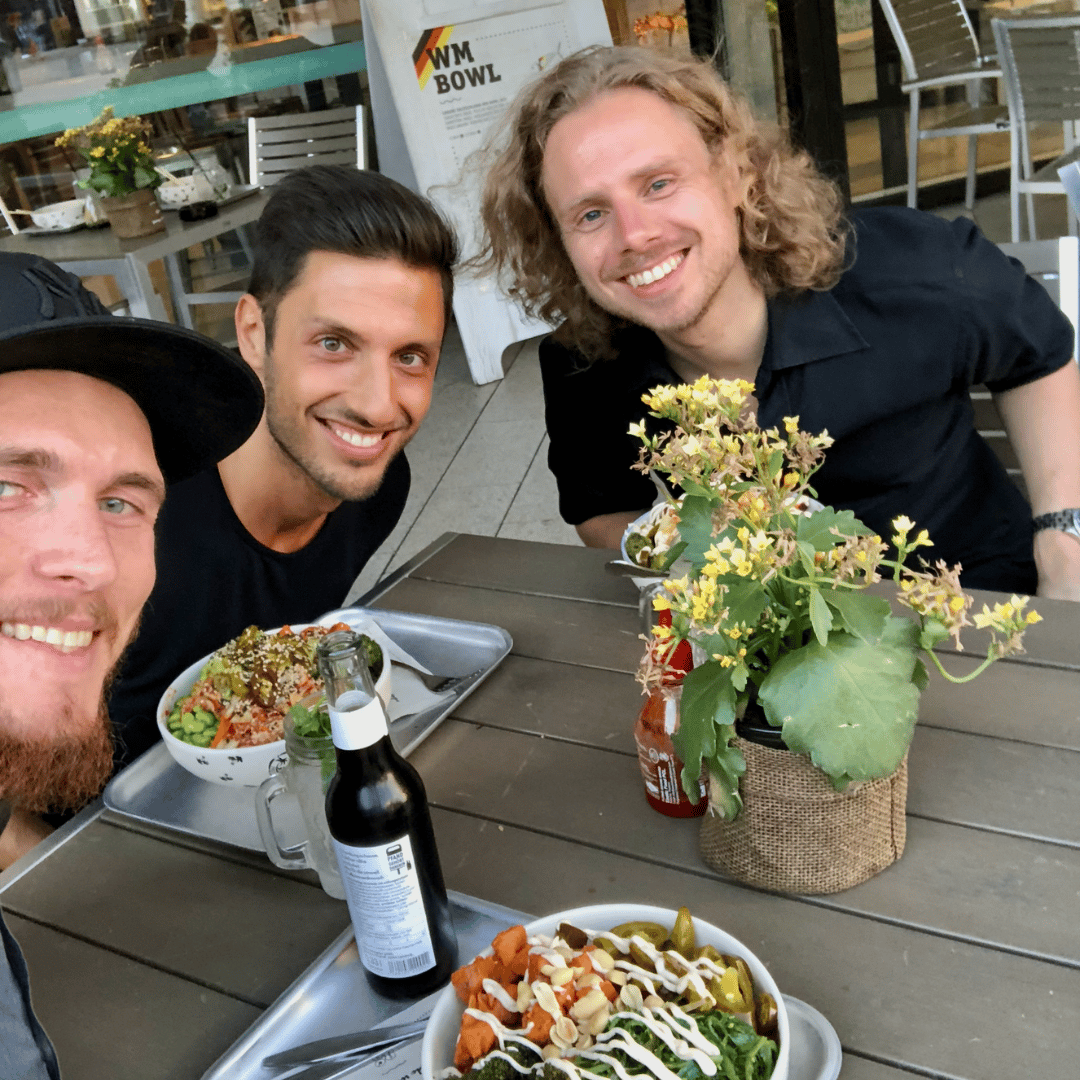 Gordon Prox - the all-rounder among vegans
What is Gordon Prox doing today? There is little Gordon doesn't do. He hosts a podcast, has built up a YouTube channel with almost 180,000 subscribers, is committed to the well-being of people and animals, and has his own food start-up with 20 employees. There's little he doesn't do, but in some areas he's taking a step back in the future. Why is that??
Dad is vegan! - Gordon Prox becomes a father
In the new Plantbased podcast, Gordon Prox talks candidly about planning with his fiancée and being a father.
His Instagram channel was until recently called "GoldenerGordon" and now "Papaistvegan" – you can guess – Gordon Prox has just become a father in December 2022.
We say: Congratulations and look forward to lots of vegan daddy content in the future.
El Origen - the food start-up from Gordon Prox
"el origen" translates to "the origin"-and is thus a fitting name for the food startup founded by Gordon Prox, which places the greatest value on natural ingredients and mindfulness towards people and the environment. Each of the products brings a piece of Latin American lifestyle to Germany and comes from direct trade and organic certified cultivation, so that fair working conditions and wages for the local farmers in Ecuador are ensured.
Winning the TV show "Germany's tastiest idea" and 3 million euros in sales – that's what the year 2022 looks like for "El Origen". A few years ago, El origen founder Gordon Prox probably wouldn't have thought that his food startup would not only be successful, but also have a social and ecological impact. It all started with a hobby. In September 2017, he founded the YouTube channel "Vegan is Unhealthy" with Aljosha Muttardi. The two thematize vegan nutrition, deal with the most exciting products and that in combination with a large portion of humor. They also make omnivorous people smile and think.
This mixture made them famous within a very short time, "Vegan is Unhealthy" becomes one of the most successful Youtube channels in Germany. Across platforms, the vegan pioneers have more than 500,000 subscribers at their peak.
From business studies to start-up founder
"Back then, vegan nutrition was far from being as trendy a topic as it is today," Prox recalls. "We hit a nerve with the topic; it felt like a sting in the wasps' nest." When he realizes the potential, he quits his job – and when they can no longer handle the volume of requests on their own, they bring in management. He was already drawn to self-employment during his business studies. He establishes a marketing agency, launches a software solution for employee feedback on the market, starts a rental for SUPs -and always stays on the lookout for a new idea. In 2019, he is approached by a female shopper at a drugstore chain. She knows him thanks to his YouTube channel and introduces him to someone who specializes in Latin American snacks.
Through his Mexican fiancée, with whom he has now been together for 11 years, he had long since discovered his love for Latin America and therefore immediately burned for the idea. The journey of el origen begins, Gordon is invited to Ecuador, looks at the production facilities. He sees the social impact of the project and is immediately enthusiastic. In his euphoria, he takes over the project completely. From today's perspective, it was a courageous step: "I had no idea about the food market," Gordon recounts in retrospect. The task was to find the right producers, to look at how actually a Organic certification abläuf and to get into the subject matter in general. He sets about building up the logistics and prepares for a successful market entry. And that's without any prior knowledge of the food industry and a Equity capital of 100,000 euros.
To this end, he finds investors who contribute 600,000 euros. In the first step he already changes the producer, changes the packaging and the recipe-and knits a completely new brand: el origen is born. In the first year, the team consists of four people. These work out of a coworking space. But really stepping on the gas and being the boss confronts Prox with an inner conflict:" Step by step, I had to learn to shed the image of the ideal business manager that I always had in my head," he recalls.
"At the beginning, I had the idea that I had to be very strict to make the team work. But the costume of the typical supervisor just didn't fit me and I realized that freedom in my employees:inside motivates them much better." Today, that means unlimited vacation days, freedom to work from home, and complete trust. In the meantime, Prox has established a Team of 20 employees built. In addition, due to the demand for products, his startup has created more than 20 new jobs in Ecuador. created.
"We work primarily with cooperatives. With these associations of local farmers, we always negotiate the best deal for both sides," says Prox. Actually unusual, they agree on a price that remains constant throughout the year. "This gives the farmers planning security despite fluctuations in the harvest," explains the 36-year-old. In addition to the fair partnership with the producers, ecological sustainability is the founder's top priority. Therefore, el origen obtains the raw materials exclusively from organic cultivation in mixed cultures. "It's the only way for me to reconcile farming in the Amazon region with myself," Prox said.
Where we grow, we ensure that there are no kilometer-long plantain fields where each bunch is individually wrapped in plastic," says Prox. "Of course, we also completely avoid pesticides. In addition, the startup offsets the CO2 emissions of international transport. "We simply want to make a difference together and stop farming at the expense of our planet. If there's one thing I've learned, it's that profit and sustainability don't have to be contradictory."
A large part of the value A large part of the value added remains in Latin America. From the cultivation, to the processing of raw materials, to the packaging, the complete products are produced exclusively there. "We want to bring the Latin American attitude to life, this joie de vivre and colorful diversity to Europe in an unadulterated way," Gordon says in this regard.
For two years, el origen focuses on producing the chips, but Gordon wants more! "Latin America has so many flavors to offer that are still pretty unknown to us in Europe." So he develops new products, this time sweet instead of salty. Two chocolaty products were launched in August 2022.
The crispy, light Quinoa Bites even win the VOX show "Germany's tastiest idea" right after launch. The victory guarantees the vegan brand a Germany-wide listing in all REWE stores for 6 months. The chips are available at Rossmann, Budni, Edeka, Alnatura, Denn's and other retail markets. You can find them online here on Amazon or in el origen store. New products are already being planned. Nothing seems to be able to stop Gordon and his plan to bring a little Latin America to Europe.
We have tried them and are thrilled! Absolutely new, incomparable taste experience.
Try it out!
(For example, listening to the podcast!)
Photo Credits: el origen / Sarah Buth
Want to support the work of This is Vegan?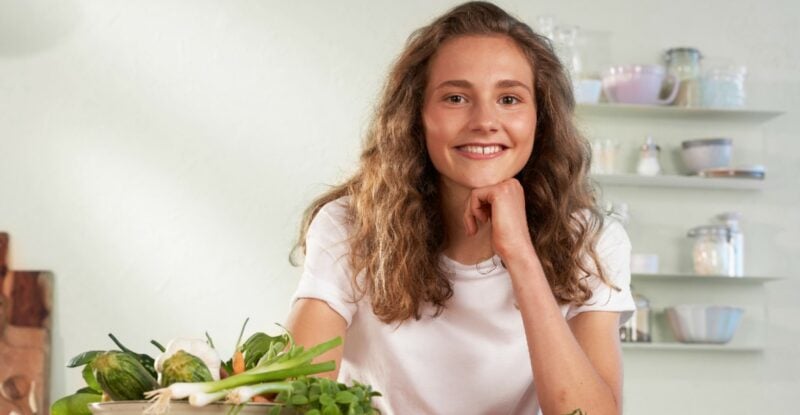 Maya Leinenbach is 17 years old, has over 2 million followers on Instagram, and inspires them every day with new vegan recipes Her secret recipe: Delicious, vegan recipes that are easy…
Read more "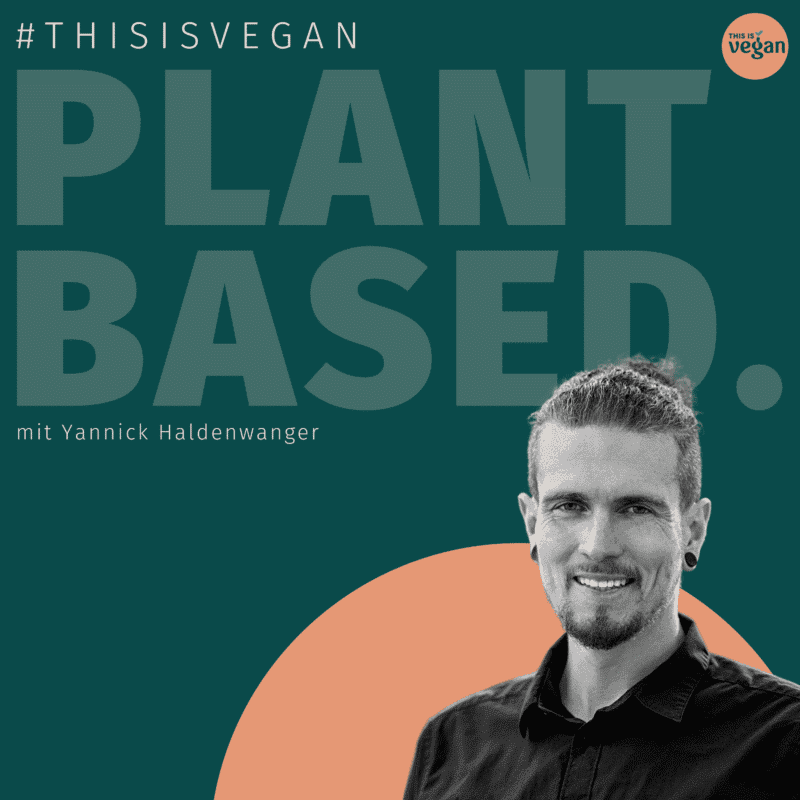 PLANTBASED. – The This Is Vegan Podcast Starting in May 2022, the sustainability & vegan community has a new podcast! In "PLANTBASED.", the This Is Vegan podcast, we regularly present…
Read more "
Please install and activate Powerkit plugin from Appearance → Install Plugins. And activate Opt-in Forms module.