Urban streetwear for vegans – Charlie McEvoy from Plant Faced Clothing in interview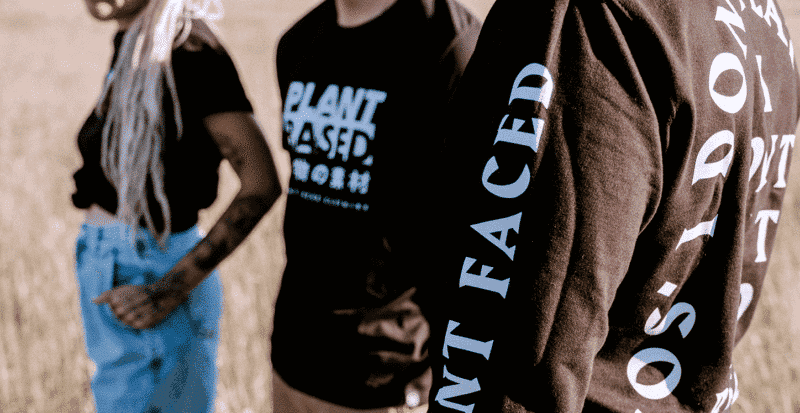 Charlie McEvoy is the founder of the English fashion label "Plant Faced Clothing".
His mission: to make stylish, urban and ethically produced streetwear for vegans suitable for the masses. With success: Even superstars like Miley Cyrus belong to the loyal clientele. We talked to him about values, production conditions and his wishes for the fashion industry.
What is Plant Faced Clothing and how did you come to start the fashion label?
Charlie McEvoy: Plant Faced Clothing is a vegan and ethical streetwear brand that was founded by me in 2016. The idea came about when I became vegan and was looking for a way to wear my message to the world in a really cool, but subtle way, but wasn't able to find the kind of clothes I wanted to wear anywhere out there. We are currently based in London, UK, and our customers come from all over the world – we are a global plant movement!
What values do you stand for?
Charlie McEvoy: We carry our message and values to the world around us in a way that is cool, unique, subtle, design-driven and clever. A way that makes us think, spreads awareness and starts conversations. All while supporting ethical fashion production and more environmentally friendly materials and inks.
What is the difference between your brand and other vegan fashion labels?
Charlie McEvoy: As a designer, I focus a lot on attention to detail when it comes to branding and design in general, so I think people appreciate that, from the feedback I hear. Our clothing has a truly unique flavor and way of spreading the vegan message that you won't find with other brands.
The other important point besides design, of course, is that our entire product line is ethically made, so you can be sure you're making a conscious choice. Everything is printed with eco-friendly vegan water-based inks and we use 100% organic cotton for all our t-shirts, long sleeve shirts and many other products.
People also definitely notice, love and appreciate the quality and soft texture of our garments – an added surprise that you can only experience when you hold them in your arms!
What was the nicest customer feedback you ever received?
What are your aspirations for other fashion companies?
Charlie McEvoy: Continuing to build this movement along with cool clothing and clever messages that are thought provoking and support ethical production and more sustainable materials.
Where can we buy "Plant Faced Clothing" clothing?
Charlie McEvoy: You can mostly shop them online at www.plantfacedclothing.com or we have a few select retailers around the globe that you can find on our site. We used to travel to many different vegan festivals around the globe, but we have distanced ourselves from that at the moment as it takes a lot of effort and we want to focus more on building our online presence that can spread our clothing to more corners of the world. We hope to continue to expand to more international distributors!
Where do you see the label in the next five years?
Charlie McEvoy: We will continue to release great clothing and new designs, continue to build a tight-knit community (the Plant Gang) around the world, and perhaps use our platform to do more cool and unique things to spread this movement.
Is there anything you want to get off your chest at the end?
Charlie McEvoy: It is paramount that we overlap in our values, especially as vegans, because we choose this lifestyle to promote the survival of all beings; and the fashion industry is unfortunately full of exploitation. There is so much injustice that happens behind closed doors just to get you your cheap t-shirts – poor or dangerous working conditions, unfair pay, child labor, to name a few – that gets swept under the rug. If we want to start making conscious choices to vote against and support fair conditions, we need to start investing in what we buy and voting for it with our wallets.
Aside from the production side, there is also so much to consider in terms of the fabrics, dyes and inks that we as consumers use in clothing; every purchasing decision ultimately has a negative or neutral impact on the environment, and it is important that we are aware of this as well, for the future of our planet.
We make these decisions easy for you by carefully considering all the above points in our range!
Please install and activate Powerkit plugin from Appearance → Install Plugins. And activate Opt-in Forms module.