Vegan dog nutrition – What a veterinarian & the VEGDOG founders say about it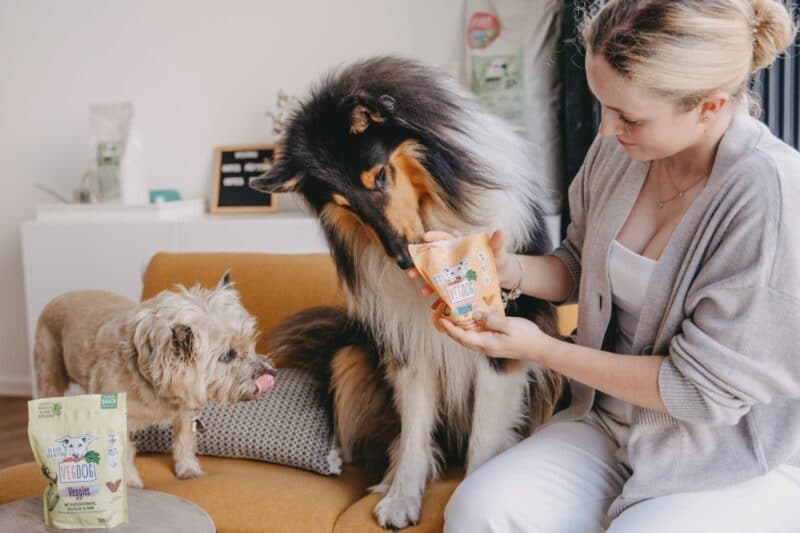 Vegetables in the bowl – is vegan dog food at all species-appropriate? Is there dog food vegan? What is a veterinarian's opinion on vegan dog food? These are the questions that Tessa Zaune-Figlar and Valerie Henssen have dealt with more intensively. You founded VEGDOG.
VEGDOG is the first 100% plant-based and gluten-free complete food for dogs, developed in a year-long development phase in collaboration with expert veterinarians and specialist laboratories. The different types of food provide the dog with all essential nutrients. In addition, only regional, high-quality ingredients are used, which are gently processed into a tasty feed in compliance with the highest quality standards.
Unlike other dog food brands, VEGDOG is free of attractants, colorants and preservatives and does not test on animals.
In the interview reveal to us VEGDOG-founder and CEO Tessa Zaune-Figlar, as well as co-founder and CEO Valerie Henssen, how they came up with the idea to found the start-up for vegan dog food, whether they also feed their dogs vegan, which values they want to transport in their company and how things are going after the deal at "The lions' den" continued.
We also asked one who must know about animals: Veterinarian Carla Steffen tells us what she thinks of vegan dog nutrition and whether it makes sense to feed your dog vegan.
Finally, we link you to a study on the subject of vegan dog & cat nutrition.
How did you come up with the idea of making vegan dog food?
Tessa Zaune-Figlar: My German Shepherd mix Nelson suffered from food allergies, so the vet recommended eliminating animal ingredients from Nelson's diet. Nelson vegan diet?! I was skeptical at first, but to help Nelson, I wanted to leave no stone unturned. I had the specialist veterinarian prepare recipes to cover my needs and after a short time my dog was free of symptoms. Since I had tried everything for years, this was a small miracle for me. Cooking it myself became too time-consuming for me after a while. After extensive research, I came to the conclusion that there is no vegan dog food on the market that provides full coverage of needs. In order to fill the gap in the market for a vegan, complete food for dogs, and thus offer dog owners in similar situations a healthy alternative to meat-based foods, I decided to develop a plant-based dog food in cooperation with veterinarians. One that provides the dog with all the nutrients it needs for a healthy life. Because by now I know that the dog needs protein and nutrients… and not the meat. These we can also provide him with herbal. This is the story behind VEGDOG.
What happened next for your start-up after your appearance on "Die Höhle der Löwen"?
Tessa Zaune-Figlar: In 2015, I started with three varieties of wet food, which went to market in 2016. In 2017, co-founder Valerie Henssen joined us and in 2018 we made our appearance on "Die Höhle der Löwen", through which the Wöhrl family got involved. After the broadcast, we also launched a variety of dry food and the first snack. In 2020, we parted company with the Wöhrl family on a positive note, and shortly thereafter the next investor, Katjesgreenfood, stepped in. As a result, we have since launched more snacks and this summer a sustainable innovation: wet food in a Tetra Pak. In 2020, we managed to break the 1 million sales mark for the first time! We at VEGDOG do not stand still and have exciting, thrilling years behind us and can be proud of a very successful development. Our goal is to continue to focus on innovation and lead the European vegan dog food market by 2023/2024. Thanks to our rapidly growing team of motivated, creative and dedicated people with the same goal in mind to revolutionize the dog food market while protecting animals and the environment, we are well on our way.
Can I feed the vegan dog food to any dog?
Carla Steffen (veterinarian): In principle, you can feed any dog vegan, as long as he likes it and tolerates it. It is always important to ensure that needs are met. For certain conditions, such as feed intolerances or kidney disease, switching to a plant-based diet may even alleviate symptoms. Some of our customers tell us about fates as well as about Nelson and that they were finally doing well after switching to a vegan diet.
What ingredients are found in your vegan dog food?
Valerie Henssen: We rely on high-quality, mostly regional ingredients, as we have the highest quality standards for our products. After all, we ourselves are our strictest customers. At the same time, however, sustainability also plays a decisive role both in production and in everyday office life. We use alternative protein sources, such as lupine, peas or lentils, which provide dogs with all the amino acids he needs. The recipes are supplemented with superfoods such as chia and flax seeds and lots of healthy fruits and vegetables. The complete feed is rounded off by a specially adapted mineral feed, so that full coverage of requirements is ensured.
How do you respond to people who call vegan dog diets "animal cruelty"?
Carla Steffen: Many people still put our domestic dog on the same level as the wolf. But the dog no longer has much in common with the wolf. Pressed-in noses, through which hardly breathing is possible, stubby tails, with which the dogs can hardly communicate and too short fur, which demands a coat in cold temperatures – but in the diet the dog should then again be completely wolf? During domestication, the dog ate a largely plant-based diet, since meat was rare and precious, and dogs only got leftovers anyway. This makes it possible for him today to digest starch very well, which makes him – like us humans – an omnivore. Dogs are adapted to life with people, he is very different from the wolf. And exactly this education is important to us to convince others that dogs can live very well plant-based and healthy. More and more people are recognizing this limp comparison and are switching to vegan dog food. Many start with plant-based snacks or one or two veggie days per week. Based on our increasing customer numbers, we notice the growing acceptance and demand for plant-based food for dogs in society.
Do the dogs of your customers like the food directly or is there something like an "adaptation phase" first?
Valerie Henssen: Our customers and their pets are more than satisfied with our food. We have an acceptance rate of about 90%! Many formerly desperate owners are thrilled because their dog since he gets VEGDOG, ailments and diseases (eg food allergies) discarded. We regularly receive such gratifying feedback, which motivates us time and again and encourages us in our mission. Of course, the feedback of our customers is very important to us, so we especially welcome and accept criticism. The satisfaction of our customers has the highest priority for us. Basically, however, you should change a dog gently, we recommend a changeover of 3 weeks. Our veterinarian Carla is also happy to assist our customers in this regard.
What else can we look forward to from VEGDOG in the future?
Tessa Zaune-Figlar: At the moment, we are still focusing on expanding our range of plant-based dog foods. We have a lot planned and can already reveal that another complete feed will soon be added to our range. We are often asked about vegan cat food. As soon as here the research basis is so far that a vegetable nutrition can be converted also for cats need-covering and healthy, we stand also the vegan cat food openly opposite.
What values does VEGDOG represent as a company?
Valerie Henssen: We are positive, credible, empathetic and professional. The great thing about VEGDOG is that the entire team is passionate and motivated. We are all working together for a better world. Above all, a better world for animals. From the dogs adopted by employees to all the animals in factory farms whose lives we spare through our plant-based products. Sustainability and environmental protection also play a crucial role in production and, of course, everyday office life.
How do you integrate the topics of sustainability and veganism into your personal everyday life?
Tessa Zaune-Figlar: The VEGDOG team either already lives vegan or is integrating veganism more and more into everyday life. We all have a common passion here and motivate each other. Veganism is inevitably linked to sustainability, so we all strive to keep our environmental footprint and pawprint as small as possible. For example, many of us come to the office by bike or public transport, we support the job bike, do upcycling projects and regularly eat vegan lunch together.
How do you think the market for plant-based animal feed will develop over the next few years?
Valerie Henssen: Vegan dog food used to be a rarity. Therefore, there were no market figures except those from the food sector (20-fold growth over 10 years). Who wanted to feed his dog vegan, usually could not avoid cooking. You also had to look longer for plant-based snacks. But today you can get vegan alternatives in any pet store. There are now also figures that confirm that vegan dog food is no longer a niche for a long time (a quarter of all dog owners would consider this form of nutrition). Either from purely vegan manufacturers or from brands that offer a plant-based alternative in addition to "conventional" dog food. Even large manufacturers who have been in business for a long time recognize this demand and are expanding their range. The same thing needs to happen in the vegan dog food supply as in the human vegan diet: the shelves need to fill up!
Can you feed your dogs a vegan diet just in between a "veggie day"?
Carla Steffen: Dogs love variety! And a vegan alternative can make a big difference with every step. And especially for dog owners who want to keep their dog do not yet want to switch completely to a plant-based diet, Veggie Days are an excellent alternative. Here, vegan days can be inserted or plant-based feed can be mixed with meat-based feed, as long as the combination meets the requirements. In addition, vegan snacks are an excellent way to reduce meat consumption and still spoil your beloved four-legged friend.
How does VEGDOG feed compare to conventional feed in terms of carbon footprint and animals rescued?
Valerie Henssen: Whether we're talking about the human diet or the dog's diet, animal products have a huge impact on our climate. The high emissions of the climate gases CO2 and methane are related to this. Likewise, huge plantations of fodder crops that end up in the troughs of animals in factory farming. Rain forests are actually cleared for this and not for the soy of the Veganer:innen as often erroneously assumed. We don't talk about a green pawprint left by our products for nothing: Our VEGGIES, BEEVYS and JERKEYS, for example, save 1kg of CO2 per pack, which is equivalent to a 6km car journey. A 800g can of our wet food, on the other hand, saves as much CO2 as a 30km car trip and a 12kg bag of our GREEN CRUNCH dry food saves CO2 of a 225km car trip. And of course, a plant-based diet saves the lives of countless animals and spares them an agonizing life in the stables of factory farming. Because many people are not aware that animals are actually slaughtered for dog food and that it is not "just" slaughter waste. 80 chickens each year may continue to live if a 15kg dog is fed a vegan diet.
Is there anything you would like to get off your chest at the end?
Tessa Zaune-Figlar: We thank all the people who stand behind us and work together with us to move vegan dog food into the middle of society. A special thanks goes to our customers, who encourage and motivate us by their terrific feedback that we are on the right way and offer an alternative to many people and dogs. Without you, none of this would be possible and we look forward to all that is to come!
If you want to try the vegan dog food from VEGDOG now for your four-legged friend – take a look here at Amazon or directly on the website of VEGDOG.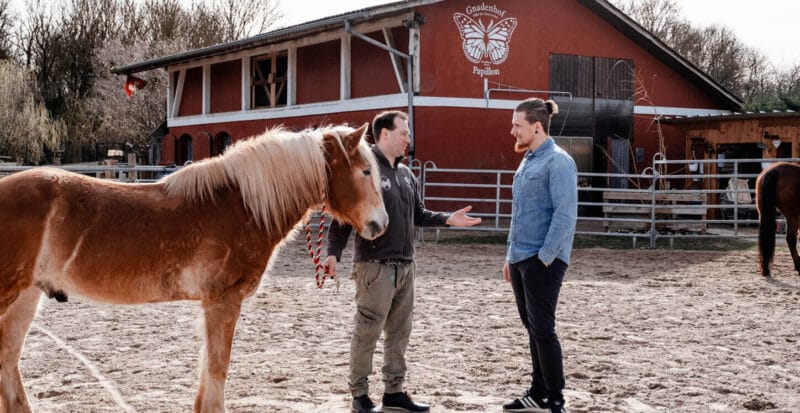 Since 2012, Oliver and Rebecca Bieli have been running the Papillon sanctuary in Alsace, as well as the Swiss Dog and Cat Rescue SHKR. During our visit, Oliver told us…
Read more "
Want to support the work of This is Vegan?
On our pages you will find affiliate links. If you buy your favorite products through them, we will receive a commission. It helps us to keep doing what we love – introducing you to great vegan ideas!
By purchasing the sustainable reusable cups from us, you support the Papillon Mercy Farm.
You can also follow us on Instagram here.
Please install and activate Powerkit plugin from Appearance → Install Plugins. And activate Opt-in Forms module.