Sustainable Coffee-To-Go cups from the Black Forest – Interview with the founders of heybico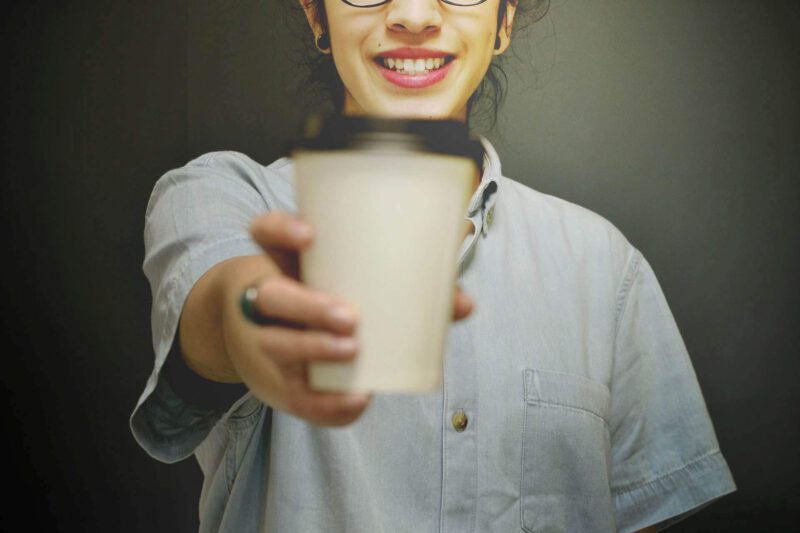 In the fall and winter, many people opt for a hot drink on the go. Coffee-To-Go is the magic word for the generation where time is a foreign word. But that creates a lot of plastic waste. A start-up from the Black Forest has the solution: Heybico produces sustainable reusable cups in special designs: pollutant-free, without melamine and BPA. These are produced exclusively in the Black Forest.
In the interview, the founders Horst Homm, Florian Hensel and Julian Schirmer tell us what motivated them to found a sustainable start-up, how they integrate sustainability into their everyday lives and how you can do something good for many animals by buying a "Vegan Cup".
How did you come up with the idea of producing sustainable cups?
Probably the way many new ideas are born: by chance. Our idea for sustainable cups started back in 2016, when we tried to stack our disposable coffee cups on top of a totally overflowing trash can at a meeting in town. We looked at each other that day and wondered if there was any other way.
The idea of turning this into our own start-up matured in us for a few months, until we started importing reusable cups from Asia and distributing them further. Back then, we started with cups made of bamboo, at that time the most sustainable material for reusable cups on the market. In the course of time, however, we became more and more aware that the long transport routes were not optimal. We wanted to make our entire production as sustainable as possible and for this reason we brought them to us in the Black Forest.
Since the beginning of 2020, we have been producing our returnable cups here in Baden-Württemberg, the delivery routes have been drastically shortened, we produce many times less CO2 and the material has also changed completely. Instead of bamboo, we now use a bio-plastic based on renewable raw materials.
Our brand name has also changed slightly this year. We are heybico, which means "hey, i'm biological and compostable".
Why did you decide to start a sustainable business?
Because today, not starting a sustainable business is not an option.
Our generation, we are now all just over 30, already has a very strong awareness of environmental protection and sustainable action. The generations that come after us have an even greater awareness in this direction.
Sustainability is not a trend that will end in 10 – 20 years. No one will say in the future that enough is enough with the protection of the environment, let's burn fossil fuels again and throw the waste into nature. Sustainability and the conscious use of our planet's resources is an irreversible rethinking in the minds of all people. We live in an age in which it must be a matter of course to show consideration for the environment in all our actions. Our grandchildren and great-grandchildren should not have to pay for the problems we cause through negligent actions.
What makes your reusable cups different from regular cups we usually buy at retail?
At this point, we can take a quick look around at what reusable cups are on sale. The classic that most people probably know and love right off the bat is the stainless steel mug. Although this is unbreakable and stable, 100% of it is manufactured overseas, mostly in China, and imported to us by ship or air freight. After the long transport route, the cup to the start has a less nice CO2 balance and the working conditions on site vary greatly.
In addition, we still find reusable cups made of porcelain or glass, for both variants there are manufacturers in Germany, but many come here from overseas. Unfortunately, these cups are very heavy and a fall to the ground they very rarely survive.
Another retail option would be conventional petroleum-based plastic cups. These are lightweight, unbreakable and can be printed in appealing designs. Even fair production in Germany is offered here by some manufacturers. The biggest disadvantage here, however, is the use of fossil raw materials. The extraction of these massively interferes with our environment and the combustion releases huge amounts of CO2.
Our cups are made of a plastic based on plants and renewable raw materials. The material used is completely CO2 neutral and completely harmless to our environment. We have managed to eliminate all the disadvantages of conventional plastic cups, have been able to preserve the advantages and also offer fair production with short delivery routes.
Long story short: You can use our cups completely without a guilty conscience and without having to make compromises, every day.
How do you integrate sustainability into your everyday life?
Not only do we pay close attention to sustainability in our products, our company also lives this attitude. It starts in our office. Following the principle of "reduce, reuse, repair, recycle", the entire furnishings and all electrical appliances were purchased second-hand. We strive for a paperless office, where it is unavoidable certified recycled paper is used. Electricity for our office comes from renewable sources, everything is shipped climate neutrally, office supplies and utensils for hygiene are all plastic-free and disposables are completely avoided.
For us, sustainability also means thinking about processes in order to keep transport distances as low as possible, for example. We always strive to question our actions and always think about better alternatives.
Sustainability also plays a key role in our private lives. The confrontation with environmental problems and the daily effects have ensured that we permanently make our own lives more environmentally friendly. Even the way to the office is done by bike, weather permitting. This is good for the climate, good for your wallet and, incidentally, good for your fitness. We have completely banned PET bottles from our lives. We rely on glass bottles and have a water sprayer in use both in the office and at home. The water comes from the tap. It's delicious, healthy, saves money and nerves because there's no need to collect bottles and take them away. When shopping, we make sure to buy plastic-free, which admittedly does not always work. That's why we use the weekly market to buy fresh, regional and sustainable. The bathroom has also become more sustainable.
Bars of soap have replaced shower gel and shampoo, the toothbrush is made of bamboo and toothpaste comes out of a jar. By eliminating unnecessary newspaper and advertising waste, we save close to 30kg of paper per year. This can be easily implemented by simply attaching a sign to the mailbox à la "Please no advertising and no newspaper". By the way, you save a trip or two to the mailbox.
We try to produce less waste bit by bit in order to leave a habitable planet for our children and descendants. It's the small steps that make a big impact at the end of the day.
What was the nicest feedback you got about your mugs?
What we regularly get to hear when someone holds our mug in their hand for the first time is an astonished "It feels really high quality!"
Many have the idea that such an organic cup made of plants can not be stable. Some voices also thought the cups were glued together from leaves and feel similar to bowls made from palm leaves. These reactions always make us smile and also show us that bioplastics are still very unknown.
What are your plans for the future of heybico?
We will steadily increase our range to make the world more sustainable with more eco-friendly alternatives. Reusable is the key to success here. Our goal is to make disposable products, especially disposable cups, disappear completely. We continue to focus on great-looking reusable products to reach people's hearts. Because only if we manage to make sustainable solutions palatable to people will they be accepted and used. We will achieve this primarily by expanding our marketing and sales activities.
Together with "This Is Vegan" you have integrated the "Vegan Cup" into your store. What happens to the proceeds from the sale of the cups?
With the wonderful "Vegan Cup" in collaboration with "This Is Vegan" we donate part of the proceeds to the Gnadenhof Papillon in Mulhouse, France. The dedicated team around Rebecca and Olivier Bieli offers lifelong protection to animals that have already had bad experiences with humans and show visitors how important the work for animal welfare is. The donation goal is a wish of "This is Vegan", which we would very much like to support.
Buy plastic-free Coffee-To-Go reusable cups and do good automatically
What would you like to give people to take away with them in the end?
Always remember that environmental protection and sustainability starts at home. Even small changes in everyday life help to conserve resources and reduce the burden on the environment. Whether you switch from disposable to reusable, buy unpackaged, avoid plastic or buy used goods instead of new, every contribution is an important one.
Please install and activate Powerkit plugin from Appearance → Install Plugins. And activate Opt-in Forms module.