Vegan shampoos and care products – here's what you should look out for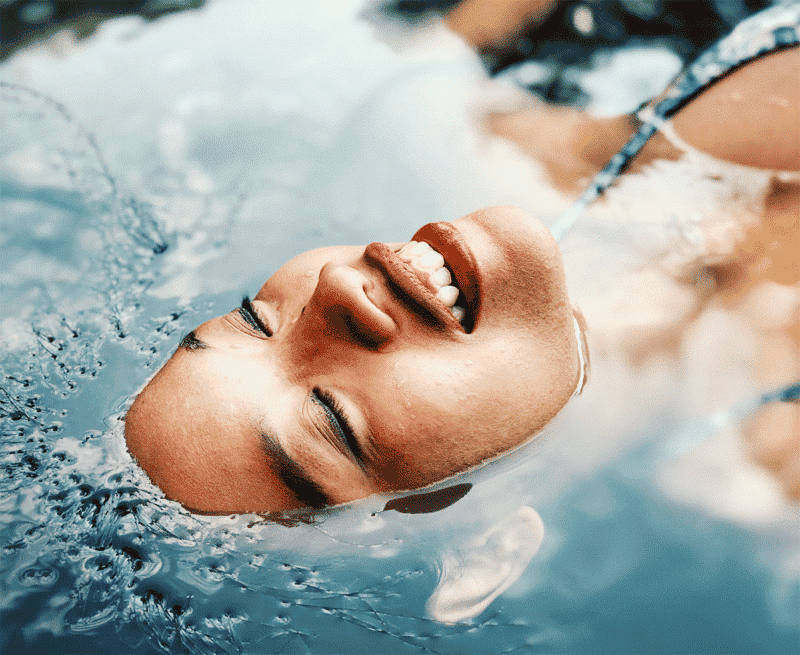 A vegan lifestyle doesn't just include nutrition – we should also take a closer look at our household. Especially in the bathroom you can find many products that seem vegan at first glance, but are not. From shampoo against itchy scalp, against greasy hair to the fancy unicorn scent, there are no limits to the creativity of the brands. But are they all really vegan? What you really have to look for in vegan care products & shampoos and which vegan care products we recommend after our test you can read here.
No! What many do not know is that in conventional shampoos are often ingredients animals. One of the most famous ingredients is keratin, which is used for damaged, unhealthy and brittle hair. This protein is often obtained from ground horns, hooves, feathers or hair of animals.

Our hair also consists of 95% keratin, plus 5-10% water, lipids and pigments. When keratin is intact in the hair, it is highly elastic and insoluble in water, so it can protect the hair from extreme temperatures, such as during straightening and blow-drying. However, the keratin protective layer around the hair can take damage from aging, disease, hormones, external influences, but also from high mechanical and chemical stress.
To counteract this, in addition to animal keratin, there is also a vegetable keratin that can be used, which consists of hydrolyzed proteins from the plants corn, wheat and soy. This achieves the same effect, but protects wildlife.
How can you recognize vegan shampoo?
This is not so easy – but there are indications on the packaging that help you choose the right shampoo.
The most obvious are products that advertise skin care ingredients such as milk, honey or jellies. Here it is easy to sort out, but this is usually not enough.
Occasionally, the list of ingredients on the back of the product can help you. But here you need to be careful, because often it is not quite clear whether the substances are made from animal products. For example, the above-mentioned keratin. In addition, one usually does not know the meaning of terms such as cholesterol, cystine or glycerol in detail and in these fast-moving times does not necessarily have the desire and time to deal with long lists of contents.
An obvious and quickly recognizable feature are the various quality seals that indicate vegan products. Probably the best known seal is the vegan flower. This was introduced in 1990 by the Vegan Society England and is awarded in Germany by the Vegan Society Austria. The Vegan Flower guarantees that a product is 100% vegan and free from animal testing. In addition, there is the Peta logo with the bunny, the bunny with the protecting hand or the Leaping Bunny.
Cosmetics company Aveda, for example, advertises its vegan products and guarantees that the products are plant-based, free of animal testing, and also produced using 100% wind and solar energy. Thus, Aveda additionally supports the resources of our planet and also uses 100% recyclable bottles.
Do vegan shampoos work just as well as non-vegan ones?
Yes! And even without negative side effects such as heavy, dry hair, which is often the case with conventional shampoos. In advertising, not infrequently advertised shiny and soft hair after the first application. But this is only possible because abundant chemicals are added in conventional hair care products. The result – beautiful hair in the short term but quickly greasy hair, because ingredients such as silicones form a film around the hair, preventing conditioning substances from penetrating the hair. Therefore, silicone-free products care for the hair better in the long term. Aveda also removes any silicones from its products.
But not only silicones are a no-go at Aveda. Ingredients such as parabens, mineral oil, kerosenes, microplastics and synthetic substances are a no-no here and do not go into the tube.
What makes Aveda different?
Aveda has decided this year to switch their range completely to vegan products. They focus on the highest possible use of green ingredients in their shampoos, skincare products and co, and work hard to secure ecological and cultural diversity by responsibly sourcing key ingredients from different habitats around the world. For example, they also rely on fair compensation to have a positive impact on the people and economic communities where the ingredients for the products are sourced. Aveda products also contain no parabens, phthalates or sodium lauryl sulfates.
Above all, they focus on transparency. 90% of the ingredients are traceable to their country of origin. Thus, with the purchase of Aveda products you not only pursue your own vegan lifestyle, but at the same time support the sustainability of our planet and fair manufacturing.
All Aveda products are responsibly produced with 100% wind and/or solar energy – supported by energy credits and climate offsets. The goal is to achieve Silver Zero Waste to Landfill certification under the UL scheme at our primary manufacturing facility by the end of 2021. Pioneer in 100% post-consumer recycled packaging. Aveda uses 90% naturally derived ingredients according to ISO standards. Obtained from plants, non-petroleum-based minerals or water.
What is best for my hair?
We can't give a blanket answer to that. But Aveda offers a free hair and scalp analysis on their website. Thus, you will find the ideal products for your own scalp within a few minutes.
Is natural cosmetics always vegan?
No! Caution is advised here when it comes to declaring products for the face. You might think that terms like natural cosmetics, certified natural cosmetics or organic cosmetics stand for vegan products. Unfortunately, this is not always the case. Natural cosmetics is not a protected term and can therefore be used by companies as they wish. Natural cosmetics certified with a seal must follow the guidelines of this seal. Depending on the seal, the guidelines look different – permitted ingredients and animal testing are regulated separately by each seal. In general, natural cosmetics can be made from plant raw materials and products of live and dead animals. Honey and milk are also allowed in natural cosmetic products.
Here Aveda again focuses on transparency, because the products are not tested on animals and the ingredients are purely plant-based. Aveda offers a wide range of vegan cosmetic products. Here you can also find the Peta quality seal with the bunny.
What are the advantages of vegan cosmetics?
Vegan cosmetics mostly use natural ingredients and avoid the use of synthetic fillers or chemicals that can irritate and damage the skin. It is also sustainable, as the raw materials are renewable, as well as biodegradable, and can also be well absorbed by the skin. Manufacturers of vegan cosmetics are convinced that 100% plant-based combinations of active ingredients are the purest, most effective and most skin-friendly and are therefore also recommended for people with sensitive skin.
How often do you rely on labels like "soothes the skin", "moisturizes", "makes the skin look smoother".
Unfortunately, you should not rely on such advertising claims, because the skin on the face is much more complex than to be satisfied with "only" moisturizing cream.
Here you should actually know something about the basic ingredients.
Often enough, you catch yourself choosing products solely based on their designs and smell. But this can lead to fatal skin irritations. Basically, you should make sure that the products do not contain fragrances or perfumes.
In addition, alcohol is often used. Here you have to distinguish between "good" and "bad". Good alcohols include, for example. Cetyl Alcohol, Lanolin Alcohol or cetearyl Alcohol. The bad ones, in turn, include alcohol denat, ethanol, methanol or propanol.
You should always listen to your skin individually, what is good for you. Many use the classic Korean "10 Step Skincare Routine" in their skin care routine. This includes cleansing with a cleansing oil, followed by cleansing with a cleansing foam, exfoliation, application of a face toner, essences, serum, sheet mask, eye care, moisturizer and sunscreen in the morning or an over-night mask in the evening. At first, this sounds like an extreme amount and everyone should adapt this routine individually to the needs of their skin. However, this is mainly about the order of the treatments – from thin to thick.
Aveda offers here a wide range of products with abundant nourishing ingredients, which have a soothing effect on the skin and can be very well incorporated into the Korean "10 Step Skincare Routine".
Après shampooing light nourishes without leaving a film on the hair, it also has a pleasant fresh and floral scent.
The leave-in conditioner nourishes and protects hair from UV rays. It does not gum up the hair and does not make it look greasy.
The Intensive Hydrating Masque does not remind you of the classic masks you know from the drugstore. It is much more of a translucent gel that cools the skin and doesn't set or start to tighten like traditional masks.
Hydration Lotion has a pleasant scent and feels very comfortable on the skin. It absorbs quickly and does not leave a sticky film. It also has a cooling and refreshing effect.
The aveda men pure-formance™ shampoo reduces itching and dry scalp. It also adds shine to the hair without weighing it down or making it greasy.
Dieser Artikel ist in Kooperation mit Aveda entstanden. Durch den Klick und Kauf über die Links im Artikel unterstützt ihr uns. Vielen Dank. 🖤
Please install and activate Powerkit plugin from Appearance → Install Plugins. And activate Opt-in Forms module.