The vegan gladiator in the interview: Ralf Moeller reveals his secret recipe for a 60 biceps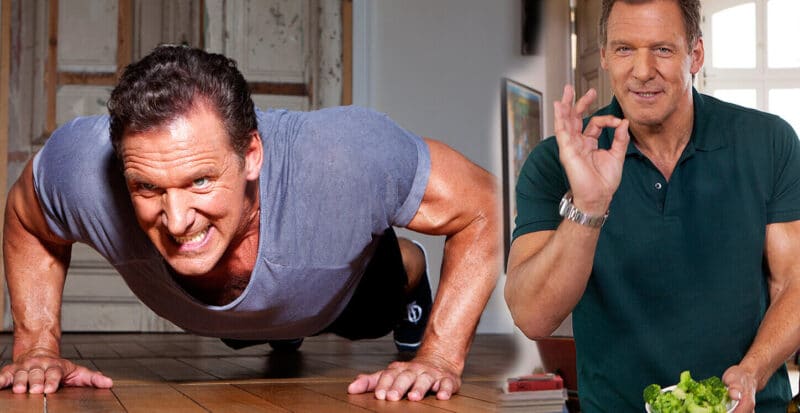 Ralf Moeller is a German-American actor and former Mr. Universe. He is known for his roles as Brick Bardo in Cyborg, Kjartan in The Viking Sagas, as the title character in the TV series Conan The Adventurer, Hagen in Gladiator, Thorak in The Scorpion King and Ulfar in Pathfinder – The Warrior's Trail.
Like many of his Hollywood colleagues, Moeller now eats a vegan diet.
In an interview with This Is Vegan, he talks about how he comes up with his protein needs and the positive effects the diet change has had on his health.
You celebrated your 60th birthday earlier this year. Congratulations belatedly. You are still fitter and more active than many 20-year-olds. What is your secret?
Ralf Moeller: Do you really have to remind me of my age? (laughs)
Thank you very much for the kind words. I have done a lot of sports over the last 40 years and started as a swimmer when I was seven years old. In my profession as an actor, of course, I always had to stay fit. I remember people saying back when I was in my mid-20s that biceps shrink at 50-60. As you can see everything is still there and I am fitter than I was in my forties. For me it has always been clear that 70% is nutrition. 30% is the training. I wasn't aware of that in my early 20s. When I started bodybuilding at the age of 18, especially before competitions, I always ate only low carb, daily chicken meat, fish and co. I also always paid attention to my daily vitamin & protein intake. Nutrition was already an essential part of my life back then.

I used to weigh 127 kilos and am now down to 114 kilos – more defined and trained than ever. I still have incredible energy and strength. I recently took a test that measures my biological age based on aspects such as speed, strength, endurance, and flexibility. I did not prepare for this – the result for my biological age was 39.
You live vegan in the meantime. How did it come about and how do you feel since then?
Ralf Moeller: I had my first contact with vegan nutrition at that time through my good friend, James Cameron. He's the first person I've ever known who, together with his wife, said overnight, "That's it! Everything non-vegan out of the fridge!" and went straight vegan. I thought that was admirable.

Then he was joined by a good friend – Franco Carlotto, the six-time "Mr. World Fitness" is. He started eating a vegan diet without losing muscle and then always told me that he felt fitter, more vital and stronger than ever. In the process, he sent me pictures and videos almost daily of animals being slaughtered and suffering for our consumption. That was a big aspect of my rethinking. It is unimaginably cruel under which conditions we have our food "produced". I still have the screams of the animals from the videos in my head! In between there was also always an acquaintance who brought me a vegan cake. This one tasted great. However, I still had the typical prejudices in my head that I couldn't get my protein on and vegan can't be healthy. Nevertheless, the taste convinced me and made me curious – I said to her as a joke "I could go vegan for dessert!".
Then I made the decision that I didn't want to support that anymore and gave up meat and dairy products for the time being. Today I live vegan and can only recommend it to everyone.
How did you feel at the beginning of your transition?
Ralf Moeller: It was relatively easy for me. Although I enjoyed eating cheese, the awareness of "the cause" was stronger than the desire for an animal product. Still, I didn't rush into anything and gradually looked at what I could replace it with. In the meantime, fortunately, it works quite well! It's not about going hungry or giving up anything, but discovering new delicious and nutritious dishes.
Do you have any advice for people who want to try vegan but don't know how to start yet?
Ralf Moeller: James Cameron's wife – Suzy Amis, has explained a good approach to making the switch in her book "OMD: One Meal A Day / The Simple, Plant-Based Program to Save Your Health, Save Your Waistline, and Save the Planet."
Why not start with a veggie meal and skip the meat for now? If that works well, then dairy can be eliminated as well. There are now many great alternatives in every supermarket. From vegan cheese, to sausage, to meat. Most of them taste really great and completely without animals having to suffer for it. Just try your way through – it's worth it!
I can highly recommend Niko Rittenau's book and YouTube channel.
In general, what's the selection like in the U.S. when you want to go out to eat at restaurants?
Ralf Moeller: Excellent. California in particular in the Santa Monica and Los Angeles area have many vegan hotspots. Even in every "normal" restaurant you will find five to six vegan dishes on the menu. I recently had a dinner date with a friend in Hamburg at "Café Paris" and was pleased to find a vegan curry on the menu. I was pleasantly surprised by the development in many "normal" restaurants. I can only recommend every restaurateur to adapt their menu with a selection of vegan dishes.
The development here is also even more advanced in the supermarket. There are lots of healthy products that are now coming to Germany. From vegan butter, to ready meals that taste original chicken and co.
How has the change in diet affected your body?
Ralf Moeller: After cutting out meat and dairy products, my cholesterol levels improved significantly in a very short time. And also my strength values are better than ever. That was already strong and encouraged me to continue.

By the way, in September a film by James Cameron will be released, which I can highly recommend – it will be called "The Gamechangers". In it, all the issues surrounding the prejudices of the vegan diet are refuted by top athletes, such as Arnold Schwarzenegger, Lewis Hamilton, James Wilksgers, Jackie Chan and many others. This film will be a "gamechanger"!
You're on the road quite a bit. How do you manage to eat healthy, vegan food while traveling?
Ralf Moeller: When I travel, I actually always find something. But I don't approach it too forced and I'm honest. It can happen that the diet is "only" 80% vegan. But that's also fine with me. My friend Arnold Schwarzenegger does it that way, too. He now even has a chef at home who only cooks vegan. And his values have also improved significantly thanks to the vegan diet.
What does Ralf Moeller eat on a normal day?
Ralf Moeller: In the morning I eat my Oat Meal / Porridge. It is accompanied by fruit, a little cinnamon and rice or oat milk. Totally easy and really tasty.
At lunchtime and in the evening I vary, depending on what I feel like. Even vegan pizza is available from time to time. But of course I also look at the nutritional values and ingredients.
Actors, such as Joaquin Phoenix insist on the film set that no clothing of animal origin is used. Do you pay attention to that, too?
Ralf Moeller: I think that's great, but I'm not implementing it in that form yet. Joaquin Phoenix and other Hollywood actors have a very different routine.
You should be careful when you start out saying "I'm going vegan, throwing away all my old clothes, and I expect you to do the same!"
This quickly overwhelms people and they leave it alone altogether. Step by step, this is sure to develop.
Nutrition has always been an important topic for you. Are you also actively campaigning for other people to eat better?
Ralf Moeller: Yes, definitely! This is very important to me, but I don't want to proselytize.
Nowadays, many foods consist only of sugar and fat. Children and young people in particular eat too much of it. For about twelve years now, I've been traveling to schools for the "Strong Guys" project to get young people jobs. In the process, I always tell people in passing how important the right diet is.
"Don't eat any more sweets – then you'll get biceps like that!" always works particularly well here. (laughs)
A few weeks ago, I was also on stage with German Chancellor Angela Merkel, Food Minister Julia Klöckner and Federal Minister of Health Jens Spahn. Here we talked about the topic of veganism, among other things, and everyone was very open to it. There are also many prominent colleagues who now live vegan. However, it's not just a fashion thing, people need to understand that. But to get there, you first have to introduce people to the topic slowly.
How do you respond to people who don't believe vegan diets can be healthy?
Ralf Moeller: Man is an eye animal – if I'm still holding out a 50 bicep that was created vegan when I'm 60, that's argument enough for most people. (laughs)
What do you say to people who label vegan dishes as "processed foods with chemicals" out of ignorance?
Ralf Moeller: After all, everything is made from plants – you also eat the beet when it is processed in the salad. The processed food argument doesn't count there. Of course, you still have to be careful – there are of course many vegan products that have a high sugar content. However, this is often the case with non-vegan products as well.
How do you react when people ask you about your diet while you're eating?
Ralf Moeller: It's a challenge when everyone is eating "normal" and you order something vegan. Then they look first and ask if it tastes good. Next comes the question of proteins – then I shorten the whole thing and tighten the biceps. (laughs)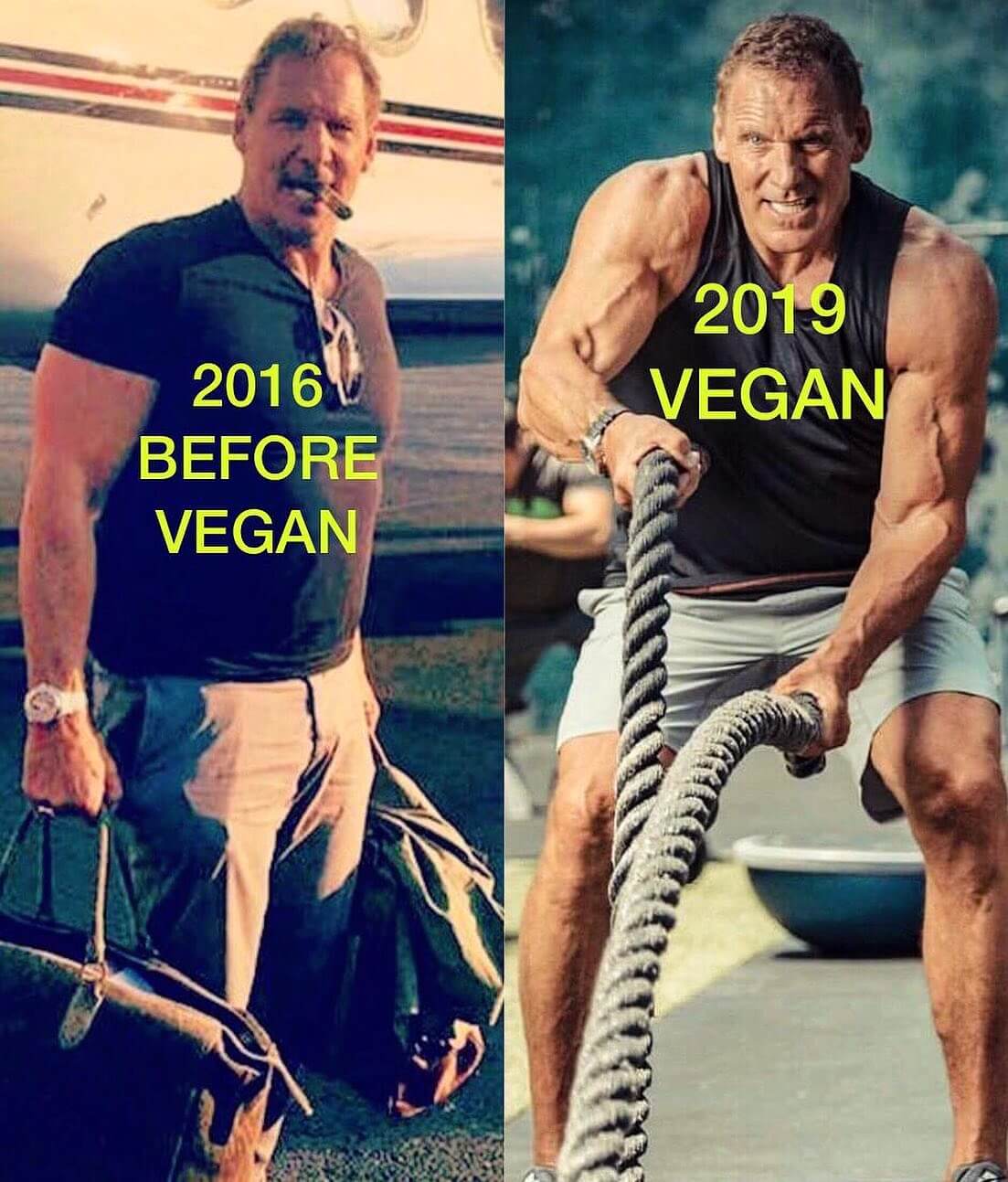 How has your family reacted to your change in diet?
Ralf Moeller: Surprisingly positive. My father just turned 90 and my mother 83, so I also gradually replaced the milk with rice or oat milk, because you also want your loved ones to be well for a long time.
But it is a process worth starting, because in old age you have a better quality of life, you are healthy and you also see yourself in a completely different way.
Where can we admire you on the big screen in the near future?
Ralf Moeller: A feature film is currently in production and is likely to be released in September. We produced the film "Der letzte Bulle" with Henning Baum, which will be released in cinemas on November 7. This is the motion picture to the successful series that existed a few years ago. And I myself am in negotiations and discussions with Tim Miller right now. There's a big series planned for Netflix. A lot with dragons, as you know it from "Game of Thrones," for example. An exciting project that I am very much looking forward to!
Finally, is there anything you would like to leave our readers with?
Ralf Moeller: Guys! At 20 or 30 – your body can still somehow cope with it.
But as soon as you get into the 40s, 50s or 60s, it's all very damaging. Just think about later now! It's just a habit you have to change! You can easily cover your protein requirements with a vegan diet, and vitamin B12 can be supplemented quite easily. Invest in your body so that you are still fit and vital as you age and still have a great quality of life. Training alone is not everything! Everyone wants to drive electric cars to do something for the environment. But you have to see for yourself that this is also in your hands through your diet. I just tested the Mercedes EQC – it can go 400 km/h and so can your body if you feed it right. Charge your battery properly and then go full throttle!

Do not postpone anything! Try it out. I can only congratulate anyone who decides to go vegan. With this you decide for a healthier, better, more conscious life and do something good for animals and the environment! Just do it!
Want to support the work of This is Vegan?
On our pages you will find affiliate links. If you buy your favorite products through them, we will receive a commission. It helps us to keep doing what we love – introducing you to great vegan ideas!
By purchasing the sustainable reusable cups from us, you support the Papillon Mercy Farm.
You can also follow us on Instagram here.
Please install and activate Powerkit plugin from Appearance → Install Plugins. And activate Opt-in Forms module.