Vegan cakes and cupcakes – Vanessa from Life is better with Buttercream in interview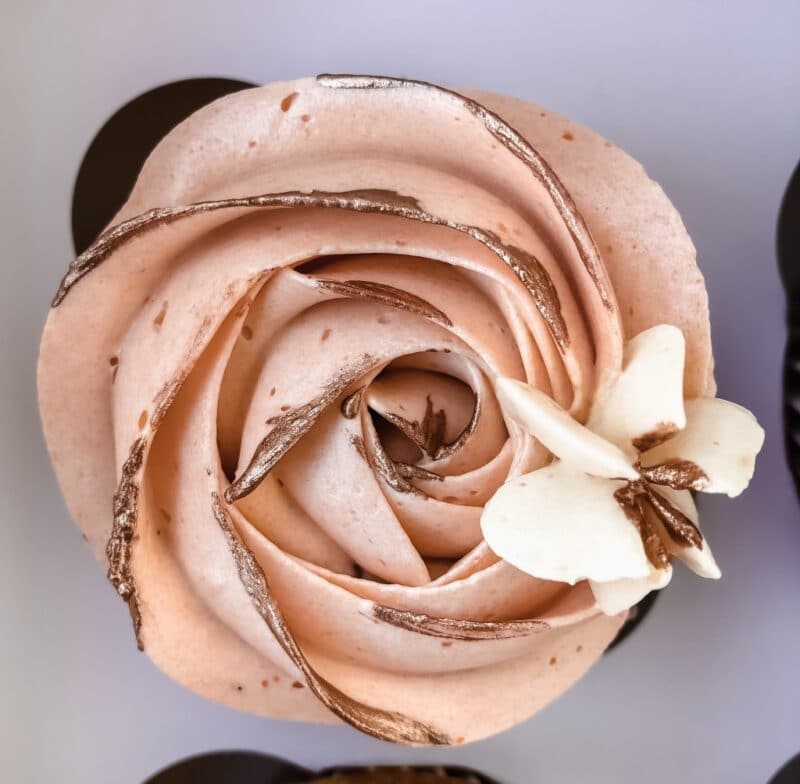 When life gives you vegan buttercream…. make a cake out of it!
That's what Vanessa Dettenberg from Ettlingen thought. She is a pastry chef for vegan buttercream cakes and cupcakes and conjures them up under the name "Life is better with Buttercream".
She uses only ingredients of plant origin, seasonal fruits and buys plastic-free from the regional farmer at the market. Their ingredients are organic wherever possible. She also tries to avoid food waste and therefore uses only edible or reusable decorative elements.
In this interview, she gives us her best vegan baking tips and tells us how she turned her passion into a career and how you can learn her baking skills for yourself.
How did you come to be a pastry chef for vegan buttercream cakes and cupcakes?
Vanessa Dettenberg: I originally come from a background in architecture and wanted to turn my hobby into a profession. After several exams and trainings, I received the exemption permit from the Karlsruhe Chamber of Crafts to produce vegan buttercream cakes and cupcakes.
So is it possible to complete the training without using animal products?
Vanessa Dettenberg: Since I have not completed a classical confectionery training, I can not give the exact content, but have heard from other confectioners that baking without animal products as a topic is touched upon, but a training as a vegan confectioner*in the whole is unfortunately not yet possible.
Are there moments when you feel limited by using vegan foods?
Vanessa Dettenberg: In fact, almost not at all anymore. I have been living vegan for 7 years in all aspects of life and so much has changed in the last few years that it feels quite "normal" to me how I live. You can also almost always find alternatives in the meantime.
What is your biggest inspiration?
Vanessa Dettenberg: I draw my inspiration from almost everything: nature, photos, pictures, color combinations that I encounter in everyday life, but of course also from Instagram and Pinterest as initial inspiration to then create something of my own.
What are your top tips for vegan baking?
Vanessa Dettenberg: For starters, old familiar recipes from the family can also be veganized very well. A simple sponge cake also works with soy flour or another egg substitute as usual. Very often, the ingredients can simply be replaced by the vegan variant: Vegetable drink instead of animal milk or vegetable margarine instead of animal butter.
How do your vegan pies hold together so well?
Vanessa Dettenberg: Many always ask me about this in connection with what I use as an egg substitute. Funnily enough, I just leave out the egg. The interaction of the right amount of each ingredient is crucial.
How do you get the dough fluffy?
Vanessa Dettenberg: Here, the combination of carbonated mineral water and baking soda works great. This gives the dough lift and makes it nice and fluffy.
How do you go about decorating your creations?
Vanessa Dettenberg: For designs I've never done before, I usually already have a rough idea in my head and then often the final design develops on the cake during the process.
What is a must-have ingredient in a vegan baking household?
Vanessa Dettenberg: Baking powder and carbonated mineral water. Otherwise, the classic ingredients such as flour, sugar and oil or vegetable margarine. Extraordinary ingredients are simply not needed in 90% of cases.
Which cakes and cupcakes do you like the most?
Vanessa Dettenberg: I like the variety. Other than that, though, I always really enjoy decorating colorful cupcakes in different styles.
What do you enjoy most about your work as a Vegan Cake Artist?
Vanessa Dettenberg: The contact and the joy of my customers when they see their individually made artwork for the first time. This is always a special moment.
You also host vegan baking workshops. Do these take place under current conditions?
Vanessa Dettenberg: No, currently this is not yet possible again (as of May), however, the Cupcake Basic Workshop is also available online and soon cake workshops will be added.
What values are most important to you in the way you work?
Vanessa Dettenberg: I make all decisions very consciously after long deliberation, whether it is to find a good way between quality/origin and taste of a product or also economic decisions that have to be made. Authenticity is very important to me every step of the way.
What are your wishes and goals for the coming years?
Vanessa Dettenberg: To introduce even more people to the vegan lifestyle through baking and to show that it can taste and look just as good as using animal products. And balancing work and personal life in the process.
What are your tips for people who are just starting to change their diet to a vegan lifestyle?
Vanessa Dettenberg: Don't be so hard on yourself, especially in the beginning. You should be honest with yourself and be aware of what you eat and under what circumstances it is "produced" and what of it you can reconcile with your conscience. The rest is simply an adjustment for which the body needs a few months and eventually it is just normal life.
Finally, is there anything you'd like to get off your chest?
Vanessa Dettenberg: Just because something has always been the way it is doesn't mean it has to stay that way.
Please install and activate Powerkit plugin from Appearance → Install Plugins. And activate Opt-in Forms module.