Bygones be bygones! – How natural sponges clean your skin sustainably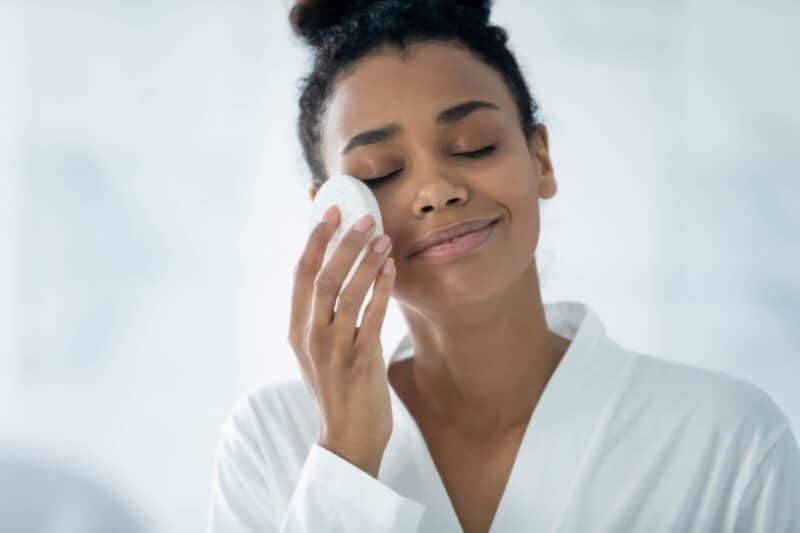 Natural sponges are very popular in cosmetic and hygiene batharf because of their cleansing properties. If you use a natural sponge for your daily care, you stimulate the blood circulation, ensure a smooth, rosy skin and do something positive for your environment with your bath sponge. We've tested Konjac facial sponges and in this article we'll tell you what to look for when buying sustainable sponges, how to recognize vegan sponges and how to use them.
Why are natural sponges from the sea not vegan?
With natural sponges from the sea, one would think that these are plants. However, a sponge is a marine animal, more precisely, they belong to the multicellular animals. They have no organs, no brain, no nerve cells and no muscles, but all the more it is a very fascinating animal. In addition, the sponge is the oldest animal on earth – in fact, a giant sponge 10,000 years old was found in Antarctica. Their importance in the marine habitat should also not be ignored, because they filter the water. It is all the more important to protect these inconspicuous creatures, which are already threatened with extinction. Therefore, you should not only as a vegan without the typical natural bath sponge. However, you can simply reach for the herbal alternatives that we will introduce to you below.
Konjac - natural sponges from plants
A natural bath sponge, which comes from the sea, is, so to speak, the skeleton of an animal. But there are also super alternatives made from plants, like Konjac sponges, which you can find for example here at hazeva . And also you can find the herbal loofah sponges here.
What are Konjac sponges made of?
Konjac sponge is made from the root of an Asian plant called devil's tongue. The fibers of the so-called Konjac root of the devil's tongue are further processed into powder and then mixed with water. In further steps, the gelled konjac is poured into molds and further treated with steam and in a water bath. So that the end result is a fluffy soft sponge!
The loofah sponge, on the other hand, comes from the loofah cucumber, which belongs to the gourd family. In order to get a sponge out of the cucumber, it must first be mature enough for the sponges to be of sufficient size. Then the peel or skin and the seeds are removed. Now the leftover pulp only needs to be dried sufficiently and the loofah sponge is ready!
How to use Konjac natural sponges
What are the two natural vegetable sponges used for and what are the properties and advantages of these natural sponges?
First, back to the Konjac sponge: it is dry and hard at the beginning, so you need to soak it a bit before using it. Then move the sponge in gentle, circular motions over the skin of your entire face. This not only feels good, but also removes excess sebum, dead skin flakes and dirt from your face. You can use the sponge without or with other care products. However, you should remove make-up before using the sponge.
Besides cleaning, the sponge also provides a pleasant massage on the skin.
The peeling effect not only makes the skin feel very pleasant, but also promotes healthy blood circulation in the skin. Due to its soft texture, the sponge is also well suited for sensitive skin, as it feels very soft and gentle on the skin. In general, the Konjac sponge is therefore ideal for daily skin care – and not only necessarily on the face, because you can also use it, for example, to cleanse and care for your legs or arms.
Even better for skin care of the rest of the body is the loofah sponge. You also need to soak it with water before use so that it becomes soft. You can then move the sponge over your skin in circular motions.
The loofah sponge has an exfoliating effect especially due to its fibrous tissue. Thus, this sponge also frees your skin from old dandruff. In addition, by caring for your skin with the loofah sponge, you get a pleasant massage that promotes blood circulation. Incidentally, ingrown hairs are also prevented. In addition, a loofah sponge can also be used to treat calluses when dry.
However, the loofah sponge is suitable not only for personal hygiene, but also for cleaning in the home and can thus replace the cleaning sponge made of foam.
A huge advantage of natural sponges is, of course, that they are biodegradable. You therefore have a reusable and compostable care product. Thus, it not only takes care of your skin, but also the environment, because you can save plastic.
Cleaning / care of the natural sponges
After using the sponge, you can simply rinse it with water and let it dry. Occasionally, you can also boil the sponge to clean it of bacteria. You can reuse the sponge until you get a new one after about 2 to 3 months (depending on use). You can then dispose of the old sponge in the organic waste or compost without any problems.
Please install and activate Powerkit plugin from Appearance → Install Plugins. And activate Opt-in Forms module.