Discover vegan trends, do good and save money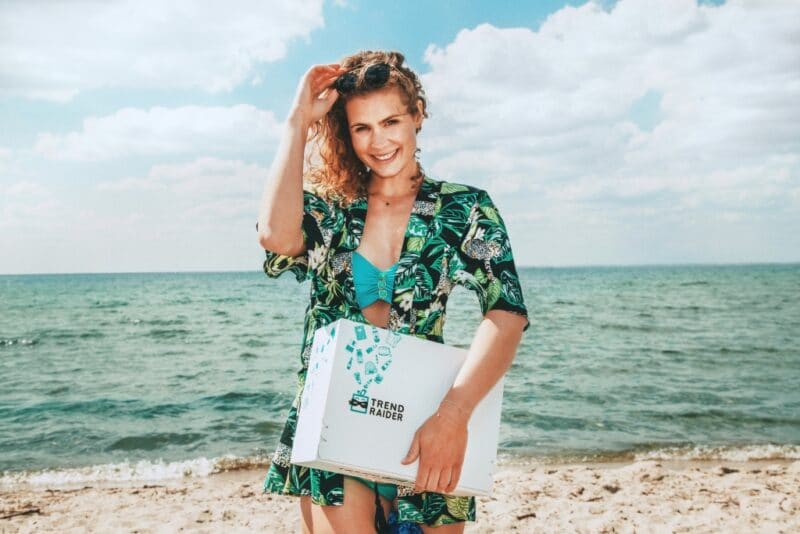 "You don't have to jump on every trend." But: Because let's face it – we all love discovering new things and being the first to try them out.
This principle is taken up by Trendraider. With their monthly themed surprise boxes, you'll get the latest trends conveniently sent to your door.
Perfect to please you regularly, as a birthday gift, for Easter, Christmas or to surprise your loved ones and playfully introduce them to the versatility of vegan products.
Your choice: Vegan Box Beauty, Vegan Box Food or the mixed surprise box
You have the choice whether you want to have plant-based food products or vegan and animal-free cosmetics in your VeganBox: You can choose between the Vegan Box Beauty, the Vegan Box Food or a mixed vegan surprise box. New and innovative products are waiting for you completely without animal ingredients and of course cruelty free. Whether you want to pamper yourself with high-quality vegan wellness products or indulge in delicious plant-based snacks, there's something for everyone here. The value of the products always exceeds the purchase price of the box – so you also save on your plant-based journey of discovery.
We discover the Urban Jungle Box
We have taken a closer look at the surprise boxes from Trendraider and unpacked the last box. When unpacking and discovering, you feel like a child who discovers something new and is delighted with every surprise. The last theme was "Urban Jungle". We fought our way through the jungle and found directly a high-quality pillowcase in shower jungle / palm design made of organic cotton. The journey of discovery continued with a stylish designer frisbee from Waboba, True Mints with xylitol, an aloe vera drink, CBD disinfectant spray, an animal-free and vegan deodorant stick from We Love The Planet, a turmeric shot, spirulina conditioner, and many more surprises.
Accompanying the vegan surprise box there is a high-quality magazine, with explanations approximately around the products, DYI prescriptions, Upcycling Tipps for the box, as well as an overview, which happens with the donations, which Trendraider passes on with the order to non-profit organizations, like for example the Albert Schweitzer donation . With the purchase of your TrendBox you automatically support one of five social projects. To date, this has given 75612 animals a better life and 3180 kg of plastic has been collected and recycled.
Save the oceans - The plastic-free box to save the world's oceans
The theme of the June box: Fitting for a topic that has become more important than ever, and not just since Seaspiracy : Saving the world's oceans – Save our oceans!
Without spoiling too much, we'll tell you exclusively what you'll find in the new box: Fashion accessories made from recycled marine plastic, a coconut shell and edible spoons for less waste on the beach, natural sun protection and care with marine power, plastic-free and plastic-saving everyday helpers and much more.
The highlight in June: With the OceanBox you have again the chance to win one of 20 GreenTickets. This time it is a cool backpack of the sustainable brand Airbag worth 115 euros!
Be surprised and order now the new Trendraider box.
This article was created in cooperation with Trendraider. On their website you can find, among other things, an interview with us .
You can win a box at Instagram . Join now and win!
Please install and activate Powerkit plugin from Appearance → Install Plugins. And activate Opt-in Forms module.