Netflix and think! – The best vegan documentaries in 2023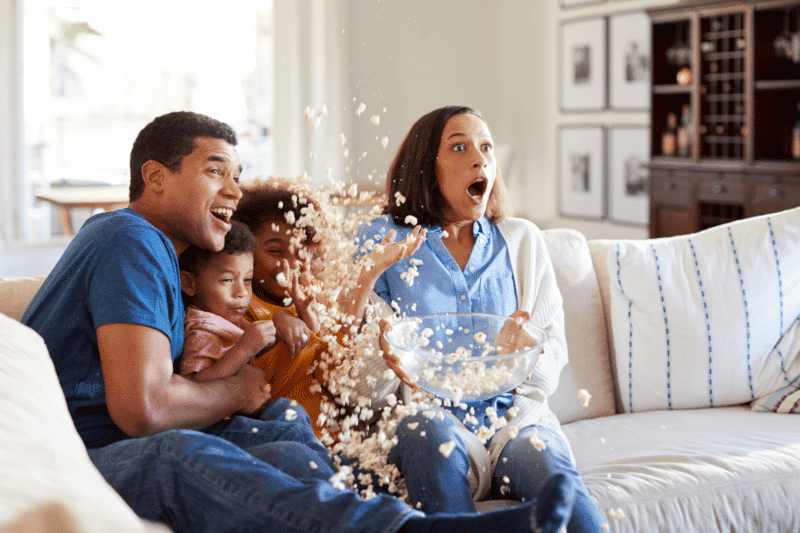 Here is an overview of vegan documentaries and vegan movies that await you and where you can find them (Netflix Documentary vegan, Amazon Prime Documentary vegan, YouTube Documentary vegan):
Netflix Documentary vegan: Seaspiracy, Blackfish, Rotten, Bad Vegan, The Game Changers, Cowspiracy, What the Health, The System Milk, Chasing Coral, My Teacher, The Octopus
Amazon Prime Documentary vegan: Blackfish, Cowspiracy, What the Health, More Than Honey, Das System Milch, Gabel statt Skalpell, Eating you alive, Live and let live, Running for Good / Run for Good, The End of Meat, How To Change The World, Geheimsache Tiertransporte, Love and Bananas
YouTube Documentary vegan: Sea Shepherd, Eating Our Way to Extinction, Mission Earth, Dominion, Earthlings, Paul Watson, Milked, V Like Victory, Factory Farming & Epidemics – Viruses on the Rise
My Octopus Teacher - the friendship between humans and animals
Netflix documentary My Octopus Teacher shows the friendship between the cameraman, Craig Foster, and an octopus off the coast of South Africa. Foster started diving and met the octopus, forming what can only be described as a true friendship. He visited this sea creature in the kelp forest every day, fostering an incredible bond; one that taught Foster a lot.
This extraordinary film lets us learn a lot about these intelligent creatures. It's an emotional documentary about healing and belonging
that can be enjoyed by the whole family! (Parental discretion advised)
Earthlings - questionable human economic interests
Director Shaun Monson has created what is probably the most powerful and important animal rights film. No other film so comprehensively describes the relationship between nature, animals and human economics. Joaquin Phoenix (Oscar nominee, Gladiator) narrates this incredible film and its soundtrack is largely by platinum-selling artist, Moby. He composed some originals just for the film.
This is a very moving and formative film that documents many industries that rely on animals for profit. Beware of some honest and sometimes violent footage, as the film includes footage from hidden cameras from puppy mills, factory farms, entertainment industries and leather/fur trades.
We enjoyed the 10th anniversary edition, which is streaming for free on Vimeo. This is the best doc for animals rights out there
More Than Honey - an in depth look at the vanishing bee population
One third of everything humans consume would not exist without bees. One of the most important natural wonders of our planet is in grave danger: the honey bee.
The most industrious of all creatures, which reliably pollinates our food, is slowly disappearing. It is a mystery being observed and drawing concern from all around the world. Deep fear surrounds this population decline, as the global demand for natural products rest of bees' delicate wings.
Life without the bee is unthinkable. Between pesticides, antibiotics, monocultures and being transported from plantation to plantation, the
queens and her workers seem to be losing their strength. This doc takes us into the fascinating universe of the bee. Director Markus Imhoof's work, the spectacular shots, powerful stories, and views of a world without bees, will leave you thinking long after finishing this
film.
Milked - White Lies in Dairy Land
The documentary Milked follows a young activist as he ventures deep into the land of milk. James Cameron takes on the giants of New Zealand's most powerful industry and uncovers how the sacred cash cow industry was milked dry. His journey uncovers not only the sustainability crisis and the dangerous denial of imminent agricultural disruption, but also what New Zealand and other countries can do to change their futures.
MILKED is the film that dairy industry does NOT want you to see!
The folks behind the film are an incredible group. It was directed and produced by Amy Taylor and co-produced by Chris Huriwai. The
executive producers were Keegan Kuhn (Cowspiracy, What the Health), Suzy Amis Cameron (The Game Changers), Peter Eastwood (Diet Fiction, Takeout), Moby (Meat the Future), Jaine & Sailesh Rao (Cowspiracy, What the Health) and Jerome Boudot.

James Cameron says, "A powerful wake-up-call that the world is getting milked!"
SLAY - the film fashion brands do not want you to see
Did you know that fashion kills at least 2.5 billion animals each year? Producer Keegan Kuhn (Cowspiracy, What the Health) brings us on a journey around the world following filmmaker Rebecca Cappelli as she investigates animal fur trade, animal cruelty, fashion mislabeling, greenwashing, and coverups.
Cruelty in the fashion industry is exposed. See how the fur, leather and wool industries participate in unjust and deplorable treatment
of animals and create devastating environmental impacts. The global fashion industry is not only harming animals – but the environment and humans too.
Animals are born to be free, not products of vanity. This is Vegan highly recommends this fashion focused, vegan documentary!
Blackfish - the harsh reality of the pools at Sea World
"Blackfish" unveils that dark secrets of the marine mammal entertainment industry. Former trainers and carers share their heartbreaking and dangerous experiences working with the animals, and viewers are educated on the natural history of wild orcas.
This documentary specifically follows the story of Tilikum, an orca forced into performance captivity at SeaWorld. It is through this story
that the lies of SeaWorld are exposed and the problems of keeping, breeding and training in aquariums are brought to light. It also
explores the relationship between humans, nature and oceans.
This documentary is honest and direct. Captive mammals, mostly orcas, are subject to a miserable existence in the tanks of SeaWorld and similar theme parks. Blackfish makes this message clear: Anyone who visits marine zoos and aquariums actively supports them.
Blackfish is a heavy documentary that provides perspective and educates the viewers. It also prompted many actions towards ending this
entertainment industry in Europe and the USA. This is Vegan highly recommends watching this now notorious film. Afterwards, follow it
up with another great docu – "The Free Willy Story: Keiko's Journey Home".
Rotten - the food production underworld (Netflix series)
This is Vegan absolutely loves this series from Netflix, and we know you will too. This documentary style show tells of both plant and animal foods on their way to the consumer, and follows the food chain supply to unearth dark secrets and unfortunate truths that shape
what we eat. 
It is about corruption, ethics, the environment and what consequences they all have on our health.
This is a great "getting started" documentary for those of us who are new to nutrition and health. We are especially glad this show
doesn't include footage of tortured animals.
The documentary series Bad Vegan is about a young woman who created the first vegan hotspot in New York with the opening of her vegan restaurant in 2004.
But what happens when the American dream becomes an absolute nightmare? The documentary is about lies, bizarre deals and the fatal love story of restaurateur Sarma Melngailis.
Dominion - the brutal truth about animal agriculture
Dominion is the sequel to Lucent. The documentary comprehensively explores how animals are abused and tortured for scientific research, entertainment, clothing and food. Filmed in extensive HD, via hidden cameras, drones, and close up shots of the brutal reality happening in slaughterhouses, dairy farms and behind closed doors.
We would like to provide a huge warning and the disclaimer that this documentary exposes the truth and hides nothing as it does so. There are explicit scenes of violence. Dominion's production team recognizes this and has provided guidance for self care on their website.
Please think twice before watching, but if you do, you're in for high information content and interesting insights.
The milk system: why the purple cow does not exist and never existed! (ANI)
Since our childhood we have been convinced that milk comes from happy cows in green meadows and have never questioned the fairy tale of the purple cow from advertising.
Today, the dairy industry is a big business and milk is a raw material that is traded hard.
In Europe, 2 trillion tons of milk and milk powder are produced and sold all over the world every year.
How did cows become suppliers to a high-tech dairy industry?

What plant-based alternatives are there?

What health effects does milk have on us humans?

Who is behind the controversial dairy industry?
The vegan documentary "The Milk System" lets actors have their say and gives us a look behind the scenes.
Very revealing and shocking at the same time.
Fork instead of scalpel (ANI)
In the 1970s and 1980s, the biochemist Prof. Dr. T. Colin Campbell headed the so-called "China Study". This study demonstrates a direct link between the consumption of animal products and the occurrence of diseases such as cancer, diabetes, cardiovascular diseases and autoimmune diseases such as multiple sclerosis and rheumatism in humans.
The vegan documentary reports on the positive effects of vegan nutrition on our health.
The documentary Eating You Alive explores the question of why more and more people are suffering from diseases such as cancer, heart disease, diabetes or obesity – even though a lot of time and money goes into medical research.
Eating You Alive focuses on the reasons for our state of health and tries to provide a solution.
A remarkable and revealing documentation that makes us question our eating habits.
Speciesism: The Movie - you'll never look at animals the same
In this moving vegan documentary, a young man begins to explore the underworld of "animal breeding" and soon discovers a growing political and intellectual movement that considers animals as important as humans.
The New York Times was an enthusiastic as This Is Vegan about this exciting documentary. Filmmaker Mark Devries investigates farms and factories that raise and breed animals for consumption and tackles questions around morality. 
This is Vegan loved that this movie educates through fact sharing, allowing viewers to form their own opinions.
Live and Let Live - environmental and health reasons to go vegan
Food scandals, climate change, lifestyle diseases, and increasing ethical concerns are causing more and more people to doubt whether it is right to eat animals. This vegan documentary enlightens viewers on the ethical, environmental and health reasons to go vegan by examining the human relationship with animals.

Follow the stories of six people who, for different reasons, decided to give up all animal products and benefitted greatly. This work by Marc Pierschel (The End of Meat) should be seen by everyone interested in vegan nutrition!


This Is Vegan loved the history of veganism discussed in this must-watch documentary.
Divers, photographers and scientists deal with coral reefs that are suffering from the consequences of climate change, including coral bleaching. More and more reefs, which are a vital habitat for countless animals, are dying and disappearing. 
The documentary accompanies a team that wants to capture the catastrophic developments under the sea in fast motion. In doing so, they must overcome numbers challenges over the three-year effort to capture the changing coral in time-lapse.


While above the sea, our politicians and governments quarrel about climate change, below the sea its devastating effects are already taking place. This doc has an urgent message that begs us to change our behavior in order to become restoring coral life.
The End of Meat - meat consumption belongs to the past
This is a special documentary to us because This is Vegan was at the premiere in Berlin! Film director Marc Pierschel made his on screen debut and we are still amazed with how he pulls off presenting a view of a future without meat and its impact on the environment, animals and ourselves.
In this film, Pierschel meets Esther, a pet pig who completely turned the lives of two Canadians upside down. He speaks with pioneers of the vegan movement in Germany, visits the first vegetarian city in Indian, and meets rescued "farm animals" in freedom.
The part of this film we found most interesting and hope-inducing were the scientists researching animal-free "meat" that is expected to revolutionize the $600 billion global meat market! Incredible! This is must watch.
How to Change the World - the birth of greenpeace
In 1971, a group of dedicated people sail a small boat into Richard Nixon's nuclear test zone off the coast of Alaska – this protest action
excites, inspires and changes the world. This is the beginning of the story of Greenpeace and the entire modern environmental
movement. It was the unplanned start of an upheaval that has long since reached our entire society.

Writer-director Jerry Rothwell (Deep Water) keeps you at the edge of your seat with this jaw dropping film.

To better understand how and why Greenpeace started, this doc should be at the top of your list!
The animals in the ocean are in danger. Not only from leaked tankers, pollution of the seas and plastic waste – but also from extremely
loud underwater noise. This is caused by tens of thousands of ships, including freighters, naval and cruise ships, crossing the oceans every day.

Sonic Sea teaches us about the offshore drilling platforms causing such a high level of noise that marine life experiences sense disruption.
Whales, sharks and dolphins are losing their sense of direction. They are at the mercy of this human-cause noise pollution.

This documentary, narrated by Rachel McAdams, shows us the impact humans are having on the world's oceans. It inspired us to keep learning more about how we can play a more positive role in protecting our marine life.
Secret animal transport (ANI)
The "37 Grad" author Manfred Karremann has been reporting on ZDF since 1991 on the fate of animals on long-distance transports.
This moving documentary signals that apparently no one cares about what happens to the animals behind the EU border.
"Geheimsache Tiertransporte" shows the complete extent of the transports and the fates of the animals outside the EU.
Viruses and epidemics on the rise (ANI)
Viruses that pass or mutate from animals to humans are a threat to many other living things.
The Arte documentary shows how factory farming is related to epidemics and what can be done about it.
Vegan Youtube Channels & Formats
Mission Earth: Robert Marc Lehmann fights for the environment and animals (ANI)
This is not a vegan documentary in the true sense. Marine biologist Robert Marc Lehmann explains in his book " Mission Earth – The world is worth fighting for it " as well as on his YouTube channel why we should all contribute something to save the world. With a clear edge and high information content.
In 2022, his documentary series " 0800 – SEE ORCA " was released on YouTube. An absolute recommendation!
Interview with marine biologist Robert Marc Lehmann
Saving the world's oceans has been on everyone's lips not only since seaspiracy.
We spoke to someone who has been campaigning for this for a long time: marine biologist Robert Marc Lehmann is a research diver, cinematographer and photographer of the year 2015 at National Geographic magazine. He not only traveled to over 100 countries, 8 continents and made over 123 expeditions, but also knows the underwater world and its biodiversity like no other during over 2629 dives.
In this interview, he talks about climate change, which species are particularly threatened and what we can do about it.
Sea Shepherd Operation Jeedara - the Bight defense campaign
BP was responsible for the world's largest oil spill, which happened in the Gulf of Mexico back in 2010. Over several months, the rig
spilled almost 5 million barrels of oil into the ocean, killing millions of animals and destroying the environment. Less than a year later, the Australian government signed papers allowing BP to come to Australia for drilling in deeper and rougher waters than they harmed off the coast of the US.
In 2016, the Great Australian Bight Alliance announced the launch of "Operation Jeedara" – a campaign that will see the Steve Irwin, a
Sea Shepherd ship, sail into the heart of the Great Austrailian Bight to document the beauty of the region and show what the world will lose if we let BP drill there.
Eating Our Way to Extinction - the story of our planet (ANI)
Eating Our Way to Extinction is a documentary starring Kate Winslet that takes viewers on a journey around the world and shows the things nobody wants to talk about.
This haunting vegan documentary sends a simple but powerful message by uncovering hard truths and addressing our generation's most pressing problem – ecological collapse .
Stunning images and a message that urgently needs to be shared!
Paul Watson – Confessions of an Eco-Terrorist (ANI)
In 1977, Paul Watson left Greenpeace because the work of environmental organizations seemed too "soft" to him. He founded the Sea Shepherd Conservation Society.
This documentary by filmmaker Peter Jay Brown shows the work of animal rights activist Watson and his crew, who are radically campaigning against the slaughter of animals on the world's oceans.
The Game Changers - Athletes and vegan nutrition (ANI)
Top athletes, special operations soldiers, and scientists show us that humans do not need animal protein to hit at peak performance. Arnold Schwarzenegger, Lewis Hamilton, Patrik Baboumian and many other vegan athletes show how you can achieve optimal health and top performance in sports with a vegan diet. These famous, professional superstars report becoming even more powerful after adopting vegan lifestyles.
ANI ANI – Start here
The best-known professional athletes report in the vegan documentary that they became even more efficient through plant-based nutrition.
"The Game Changers" by James Cameron is not only the best-selling documentary film ever on iTunes, but also makes people consciously deal with plant-based nutrition. And that without proselytizing.
As a vegan documentary about professional athletes, "Game Changers" is an absolute "must" for sports enthusiasts.
What The Health - the effects of animal products on our health
This documentary shows how animal products negatively effect our health. Anyone interested in the nutrition aspect of veganism can learn so much about its positive influence against diseases such as cancer or diabetes.
The makers of the award-winning documentary "Cowspiracy" confront representatives of food companies, health organizations, and the pharmaceutical industry with uncomfortable facts and questions. Why do corporations seem to want to systematically make us ill and why
is nobody doing anything about it?
The film shows the downsides of some corporations and lets us completely rethink our diet. This film is a powerful step towards going
vegan!
Cowspiracy – The secret of sustainability (ANI)
Industrial livestock farming and agriculture are the main reasons for the immense water consumption and high pollution.
To find out why so little attention is paid to this fact, the filmmakers confront well-known environmental organizations with uncomfortable questions.
They are looking for sustainable alternatives in order to offer solutions for better protection of the environment .
Produced by Leonardo DiCaprio, Kip Andersen and Keegan Kuhn, this documentary sheds light on the hard facts. Definitely watch it!
Seaspiracy - Global impact of fishing in the spotlight (ANI *ONLY FIRST TEXT BLOCK REST I COULD REVOVER)
The Netflix documentary Seaspiracy highlights the impact of industrial fishing on the destruction of marine ecosystems . International environmental organizations are accused of deliberately ignoring this problem. The documentary repeatedly argues that fish consumption should be strictly avoided in order to protect marine ecosystems.
What was intended as a homage to the world's oceans became a spectacular disclosure story. Filmmaker Ali Tabrizi traveled halfway across the world for his documentary "Seaspiracy", to speak to those responsible. Tabrizi repeatedly put himself in danger to uncover the destruction of the oceans and examine the fishing industry's tremendous impact on our oceans and climate.
This documentary was produced by Kip Anderson, who previously shot another successful documentary about vegan nutrition,
Cowspiracy. It's more exciting than any thriller, so watch this one right away!
Vegan Sports Documentaries
Running For Good -
The Fiona Oakes
Documentary
From Executive Producer James Cromwell and award winning director Keegan Kuhn comes the sports documentary Running for Good,
which follows World-record marathoner Fiona Oakes on "the world's toughest running course," the Marathon Des Sables, a 250 km
run across the Sahara Desert. She runs to draw attention to animal exploitation, eats vegan, and explains her motivations in the
documentary.
Fiona has an incredibly inspiring personality with a big heart. This is the perfect documentary for all athletes who want to learn more about the mindset of this exceptional athlete.
V Like Victory - Vegan professional athletes talk about their motivations (ANI)
There is still the prejudice that vegans are energyless and pale people who are not capable of sporting excellence. A purely plant-based diet in professional sports? This works – and very well!
For the vegan documentary "V like Victory", various vegan professional athletes were visited to talk to them about this topic.
The result is a beautiful documentary film that inspires and makes you think with its different stories.
Nutrition experts and vegan professional athletes such as Timo Hildebrandt, Ralf Moeller, Benedikt Höwedes, Markus Megyeri, Ünsal Arik, Valeska Schneider, Niko Rittenau and Aleksandra Kelemann have their say.
Especially for vegan athletes an absolute recommendation!
Want to support the work of This is Vegan?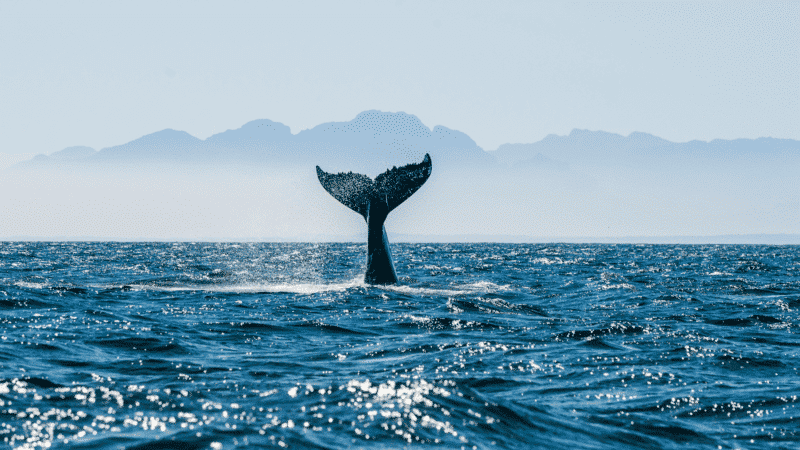 Captain Paul Watson is founder and captain of the environmental organization Sea Shepherd. He and his crew are committed to saving the world's oceans with 14 ships worldwide. On the…
Weiterlesen »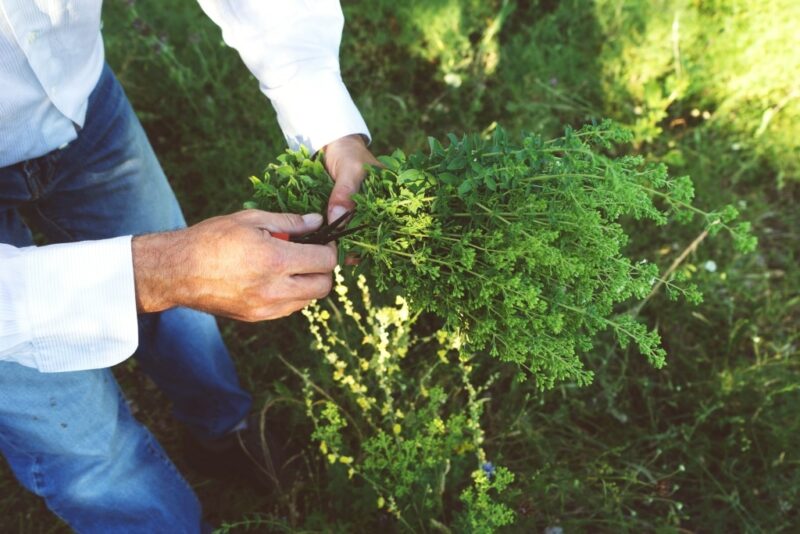 Oregano is the Mediterranean classic – a medicinal plant that has it all! Oregano (Origanum vulgare) is a popular spice of Mediterranean cuisine and spices up traditional dishes with a…
Weiterlesen »
Please install and activate Powerkit plugin from Appearance → Install Plugins. And activate Opt-in Forms module.