Spoontainable – Sustainable disposable spoons for eating up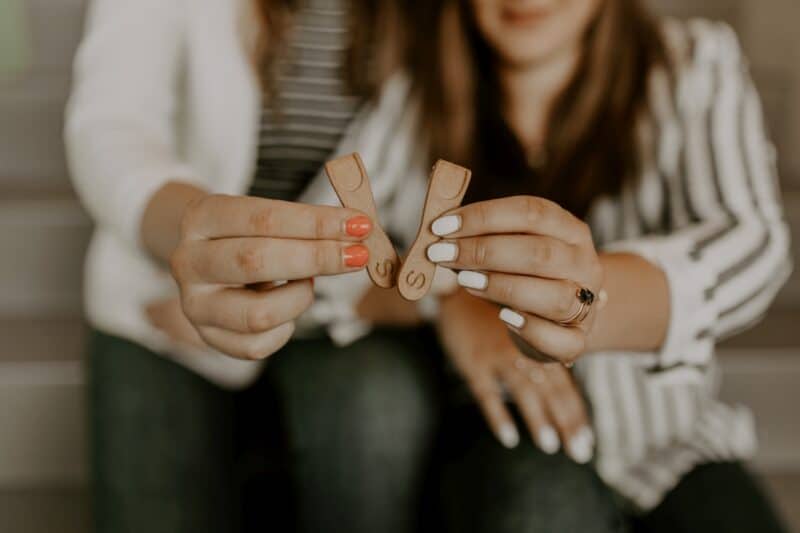 When eating ice cream avoid plastic waste ? This is possible thanks to the start-up Spoontainable.
In Germany alone, 360 million plastic ice cream spoons are thrown away every year . From 2021, the European Union will ban single-use plastic cutlery and rely on sustainable alternatives.

Two founders from Heidelberg want to build on this and revolutionize the catering industry with their start-up. For the production they rescue shells from chocolate production and process them into edible spoons, which remain stable even in ice and liquids up to 60 minutes. We tested the edible plastic cutlery for you and interviewed Spoontainable founders Julia Piechotta and Amelie Vermeer for you. Finally, here's our ultimate vegan melon coconut and peanut cacao nicecream recipe.
How did you come up with the idea of producing edible spoons?
Julia Piechotta: In our studies, we worked on plastic alternatives and environmentally friendly solutions in a student organization. While eating ice cream, we then had the idea that it would be very easy to also eat the spoon , since the waffle is also already eaten. So we started baking a spoon cookie in the shared kitchen. Of course, this did not work immediately, so we spent numerous hours in the kitchen. Through the support of our food experts, we then came up with cocoa shell fiber, which is obtained from the shell residues of the cocoa bean. Since they remain as a by-product of chocolate production, they were the optimal sustainable addition for us.
What are your edible spoons made of?
Amelie Vermeer: Predominantly, our edible loavesl are made of fibers from the cocoa shell or oats. For this purpose, the shells are processed into microscopic fibers in an innovative process. From these fibers we then produce the Spoonies . Because the fibers are full of valuable fiber and ensure that our Spoonie remains stable in the ice for at least 60 minutes.
How did you come up with the idea of developing edible spoons from food production residues?
Julia Piechotta: We baked our first prototypes from a classic cookie dough in our shared kitchen. However, these did not have the desired stability. After many prototypes and hours of baking, our food experts then came up with the fibers of the cocoa shell, which they picked up in one of their lectures. With these, we then achieved an optimal result in terms of stability and sustainability.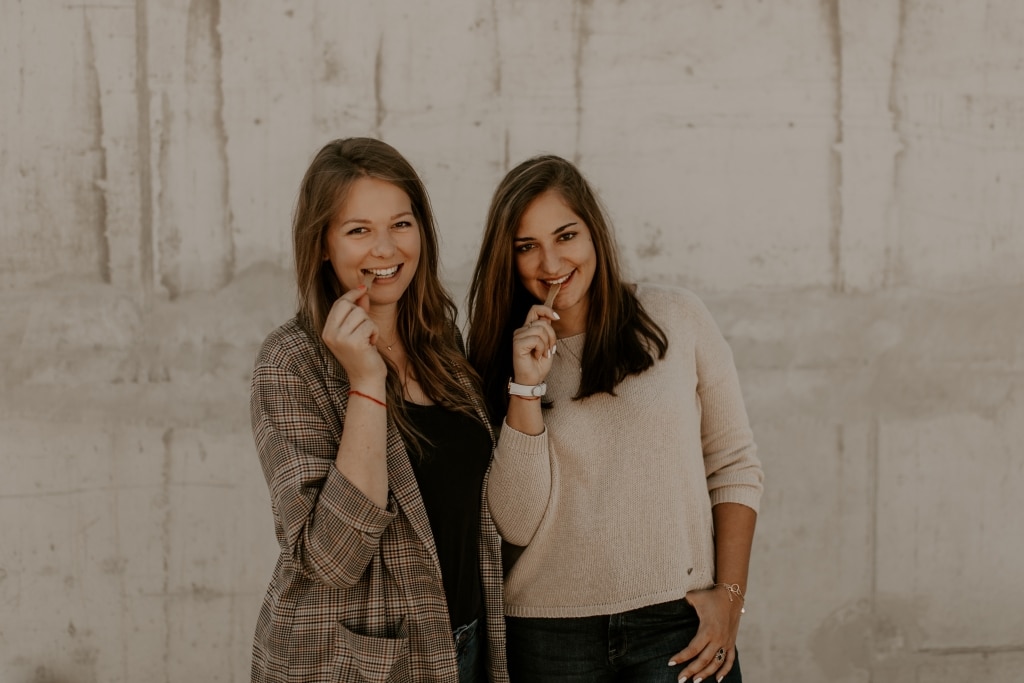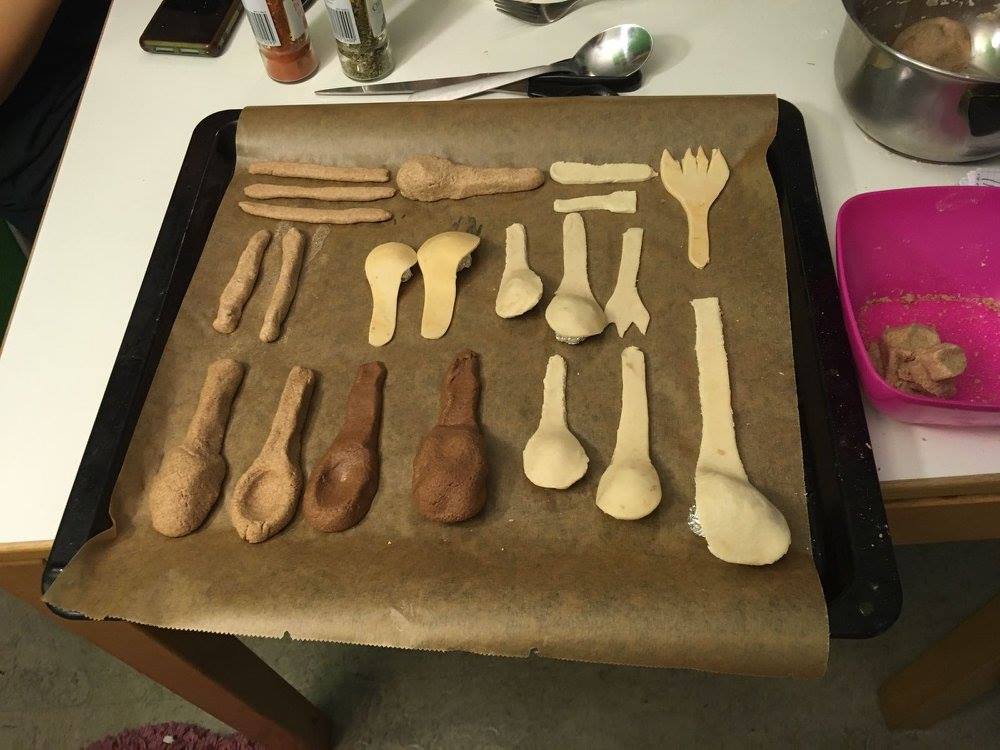 Don't the spoons soften quickly when you use them to eat ice cream, for example?
Amelie Vermeer: The basis of our sustainable ice cream spoon is similar to that of a cookie dough, which goes through a baking and drying process to become a spoon. The innovative character of the ice cream spoon lies in the combination of the individual components. The dough is not only made from typical flours, but is supplemented with the addition of high quality dietary fibers containing fiber. Due to the high content of cocoa shell fibers, our sustainable spoon, Spoonie choc, tastes naturally of chocolate and that, without the addition of flavor enhancers. Our Spoonie classic , on the other hand, consists of the fibers of oats and therefore tastes more neutral in comparison and similar to an oat cookie. In hot summer temperatures, the spoon does not melt because it has the feel of a cookie. In addition, the food fibers provide stability and internal elasticity, which is why the spoon does not break when eating ice cream. No matter how much time you need to eat ice cream, our spoon can withstand liquid desserts such as ice cream, frozen yogurt or pudding for at least 60 minutes.
What do you think about the new regulations of the EU to ban plastic cutlery and co?
Julia Piechotta: We believe it is necessary to implement regulations here, as this is the only way we can implement cross-industry improvements for the environment. Especially during the Corona pandemic, it became clear that the topic of sustainability can quickly fade into the background. Ultimately, price is a deciding factor, and as long as plastic is allowed, there will be plenty of restaurateurs who don't value sustainability . From our point of view, subsidies for the use of alternatives, which implement a sustainable circular economy, would be another sensible solution, as this would provide an additional incentive to do without plastic.
How has the ban affected your orders?
Amelie Vermeer: So far very positive, because of the media attention of the plastic ban many restaurateurs were only informed about this new regulation. However, we hear from customer conversations that numerous warehouses have been filled with plastic products as the ban allows stockpiles to be used up. Clearly, this is not a sensible approach and will result in the displacement of single-use plastic being delayed until 2022 at the end of the year.
Where do you get your raw materials from?
Julia Piechotta: The cocoa shells and oat husks that make up our spoons are produced in Europe as biogenic residues in the food industry. We also make sure that we purchase all other raw materials as sustainably and as regionally as possible. We have compiled details on our supply chain in our new Impact Report on our website .
How do you integrate the topic of sustainability into your everyday life?
Julia Piechotta: Im Startup Alltag achten wir als Gründerinnen und auch unsere Mitarbeiter:innen immer darauf, dass Entscheidungen von Seite der Nachhaltigkeit beleuchtet werden. Das heißt, wir hinterfragen unsere Prozesse und prüfen, inwiefern Umwelt und Gesundheit belastet werden, welche Prozesse optimiert werden können und ob unsere Entscheidungen zu unserer Philosophie passen. Konkret bedeutet das, dass wir auch Marketingmaterialien auf recyceltem Papier drucken lassen, dass überwiegend digital gearbeitet wird, CO2 Emissionen ausgeglichen werden und Verpackungsmaterial wiederverwendet wird. Im privaten Alltag achten wir natürlich bei jeder Kugel Eis auf die Löffel. Gibt es keine Spoonies, wird die Waffel bestellt und Proben zu unseren Produkten dagelassen 😊. Aber auch beim Einkaufen wird auf Regionalität geachtet, loses Obst und Gemüse gekauft sowie auf unnötige Verpackungen verzichtet.
Auf welche weiteren Produkte können wir uns in Zukunft noch freuen?
Amelie Vermeer: Wir möchten nicht nur Löffel, sondern jedes Plastikbesteckteil mit unseren nachhaltigen Alternativen ersetzen. Dazu werden in den kommenden Monaten weitere Besteckalternativen wie Gabeln entwickeln, um unser Portfolio auszuweiten.
Wo sind eure essbaren Löffel erhältlich?
Julia Piechotta: Auf unserer Homepage findet ihr eine Karte mit Gastronomen, die unsere Spoonies nutzen. Durch unsere vielen Distributionskanäle können hier aber nicht immer alle Eiscafés abgebildet werden. Alternativ könnt ihr unsere Spoonies auch in unserem Onlineshop oder bei Amazon beziehen.
Was möchtet ihr unseren Leser/innen noch mit auf den Weg geben?
Photos: 
This Is Vegan / Maria Möller
Spoontainable
Please install and activate Powerkit plugin from Appearance → Install Plugins. And activate Opt-in Forms module.