Running For Good – How Fiona Oakes breaks records for the good of animals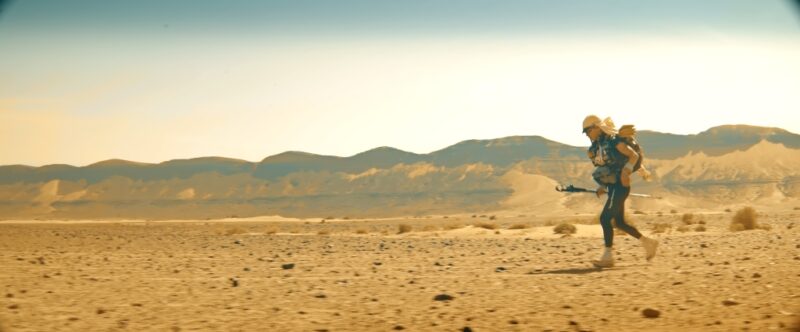 Fiona Oakes knows no limits. At the age of 17, she developed severe knee problems and underwent 17 surgeries until she finally had to have the kneecap in her right knee removed. Doctors diagnosed her as never being able to walk again, let alone play sports. She didn't give up and saw it as motivation: as of today, she is a four-time world record holder in long-distance running and has completed some of the toughest endurance races in the world. Among them the Marathon des Sables, the Antarctic Ice Marathon and the North Pole Marathon. She is also a volunteer firefighter, runs Tower Hill Animal Sanctuary with more than 500 animals, and has been on a vegan diet since she was 6 years old. In 2018, Amazon Prime dedicated a 74-minute sports documentary to her – in "Running for Good" Fiona Oakes is followed on a 250 km run across the Sahara. In the interview, she reveals where she gets her energy, how she eats and what her next challenges are.
Where do you get your energy from?
Fiona Oakes: Plants, of course – where else?! Seriously, I've been living vegan for a very long time, so plants are actually a truthful answer, but more important than the food that nourishes my body is the "food" that nourishes my mind and soul, and that comes from knowing that what I'm doing – whether I'm taking care of animals or running – is doing good and making a positive difference. There is no greater incentive, motivation, reward or inspiration in the world than helping others, I truly believe that.
The trailer for the documentary about Fiona Oakes: Running For Good
What does a Fiona Oakes eat on a normal day?
Fiona Oakes: My food always looks delicious because my mom cooks everything from scratch and prepares each meal with love so it can be eaten with gratitude. I like to eat pasta, rice, whole grains, legumes, cereals, bread, fresh vegetables, fruits, nuts and dried fruits. We grow some of our own vegetables, but we also try to buy seasonal and local produce wherever we can. My mom is following in my grandmother's footsteps, who always said that a "colorful" plate is best, and we try to always have 10 different colored vegetables on our plates. As for my favorite food, I love Brussels sprouts and marzipan dates.

My lifestyle choices fit eating only one meal a day and my body has adapted to it perfectly over the last 20+ years, but I always like to stress that unlike many others in the world, I am blessed to have enough to eat, not have to worry about where my next meal will come from, and there is literally always 'peace on my plate'.
What do you recommend to people who want to eat vegan?
Fiona Oakes: My advice is to eat no or little processed foods. Having a good, solid structure and balance in your diet and life in general is very important. I think sometimes people are under the impression that all vegan foods are super healthy for individuals, but that's not necessarily the case. But it is always healthier for the animals we save by doing so and that is the most important thing!

What changes do you see since you began your mission to educate people about the positive effects of vegan diets?
Fiona Oakes: The change and awareness of veganism from the time I became vegan to the present day has gone completely off the rails. The word "vegan" has become part of everyday language in recent years, but before that it was literally unheard of. Even if people aren't vegan themselves, they often know people who are and understand what the term means and why it plays such an important role in our present and future in terms of climate change and progressive thinking. Of course, the film Keegan Kuhn made about me, Running for Good, and the accompanying book are great for reaching people, but the exciting thing is that people actually want to know more about veganism now, and are actively seeking knowledge and information themselves.

How do you manage to motivate yourself again and again and keep a clear head at the same time?
Fiona Oakes: I used the time of the pandemic for contemplation rather than confrontation. I spent a lot of time being absorbed in my running as I use this as my thinking time. It's a great way to empty your mind of negativity and fill it with positive thoughts while challenging your body to run faster and farther. I don't use social and mainstream media much, preferring to try to find my own way through these unprecedented times. Sorting things out for myself, drawing my own conclusions and finding solutions is something I've always done. Even when running, I prefer to rely on myself and my own interpretation of my workout rather than apps, Garmin, Strava, or other devices because they don't take into account individual needs or your own circumstances and situations. The brain is a very sophisticated computer and is available to us 24 hours a day and does not rely on being recharged from external sources. We just need to learn to listen to it more, interpret what it is telling us, and adapt the information for our own best benefit.
What's the biggest lesson you've learned in your life?
Fiona Oakes: My biggest lesson is to acknowledge, accept and understand that I actually know very little but always want to learn more. That's probably my greatest strength, because it's a constant motivation to keep going, to keep trying, to keep looking for new ways to make a positive difference. I recognize that one will make mistakes along the path of life, that is an inevitable and unavoidable fact, but if one can learn from those mistakes, then they were not in vain. But if you can learn from these mistakes, then it was not in vain. It's like running, of course it's great when it's going well, but when the going gets tough and you really have to push yourself to make it, those are the runs you really learn from and develop both mental and physical strength and endurance, pretty much the same as in daily life.
What have you learned in your coexistence with the 500+ animals at your Animal Sanctuary?
Fiona Oakes: Living with animals is a very humbling experience, they are so calm, accepting, intelligent, kind, innocent, noble, peaceful and accepting of each other. They don't want or take more than they need and don't have the vices that many people carry around, such as anger, avarice, greed, and jealousy. The best part is that they are so beautiful – both inside and out – and sometimes I think it's like living in a world of mobile art, if only you are able to experience its majesty, purity and beauty.

Percy is always by your side - who is he and why doesn't he leave your side?
Fiona Oakes: Percy is my little mascot friend who happens to be a teddy bear. We go everywhere together – deserts, North Pole, Antarctica – people always ask where he is and what he is doing. He has a big, cheeky grin, likes to eat sweets and even has his own fan club, the Percy Supporter Group (PSG's), which was formed in 2013 when he won the North Pole Marathon with me. He enjoys the attention and being in front of a camera, whereas I don't, so he's the perfect complement to me. I guess in truth he is my alter ego!

What are your dreams and plans for the future?
Fiona Oakes: My dream for the future is a peaceful world where animals and humans live side by side with respect and harmony. There seems to be so much anger in the world today. I believe that when you harm another, you harm yourself, and that is why so many people feel so much pain in their lives. I understand that a lot of restlessness comes from frustration, and that's something I've felt myself, which is why I try to channel my "excess" energy into my running. That's also what the race I'm organizing later this year is about, it's called Running for Good Ultra. The goal of the race is to address climate change issues and how each individual can make a difference. It will take place over 7 days in the deep Moroccan Sahara and will specifically address desertification due to global warming. I am also very interested in introducing the concept of reducing often unnecessary consumption and preserving the earth's precious natural resources. It's actually remarkable how little we actually need to survive and thrive – contrary to what we're told by advertisers.

How important do you see the role of media in educating about vegan nutrition?
Fiona Oakes: Truthful, informative and knowledgeable media is hugely important in spreading the positive vegan message, especially as I remember a time not so long ago when the only stories or reports heard about veganism were negative ones. It makes me wonder when people still say they are doubtful or afraid to go vegan, and that's why media and quality journalistic products are always such invaluable sources to refer to for accurate information.
What would you like to get off your chest at the end?
Fiona Oakes: I tell people that I've lived vegan virtually my entire life – five decades – that I'm physically strong, hold four world records, have a marathon best time of 2 hours 38, take no medications or supplements, and will be competing for England in both the 10K and half marathon this year and have qualified for the elite start of the London Marathon – all fueled by plants, love and compassion and the privilege and honor of magazines like "This is Vegan" to share my story and thoughts.
Please install and activate Powerkit plugin from Appearance → Install Plugins. And activate Opt-in Forms module.